Job Description
Distribution Supervisor
Walton, Kentucky
Apply Now
Quick Apply
Description
(Overview)
At Schwan's Company, we are a fast-paced, innovative team, focused on bringing delicious foods to our customers. If you're passionate about food and creating a successful future, this is the place for you. Based in Minnesota, Schwan's is a national, multibillion-dollar company that manufactures and markets quality foods through home-delivery, retail-grocery and food-service channels. Its many popular brands include Red Baron®, Tony's® and Freschetta® pizza, Mrs. Smith's® and Edwards® desserts, Pagoda® Asian-style snacks and Schwan's® home delivery. To learn more about Schwan's, visit www.SchwansCompany.com.

We are hiring a Distribution Supervisor for our Global Supply Chain team in Walton, KY. In this role you will be responsible for supervising the distribution of products to ensure maximum efficiency quality and customer service at the least possible cost.


What you will get from us:

Opportunity to grow with a world class food manufacturing company
A culture focused on ensuring the health, safety and well-being of its employees
Support and mentorship from team members who are authentic, good-natured and highly skilled
Competitive wages, incentive pay and a comprehensive package of benefits

Responsibilities: 
Enforces safety guideline and rules GMPS HACCP checks food safety requirements and all company policies 
Coordinates truck loading/unloading and ensures it is done in a timely manner. 
Ensures that all materials are stored in accordance with temperature requirements. 
Maintains accurate stock rotation first in first out 
Cognizant of bill of materials and coordinate any necessary adjustments as it relates to inventory or usages. 
Requests or performs maintenance on facilities and equipment 
Ensures cycle counting and month end inventory is conducted for inventory records accuracy. 
Tracks weight of all product loads and monitors long and short counts on product in and out of distribution 
Supervises trains and develops subordinates if applicable

Years of Experience: Typically 3-5 years of experience

Education: Associate degree or equivalent

Knowledge/Skills/Abilities:
General knowledge of Purchasing, Quality Assurance, Manufacturing, Inventory Record Accuracy, Cycle Counting Procedures, Inventory Control Procedures, Food Safety Requirements, Warehousing, and Distribution
Knowledgeable of Bills of material and Auditing Control Functions
Good math and communication skills
Good working maintenance knowledge of forklifts pallet jacks and other equipment in order to detect maintenance problems
Good working knowledge of truck loading operation yard operations and reefer unit type trailers
Able to operate yard tractor while pulling empty and loaded trailers
Computer literate able to learn distribution/transportation software systems have in-depth knowledge of Systems Applications Products (SAP) and have a working knowledge of word processing
Able and willing to travel
Assist IS with report changes SAP authorizations and system outages
Assist production in clearing Storage locations
Resolve inventory discrepancies
Assist accounting/purchasing with invoice/ Bill of Lading discrepancies
Lead or Supervisor experience
Warehouse experience
Willing to obtain forklift license within the probationary period
Good work record
Effective supervisory skills

The employing subsidiaries of Schwan's Company are Equal Employment Opportunity Employers. All qualified applicants will receive consideration for employment without regard to disability, age, race, color, religion, gender, vet status, national origin or other protected class.

Job Type: Exempt Business Unit: Schwan's Consumer Brands, Inc. Req #: 19011549
Apply Now
Quick Apply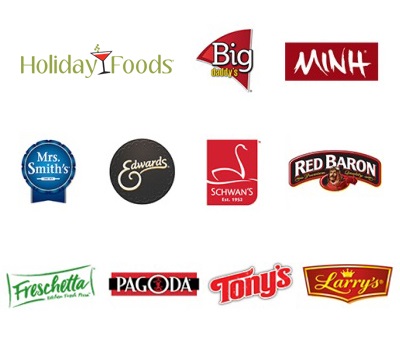 Holiday Foods
Big Daddy's
MINH
Mrs. Smith's
Edwards
Schwan's
Red Baron
Freschetta
Pagoda
Tony's
Larry's