Looking for Home Delivery?
Looking for a career in home delivery? Schwan's Home Service recently began its journey as an independent company, but you can visit www.schwans.com/jobs to learn more about what they have to offer.
Job Description
Regional Sales Manager-Food Service Street Team
Tampa, Florida
Apply Now
Quick Apply
Description
(Overview)
Schwan's Food Service is a leader in the foodservice industry, supplying high-quality products to K-12 schools, chain restaurants, colleges & universities, health care facilities, convenience stores, and more. We provide customer solutions, and have dedicated product and channel sales and marketing teams.
We are looking for a Regional Sales Manager to join our Food Service Street sales team to cover Florida, Georgia and the Carolinas.  This position is responsible for planning, directing, and coordinating sales activities, including those of our broker partners.  The Regional Sales Manager (RSM) will establish sales quotas, manage new product distribution expectations, growth and innovation, and develop customer relationships. 
Manage the various aspects of the regional business by directing the activities of brokers and distributors to achieve annual sales quotas and business goals.
Plan and execute a "Go to Market" strategy to deliver growth in market share by working with brokers and distributors.
Demonstrate quality and advantage of Schwan's products to clients in order to gain sales and establish accounts.
Analyze sales statistics to determine sales potential, inventory requirements and customer preferences.
Quote prices and credit terms, prepare sales contracts, plan and prepare sales presentations and promotional events and/or materials.
Monitor and analyze sales promotion results to determine cost effectiveness of promotion campaigns.
Manage regional sales activities and information by preparing reports of business transactions, keeping expense accounts, updating new customer data and ensuring all assigned accounts are up-to-date.
Confer with clients to provide marketing advice, technical advice and customer service concerning product(s) or services provided.
Develop and maintain working relationships with purchasing contacts and investigate and resolve customer delivery problems as necessary.
Serve as primary contact with all key customers and represent the company at trade shows and association meetings to promote products and services
Education: Bachelor's degree or equivalent
Years of Related Experience: Minimum 5 years related experience
Knowledge/Skills/Abilities:
Prior sales experience in the foodservice industry required.
Experience managing a sales broker network strongly preferred.
Proven ability to develop business relationships and direct sales activities.
Experience establishing sales quotas and planning market strategies.
Comfortable presenting information in group settings to a wide variety of audiences.
Proficiency with numeric data analysis and sales reporting systems.
Effective communication, both written and verbally.
Ability to travel throughout assigned region as required, up to 60%.
The employing subsidiaries of The Schwan Food Company are Equal Employment Opportunity employers. All qualified applicants will receive consideration for employment without regard to disability, age, race, color, religion, gender, veteran status, national origin or other protected class.
Job Type: Exempt Business Unit: Schwan's Food Service, Inc. Req #: 19013358
Apply Now
Quick Apply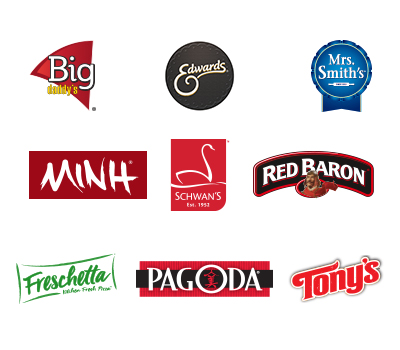 Holiday Foods
Big Daddy's
MINH
Mrs. Smith's
Edwards
Schwan's
Red Baron
Freschetta
Pagoda
Tony's
Larry's