Looking for Home Delivery?
Looking for a career in home delivery? Schwan's Home Service recently began its journey as an independent company, but you can visit www.schwans.com/jobs to learn more about what they have to offer.
Job Description
Production Supervisor
Stilwell, Oklahoma
Apply Now
Quick Apply
Description
(Overview)
Schwan's Company, a U.S. affiliate of the global lifestyle company CJ CheilJedang Corporation, is a leading U.S. manufacturer and marketer of quality foods offered through retail-grocery and food-service channels. Its many popular brands include Red Baron®, Tony's®, Big Daddy's®, Villa Prima™ and Freschetta® pizza; Mrs. Smith's® and Edwards® desserts; and Pagoda® Asian-style snacks. To learn more about Schwan's, visit www.schwanscompany.com. 
We are hiring a Production Supervisor for our
Stilwell, OK
location. This position is responsible for supervising the production, packaging, bakery, and processing of food product.
What you will get from us: 
• Opportunities for career growth with a well-established food company. For the right candidate, the Production Supervisor role can be a starting point on the path to a Manufacturing Manager role.
• A culture focused on ensuring the health, safety and well-being of its employees.
• Support and mentorship from team members who are authentic, good-natured and highly skilled.
• Competitive wages, incentive pay and a comprehensive package of benefits.

Responsibilities:
• Directs production, packaging, and bakery on production lines to ensure company requirements are met
• Supervises, trains, and develops subordinates
• Responsible for interviewing and hiring qualified employees, following EEO and Affirmative Action guidelines
• Manages employee performance and skills development, conducts performance appraisals, and administers disciplinary action, including employment terminations when necessary
• Responsible for safety, housekeeping, policy administration, employee relations, cost control, and problem solving
• Adjust daily work schedule as needed to meet production requirements.
• Works closely with representatives on site to ensure all company, state, and federal requirements for food safety are met
• Reviews and signs off on all Quality Assurance and HACCP documentation.
• Checks product quality, usage, waste, product counts, and weights to assure performance and attainment
• Demonstrate KPI measures
• Reviews and/or prepares and assures accuracy of various operational reports.
• Assures improvements, if needed, and timely distribution of reports and budget information
• Maintains constant improvement in making quality products, reducing costs, and following good manufacturing practices (GMP)
• Participates in and supports Global Manufacturing Food Safety Initiative programs, implementation, and compliance


What we need from you:

Education: High School diploma required. Bachelor's degree preferred.

Years of Related Experience: 4 to 5 years related work experience preferably in food industry manufacturing or equivalent combination of education and experience, with minimum of 2 years in supervision.

Knowledge/Skills/Abilities:
• Intermediate personal computer skills including Microsoft Office.
• SAP experience beneficial
• Intermediate knowledge of robotics used in production
• Ability to effectively supervise line employees
• Strong communication and reasoning skills to provide a positive work environment
• Ability to read and interpret documents such as safety rules operating and maintenance instructions and procedure manuals
• Ability to write routine reports and correspondence
• Ability to add, subtract, multiply, and divide in all units of measure, using whole numbers, common fractions, and decimals
• Ability to compute rate, ratio, and percent and to draw and interpret bar graphs
• Knowledge of FDA, and BRC regulations preferred
• Advanced knowledge of bakery/dough processes preferred

The employing subsidiaries of Schwan's Company are Equal Employment Opportunity Employers. All qualified applicants will receive consideration for employment without regard to disability, age, race, color, religion, gender, vet status, national origin or other protected class.



Job Type: Exempt Business Unit: SFC Global Supply Chain, Inc. Req #: 20002828
Apply Now
Quick Apply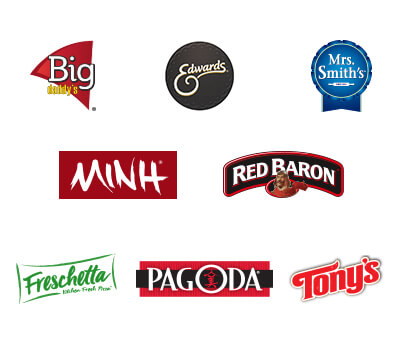 Big Daddy's
Edwards
Mrs. Smith's
MINH
Red Baron
Freschetta
Pagoda
Tony's