Looking for Home Delivery?
Looking for a career in home delivery? Schwan's Home Service recently began its journey as an independent company, but you can visit www.schwans.com/jobs to learn more about what they have to offer.
Job Description
Manufacturing Training Coordinator
Stilwell, Oklahoma
Apply Now
Quick Apply
Description
(Overview)
Schwan's Company, a U.S. affiliate of the global lifestyle company CJ CheilJedang Corporation, is a leading U.S. manufacturer and marketer of quality foods offered through retail-grocery and food-service channels. Its many popular brands include Red Baron®, Tony's®, Big Daddy's®, Villa Prima™ and Freschetta® pizza; Mrs. Smith's® and Edwards® desserts; and Pagoda® Asian-style snacks. To learn more about Schwan's, visit www.schwanscompany.com.
We are hiring a
Training Coordinator 
in
Stilwell OK
. If you consider yourself someone who is a team player and passionate about helping others, this may be your next career. As a Training Coordinator you will be responsible for identifying and coordinating key training opportunities to ensure that the plant facility can meet production needs in a safe and timely manner.
What you will get from us:
• Opportunity to work on exciting, strategic projects in partnership with key leaders and showcase your technical skills to make a big impact on the profitable growth of Schwan's Company
• A culture focused on ensuring the health, safety and well-being of its employees
• Support and mentorship from team members who are authentic, good-natured and highly skilled
• Competitive wages, incentive pay and a comprehensive package of benefits
Responsibilities:
• Partner with the plant's leadership team to identify desired skill sets, knowledge, and labor needed to meet production goals and be a key resource to new and current employees as they complete their training requirements.
• Responsible for coordinating and administering training programs such as (but not limited to) food safety training, safety awareness orientation, and new employee orientation
• Regularly collaborates with the leadership team to assess gaps in these areas and provides feedback to corporate partners
• Coordinates and delivers key training programs in the facility. Administers various components of training programs including tracking training progress, verifying assessments of new and current employees, etc.
• Works with subject matter experts (SMEs) to ensure all training documents meet the requirements of the task and location
• Partners with Plant Supervisors and Labor Scheduling team to review the Skills Matrix and labor required to meet production needs
• Assesses skills gaps in order to meet production needs and works to get employees the proper training needed in a timely manner
• Partners with trainers and supervisors to review assessments of the learning experience and coordinating scheduled trainings to correct issues that arise.
• Collaborates with department leadership to document changes to standard work processes and provides updated training materials to trainers
• Provides support to managers and employees on all training needs
• Answers questions regarding training progress and materials and troubleshoots issues with training programs as they arise
• Participates in New Employee Orientation facilitation by providing an in-depth plant tour and introduction to work location and trainer
• May facilitate Train the Trainer sessions and evaluates trainer performance by frequently checking in on new hires and trainers
• Makes recommendations to trainer list based on feedback received
What we need from you:
Years of Experience:
0- 3 years related experience
Education:
High School Diploma or equivalent. Bachelor's degree preferred. Previous experience in a manufacturing facility preferred
Knowledge/Skills/Abilities:
• Sound knowledge on manufacturing practices within a facility;
• Basic understanding of standard work documentation
• Effective presentation skills with the ability to effectively develop, design, and deliver learning solutions to a wide variety of audiences
• Strong interpersonal and communication skills (both written and verbal)
• Ability to communicate with employees at all levels
• Strong problem-solving and influencing skills and strong facilitation and organization skills
• Fully proficient with Microsoft Office Programs including Outlook, Word, PowerPoint, and Excel
• Ability to quickly learn new software applications and meet deadlines in a fast-paced environment
• Team-player
The employing subsidiaries of Schwan's Company are Equal Employment Opportunity Employers. All qualified applicants will receive consideration for employment without regard to disability, age, race, color, religion, gender, vet status, national origin or other protected class.
Job Type: Exempt Business Unit: SFC Global Supply Chain, Inc. Req #: 21000409
Apply Now
Quick Apply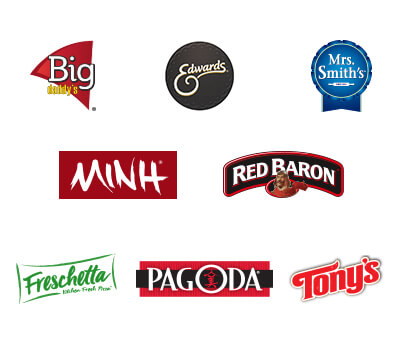 Big Daddy's
Edwards
Mrs. Smith's
MINH
Red Baron
Freschetta
Pagoda
Tony's