Job Description
Safety Manager-West Division (Remote Position)
Salt Lake City, Utah
Apply Now
Quick Apply
Description
(Overview)
At The Schwan Food Company, we are driven to bring our customers delicious foods and reliable services. That's how we grew from a "one-man-and-a-truck" delivery business in rural Minnesota to a multibillion-dollar private company with thousands of team members nationwide. Our commitment to delicious foods shows in all we do, from careful ingredient selection and quality food making to delivering a great experience wherever you shop and eat.
The foods we make reach customers in many ways. We deliver directly to our customer's homes through our popular food-delivery business, offer well-known retail brands such as Red Baron®, Freschetta®, and Tony's® pizzas, Pagoda® snacks and appetizers, and Mrs. Smith's® and Edwards® desserts, and bring innovative food solutions to our customers in the food-service industry. To learn more, visit us at www.theschwanfoodcompany.com.
This position is responsible for ensuring a safe working environment for all employees by implementing and monitoring facility safety programs. The Safety Manager oversees compliance of all facilities and ensures all contractors/vendors are in compliance with Federal State and Local Safety and Environmental Regulations as well as identifies areas of risk through periodic audits loss analysis site inspections/audits.
Assists in maintaining all safety reports logs and other documentation to ensure compliance with federal state and local agencies.
Facilitates all government safety inspections for designated location(s) and in coordination with facility management responds in a timely manner to inquiries/inspections by loss control service providers and government agencies (OSHA EPA DOT Insurance Carrier etc.).
Develops maintains and implements safety/environmental procedures programs incentive programs and awareness materials to reduce control and eliminate occupational safety environmental and health hazards. Develops and provides strategic direction for Safety Committees and various task forces.
Performs accident/loss investigations conducts safety audits to ensure compliance with company & government regulations builds a culture of safety by ensuring understanding and enforcement of safety rules.
Provides special training programs including Supervisor safety training and special employee safety training programs maintains accident records and supporting documentation. Analyzes trends and monitors programs to assess results and identify when updates and improvements are needed.
Ensures that the facility and all contractors/vendors are in compliance with all Federal State and Local safety/environmental regulations and submits environmental reports with the appropriate interface with regulator agency personnel and loss control service providers within established timeframes. Conducts environmental audits to ensure compliance with company and governmental procedures and regulations.
Undertakes or directly supervises the undertaking of identification of hazards evaluation of risk and the design and implementation of hazard control measures applicable to research projects teaching fieldwork purchasing plant equipment and chemicals and service operations to support the Company's safety culture.
Maintains appropriate documentation of procedures and interventions arising from risk assessment including occupation health and safety considerations in the design specification purchase hire lease and supply of new plant equipment materials products and substances used in the work place.
Serves as a resource for management supervisors and employees in order to effectively address safety issues and concerns.
Facilitates the reporting of workplace hazards to the person(s) who can implement corrective action. Oversees the implementation of corrective action arising from accident investigations and hazard reports
Manages trains and develops subordinates if applicable .
Responsible to conduct yourself and ensure your subordinates (if applicable) conduct themselves in a manner consistent with company mission values code of ethics policies and other standards of conduct.
Education:
-Four-year Degree in Industrial Safety Environmental Health Sciences or related field preferred.
-Professional certification in safety hazardous materials management or industrial hygiene desirable.
Years of Related Experience: Typically has 7-9 years related experience
Knowledge/Skills/Abilities:
-Good PC skills including Microsoft Word Excel etc.
-Excellent verbal and written communication skills and solid interpersonal skills. -The ability to effectively present information in group settings to a wide variety of audiences Effective budget management.
-Thorough knowledge of company and group products polices processes etc.
The employing subsidiaries of The Schwan Food Company are Equal Employment Opportunity Employers. All qualified applicants will receive consideration for employment without regard to disability, age, race, color, religion, gender, vet status, national origin or other protected class.
Job Type: Exempt Business Unit: Schwan's Home Service, Inc. Req #: 19011738
Apply Now
Quick Apply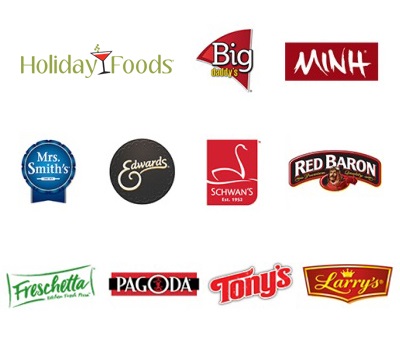 Holiday Foods
Big Daddy's
MINH
Mrs. Smith's
Edwards
Schwan's
Red Baron
Freschetta
Pagoda
Tony's
Larry's