Looking for Home Delivery?
Looking for a career in home delivery? Schwan's Home Service recently began its journey as an independent company, but you can visit www.schwans.com/jobs to learn more about what they have to offer.
Job Description
Sr Process Engineer - Consumer Goods (CPG)
Salina, Kansas
Apply Now
Quick Apply
Description
(Overview)
We are seeking a Senior Process Development Engineer for our facility in Salina, Kansas.  Come be part of one of the biggest manufacturing expansion projects underway in the United States! In addition to our flagship plant we are building a manufacturing facility unlike any other in our industry. This new facility will increase our production campus to nearly one million square feet in Salina, KS.  This is a true R&D role where we are developing new to the world processes and equipment as part of a cross functional teaminvolved in multi-million dollar capital projects. You will have the opportunity to grow your Process Development, Project Management and leadership skills. We do offer a comprehensive relocation package!
This highly visible role is responsible for the investigation, development, improvement, and testing of complex, new or modified food processing techniques.  The position also supports department and corporation strategies in the areas of process development and engineering, test runs and specification development.
This job may participate in one or more of the following duties:
Identify, develop, and evaluate new process technologies providing breakthrough capabilities for all innovations, renovations, and productivity initiatives within Schwan's manufacturing and co-packer facilities.

Lead the process development and process capability assessment to ensure product design aligns with process capability.

Develop and execute Commissioning, Qualification and Verification protocols.

Apply advanced statistics, experimental designs (DOE) and six sigma in problem solving.

Interfaces with manufacturing and operations engineering departments to identify, educate and implement major cost savings projects or product improvements involving new processes, processing technology, and equipment.

Collaborates with other R&D groups, Manufacturing, and Engineering to develop process and equipment specifications for existing and new equipment or production lines including any improvement and/or changes.

Works with product development and manufacturing staff to develop process or equipment to reach attainment goals for new and existing production lines.

Develops, presents, and communicates preliminary capital proposals of new processing technology, equipment, or cost reduction opportunities including determination of ROI and other benefits, process or equipment specifications, and estimated capital investment and production capacity and attainment.

Documents all work according to established procedures and guidelines and prepare various project reports.

Assists with development of training programs for operations personnel in executing and operating new processes and processing equipment in the areas of operation maintenance and sanitation.

Coach and mentor new Associate Process Engineers, and Process Engineering Interns.
Qualifications
Education: Bachelor's Science in Engineering (Chemical, Mechanical or Food) combined with 6-8 years of related experience.  Master's of Science in Engineering preferred.

Knowledge/Skills/Abilities:
Working knowledge of R& D product development flow from conception to product launch.

Strong in statistical analysis and Statistical Process Control (SPC)

Incorporates a high level of technical knowledge & expertise into decisions.

Ability to develop and execute Commissioning, Qualification and Verification protocols.

Ability to read and produce tooling conceptual drawing with a CAD program such as Solid Works. 3D printing experience is a plus.

Ability to develop Process Flow Diagrams.

Ability to perform mass balance calculations and cycle time study.

Ability to perform pay- back calculation.

Ability to write preliminary capital proposals.

Ability to effectively communicate with all levels of the organization.

Effective interpersonal, written and verbal communication skills.
Schwan's Company, a U.S. affiliate of the global lifestyle company, CJ CheilJedang Corporation, is a leading U.S. manufacturer and marketer of quality foods offered through retail-grocery and food service channels. Our many popular brands include Red Baron®, Tony's®, Big Daddy's®, Villa Prima™ and Freschetta® pizza; Mrs. Smith's® and Edwards® desserts; and Pagoda® Asian-style snacks. Schwan's is a place for people with an appetite for more.  To learn about joining a team where you can belong, contribute and thrive, visit www.schwanscompany.com
The employing subsidiaries of Schwan's Company are Equal Employment Opportunity Employers. All qualified applicants will receive consideration for employment without regard to disability, age, race, color, religion, gender, vet status, national origin or other protected class.
null
Job Type: Exempt Business Unit: Req #: 21003368
Apply Now
Quick Apply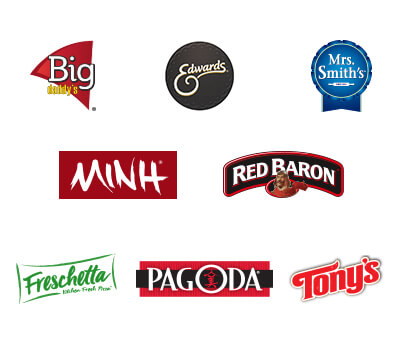 Big Daddy's
Edwards
Mrs. Smith's
MINH
Red Baron
Freschetta
Pagoda
Tony's