Looking for Home Delivery?
Looking for a career in home delivery? Schwan's Home Service recently began its journey as an independent company, but you can visit www.schwans.com/jobs to learn more about what they have to offer.
Job Description
Reliability Technician - 1st Shift
Salina, Kansas
Apply Now
Quick Apply
Description
(Overview)
Shift:
Starting Wage:
Hours:


This is a full-time position within our manufacturing facility with opportunities for advancement!

Who we are!

Schwan's Company, a U.S. affiliate of the global lifestyle company CJ CheilJedang Corporation, is a leading U.S. manufacturer and marketer of quality foods offered through retail-grocery and food-service channels. Its many popular brands include Red Baron®, Tony's®, Big Daddy's®, Villa Prima™ and Freschetta® pizza; Mrs. Smith's® and Edwards® desserts; and Pagoda® Asian-style snacks. To learn more about Schwan's, visit www.schwanscompany.com.

What we are looking for:

Here at Schwan's Company, we put a high priority on having safe, clean, and healthy workspaces. And we want individuals that take that seriously.

The Reliability Technician will perform the set-up of different predictive maintenance asset routes and manage the condition- based monitoring program for a facility or facilities. The incumbent will work as part of a team that creates long term value by safely improving equipment reliability and manage programs such as a Motor Circuit Analysis various infrared thermography routes structure and air borne ultrasound routes motor testing vibration analysis oil analysis precision lubrication and precision alignment.


So what's this job all about?
Assist with the improvement of the asset catalog preventative maintenance optimization and scheduling of corrective maintenance
Write specifications procedures and test programs for reliability testing and characterization
Prepare technical reports document test results and assist in selection of new reliability equipment
Assemble and lead cross-functional teams (maintenance operations engineering procurement) to support a wide variety of reliability improvement opportunities in the plant
Act as a team resource for all types of breakdowns
Apply various reliability principles such as Asset Strategy Improvement (ASI) Operating Envelope (OE) Failure Modes & Effects Analysis (FMEA) Root Cause Analysis (RCA) Motor Circuit Analysis various infrared thermography routes structure and air bourne ultrasound routes motor testing vibration analysis oil analysis precision lubrication and precision alignment
Resolve specific reliability issues and drive reliability improvements that support all areas of the plant
Install move remove repair and troubleshoot equipment
Work in a safe manner and report any unsafe conditions or practices 
Other duties as assigned
Responsible to conduct yourself in a manner consistent with company mission values code of ethics policies and other standards of conduct

What we want to do for you:

Company Benefits:

We offer eligible employees a comprehensive benefits package designed to assist employees and their families with their financial security, health and well-being. In addition to a competitive base pay, we offer a variety of benefit programs.

Health, Life, Dental, and Vision Plans 
Two weeks paid vacation + holidays for new hires
Employee discounts on company products

Years of Related Experience: 3 years of related experience (preferably with predictive tool experience in an industrial setting)


Knowledge/Skills/Abilities:
Strong troubleshooting planning and organizational skills
Strong problem solving and analytical skills
Good interpersonal and communication (both written and verbal) skills
Ability to work both independently and in a team setting
Ability to prioritize and manage multiple tasks simultaneously
Ability to follow machine blueprints diagrams sketches and maintenance standard operating procedures (SOPs)
Ability to properly use hand tools
Strong computer skills
Ability to train and mentor others on reliability methods
Sense of urgency and personal accountability
The use of Personal Protective Equipment (PPE) is required, including but not limited to bump cap, safety glasses/goggles, face shield, face mask, ear plugs, hair and beard nets, gloves and safety shoes or rubber boots

If you've made it this far through the description, we think you should just apply already...

The employing subsidiaries of Schwan's Company are Equal Employment Opportunity Employers. All qualified applicants will receive consideration for employment without regard to disability, age, race, color, religion, gender, vet status, national origin or other protected classes.

Job Type: Non-exempt Business Unit: SFC Global Supply Chain, Inc. Req #: 20003448
Apply Now
Quick Apply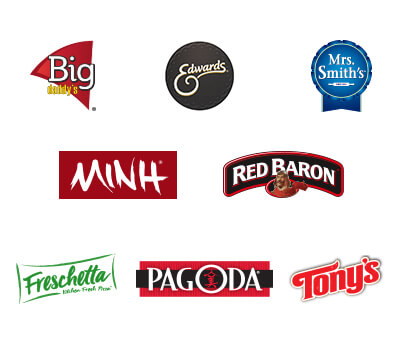 Big Daddy's
Edwards
Mrs. Smith's
MINH
Red Baron
Freschetta
Pagoda
Tony's