Looking for Home Delivery?
Looking for a career in home delivery? Schwan's Home Service recently began its journey as an independent company, but you can visit www.schwans.com/jobs to learn more about what they have to offer.
Job Description
Refrigeration Mechanic II - Skilled $25.00/hr + $1.50/hr
Salina, Kansas
Apply Now
Quick Apply
Description
(Overview)
At Schwan's Company, we are driven to bring our customers delicious foods and reliable services. That's how we grew from a "one-man-and-a-truck" delivery business in rural Minnesota to a multibillion-dollar private company with thousands of team members nationwide. Our commitment to delicious foods shows in all we do, from careful ingredient selection and quality food making to delivering a great experience wherever you shop and eat.
The foods we make reach customers in many ways. We deliver directly to our customer's homes through our popular food-delivery business, offer well-known retail brands such as
Red Baron®, Freschetta®,
and
Tony's®
pizzas,
Pagoda®
snacks and appetizers, and
Mrs. Smith's®
and
Edwards®
desserts, and bring innovative food solutions to our customers in the food-service industry. To learn more, visit us at
http://www.schwanscompany.com
.
At The Schwan Food Company, we are driven to bring our customers delicious foods and reliable services. In addition to our home delivery service, we offer well-known retail brands such as
Red Baron®, Freschetta®,
and
Tony's®
pizzas,
Pagoda®
snacks and appetizers, and
Mrs. Smith's®
and
Edwards®
desserts. To learn more, visit us at
www.theschwanfoodcompany.com
.
This position, under general supervision, is responsible for the preventive maintenance and repair of all refrigeration and air-conditioning equipment and assisting advanced level maintenance position in keeping all equipment and facility in goodrepair to ensure continuous and effective operation.
If you meet our job qualifications and become a member of our team, we will further train you on the following job duties and provide you with an excellent benefits package.

Company Benefits
We offer a comprehensive benefits package designed to assist our employees and their families with their financial security, health and well-being. In addition to a competitive base pay, we offer a variety of benefit programs. 
Health, Life, Dental and Vision Plans
401(k) Program with a Company Match
Profit Sharing based on company results
Two weeks paid vacation for new hires
Employee discounts on company products
Job Duties and Responsibilities
Inspect air-conditioning, dehumidifiers, compressors, evaporators, safety pop-off valves, filters and Freon refrigeration units daily; repairs malfunctionsand does complete overhauls as needed
Maintain and check boilers
Cleanevaporators and condensers daily for correct operation of fans and glycol pumps.
Installs and replaces motors, pumps, switches, safety controls,solenoids, and fuses at all refrigeration areas; repair and replace improper fittings and broken refrigeration pipes
Assist in the ordering of refrigeration parts and keep all written refrigeration records up-to-date
Perform setup and tear down of equipment and may assist with major repairs and/or construction required to plant buildings and stationary equipment, fabrication of parts, and installation of new plant equipment
Perform more advanced refrigeration duties including but not limited to isolating ammonia lines and ammonia systems, replacing valves and ammonia pumps, resetting and restarting compressors, checking tensionon spiral freezer belting, adding and removing modular freezer belting, calibrating temperature probes and calibrating CO2 monitors
Participate in and successfully complete management-assigned training directed at increasing job-related trade skills
Maybe required to participate in Hazmat duties
Helpwith the training of maintenance employees in keeping all equipment in good repair and regularly serviced
Assist with fabrication of equipment used for processing and packaging
Work in a safe manner with a sense of urgency while maintaining a safe and orderly work area
Education: High School Diploma or equivalent required. Two-year degree in specialized maintenance trade preferred.

Years of Related Experience: 1-3 years of related experience

Knowledge/Skills/Abilities:
Knowledge of refrigeration maintenance, boilers, and ammonia compressors
HAZMAT certifiable
Ability to obtainboiler license
Basic electrical and advanced mechanical knowledge
Ability to readand interpret documentssuch as safety documents, operating and maintenance instructions, and procedure manuals
Ability to complete work orders and enter the required paperwork into a computer
Ability to add, subtract, multiply, divide in all units of measure
Ability to obtaina valid forklift license
Intermediate understanding of PSM
Must be able to lift ninety (90) lbs.
The employing subsidiaries of Schwan's Company are Equal Employment Opportunity Employers. All qualified applicants will receive consideration for employment without regard to disability, age, race, color, religion, gender, vet status, national origin or other protected class.
#vfj-11-11#
Job Type: Non-exempt Business Unit: SFC Global Supply Chain, Inc. Req #: 20000263
Apply Now
Quick Apply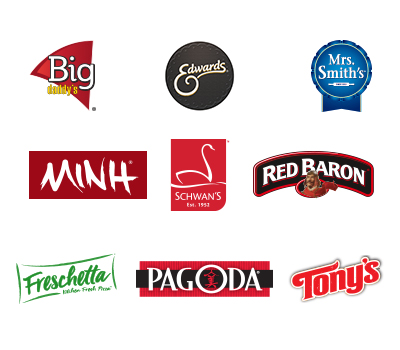 Holiday Foods
Big Daddy's
MINH
Mrs. Smith's
Edwards
Schwan's
Red Baron
Freschetta
Pagoda
Tony's
Larry's