Looking for Home Delivery?
Looking for a career in home delivery? Schwan's Home Service recently began its journey as an independent company, but you can visit www.schwans.com/jobs to learn more about what they have to offer.
Job Description
LINE ATTENDANT
Salina, Kansas
Apply Now
Quick Apply
Description
(Overview)
Blast 4 – 1st Shift
Wage: $15.50/hr
Hours:  5:30am – 3:30pm
This position is responsible for performing a variety of jobs in packaging and/or the assembly operations in the processing of foods. Makes quality products under sanitary conditions in the most efficient manner and on a timely basis. Unpacks raw materials; mixes ingredients; assembles product and packs finished goods. Ensures that all products (from raw materials to finished product) meet company and government quality standards. Inspects products; throws out or fixes products as necessary; writes down amount of waste as directed. Notifies supervisor of quality issues ingredient/material problems and/or equipment breakdowns. Works on a rotation. Rotates to other product lines in other facilities as needed. Keeps a straight product flow along conveyors. Assists with training of new line attendants. Counts packs and inspects finished product for correct label cleanliness and quality. Works in a wide range of temperatures and conditions and will be exposed to moving mechanical parts. Wears the appropriate Personal Protective Equipment (PPE) as required including but not limited to ear plugs safety glasses/goggles bump caps hair and beard nets and gloves. Performs all duties in compliance with existing USDA OSHA State Federal and company regulations policies and procedures (including Good Manufacturing Practices (GMP's) and safety regulations). Responsible to conduct yourself in a manner consistent with company mission values code of ethics policies and other standards of conduct.
Education: High School Diploma or equivalent preferred Years of Related Experience: 0 - 1 year of related experience Knowledge/Skills/Abilities: Must be able to work in a fast paced environment and perform physical activities including lifting (up to 50 lbs) bending carrying pushing pulling and other activities as needed. Ability to stand and walk on concrete for long periods of time; Ability to work in cold and/or hot temperatures for long periods of time.Ability to understand simple instructions training materials and product labeling. Ability to perform basic math functions. Able to work quickly and efficiently with hands continuously reaching and performing repetitive hand wrist and arm motions. Ability to work as a team and interact professionally with co-workers
Education: High School Diploma or equivalent preferred Years of Related Experience: 0 - 1 year of related experience Knowledge/Skills/Abilities: Must be able to work in a fast paced environment and perform physical activities including lifting (up to 50 lbs) bending carrying pushing pulling and other activities as needed. Ability to stand and walk on concrete for long periods of time; Ability to work in cold and/or hot temperatures for long periods of time.Ability to understand simple instructions training materials and product labeling. Ability to perform basic math functions. Able to work quickly and efficiently with hands continuously reaching and performing repetitive hand wrist and arm motions. Ability to work as a team and interact professionally with co-workers
Job Type: Non-exempt Business Unit: Req #: 21003749
Apply Now
Quick Apply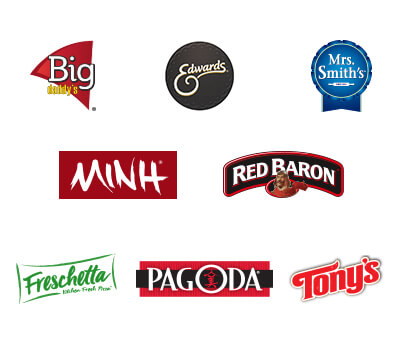 Big Daddy's
Edwards
Mrs. Smith's
MINH
Red Baron
Freschetta
Pagoda
Tony's