Job Description
Intern Engineering
Pasadena, Texas
Apply Now
Quick Apply
Description
(Overview)
Position: Engineering Intern
Location: Houston, TX
About the Company: At Schwan's Company, we are a fast-paced, innovative team, focused on bringing delicious foods to our customers. If you're passionate about food and creating a successful future, this is the place for you. Based in Minnesota, Schwan's is a national, multibillion-dollar company that manufactures and markets quality foods through home-delivery, retail- grocery and food-service channels. Its many popular brands include Red Baron®, Tony's® and Freschetta® pizza, Mrs. Smith's® and Edwards® desserts, Pagoda® Asian-style snacks and Schwan's® home delivery. To learn more about Schwan's, visit www.SchwansCompany.com.
About the Program:
12-week long internship program (Typically May-August)
Opportunity to work on and lead exciting, strategic projects that are relevant to your coursework with real-world applications
Networks and creates relationships with upper level management, executives and the CEO
Opportunities for career growth with a well-established food company. Internships at Schwan's often lead to full- time job opportunities upon graduation
A culture focused on ensuring the health, safety and well-being of its employees
Support and mentorship from team members who are authentic, good-natured and highly skilled Competitive wages, incentive pay and a comprehensive package of benefits (if hired on full-time)
The Position: Interns work hands-on within the Plant Engineering and Environmental Health & Safety areas to help identify process improvements, cost savings and work on cross-functional teams throughout the company.
What you will be doing:
Partners with Maintenance, Production, Safety, Corporate Engineering, and R&D to identify and implement major cost savings projects involving new processes, new technology, and/or new ingredient.
Assists with development of machinery and systems specifications and provides ongoing support for revisions and updates
Develops, documentation, and presentation of conceptual layouts, feasibility studies, budgetary estimates, etc.
Conducts studies of processes on existing lines: make recommendations based upon opportunities to increase productivity, reduce cost, improve quality, and implements improvements.
Cross-functional exposure including Quality, Human Resources, Logistics, and PI&D
Executes capital projects within established schedules and budgets; including equipment selection, line layout engineering, integration and controls, project scope and documentation, purchase order origination, invoice tracking, startup support, ergonomic designs, etc.
Develops and Supports estimates and presents preliminary capital proposals including return on investment, benefits and alternatives
What the expectations are of you:
• Highly motivated self-starter who displays initiative and takes ownership of work
• Ability to effectively manage multiple projects and assignments
• General understanding of industrial process and control systems
• Ability to navigate through ambiguity & overcome obstacles
• Strong communication and problem solving skills
Candidates should be currently be enrolled in an undergraduate Chemical, Electrical, Mechanical, or Industrial Engineering [or related] degree program with an anticipated graduation date of May 2020.
GPA of 3.0+ preferred.
Job Type: Non-exempt Business Unit: SFC Global Supply Chain, Inc. Req #: 19011540
Apply Now
Quick Apply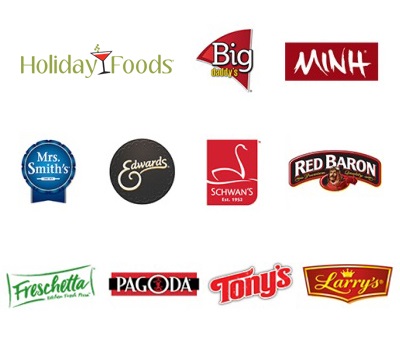 Holiday Foods
Big Daddy's
MINH
Mrs. Smith's
Edwards
Schwan's
Red Baron
Freschetta
Pagoda
Tony's
Larry's