Job Description
Financial Analyst - Manufacturing
Pasadena, Texas
Apply Now
Quick Apply
Description
(Overview)
At Schwan's Company, we are a fast-paced, innovative team, focused on bringing delicious foods to our customers. If you're passionate about food and creating a successful future, this is the place for you. Based in Minnesota, Schwan's is a national, multibillion-dollar company that manufactures and markets quality foods through home-delivery, retail-grocery and food-service channels. Its many popular brands include Red Baron®, Tony's® and Freschetta® pizza, Mrs. Smith's® and Edwards® desserts, Pagoda® Asian-style snacks and Schwan's® home delivery. To learn more about Schwan's, visit www.SchwansCompany.com.

We are hiring a Financial Analyst for our manufacturing facilities in the Houston, TX area. If you consider yourself someone who is a self starter that thrives on analyzing data and providing solutions to improve the financial growth within a facility that contributes to the overall company performance, this may be your next career!


What you will get from us:
Opportunity to work on exciting, strategic projects in partnership with key leaders: showcase your technical skills to make a big impact on the profitable growth of Schwan's Company
Opportunities for career growth with a well-established food company. For the right candidate, the Financial Analyst role is a starting point on the path to a Sr. Financial Analyst or a Finance Manager position
A culture focused on ensuring the health, safety and well-being of its employees
Support and mentorship from team members who are authentic, good-natured and highly skilled
Competitive wages, incentive pay and a comprehensive package of benefits

Responsibilities: 
Reports, analyzes, and interprets financial and operating information for management which could include trend analysis, budget versus actual, etc. 
Identifies and notifies management of areas that need process improvements as well as areas for cost efficiencies 
Creates or assists with the monthly financial review presentation as well as management reporting 
Assists with the annual budgeting and monthly forecasting process and financial analysis process 
Reviews business unit financial statements and policies to ensure compliance with corporate policies and guidelines 
Compiles and reviews forecasts as well as compares forecasts to actual reporting

What we need from you:

Years of Experience: Typically has less than 3 years related experience

Education: Bachelor's degree or equivalent

The desire to make a meaningful difference. Must be self-motivated with the ability to work independently. We need someone who competes to win!
Authentic leader: direct communicator, able to build strong relationships across the company, with all levels.
Must have great collaboration skills, with the ability to effectively work closely with cross-functional teams.

Knowledge/Skills/Abilities:
Solid understanding of financial analysis and accounting policies, procedures, programs, and processes
Proficient use of automated general ledger systems and reporting tools (SAP, SQL)
High degree or proficiently in Excel and report creation
Ability to effectively summarize complex information upwards to drive appropriate action
Strong attention to detail, good organization sills, exceptional troubleshooting, and the ability to prioritize with changing situations
Excellent analytical skills, communication skills with all levels, and the ability to work independently and as a team member
Ability to self-motivate in fast paced environment, ability to deal with ambiguity, change and a dynamic manufacturing environment
Ability to develop strong relationships and partnerships with internal customers and effectively manage those relationships
Experience thinking critically, including leveraging analytics, benchmarking, and insights to generate meaningful strategies and solutions
Thorough understanding of general accounting principles and accepted standards that enables some evaluation and originality to be displayed on standard and non-critical matters

The employing subsidiaries of Schwan's Company are Equal Employment Opportunity Employers. All qualified applicants will receive consideration for employment without regard to disability, age, race, color, religion, gender, vet status, national origin or other protected class.

Job Type: Exempt Business Unit: SFC Global Supply Chain, Inc. Req #: 19011920
Apply Now
Quick Apply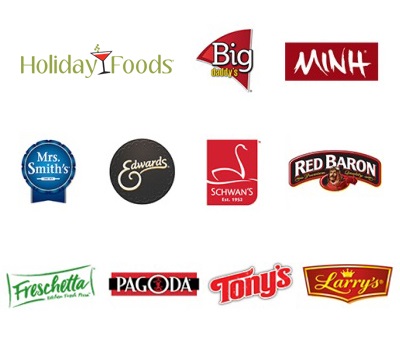 Holiday Foods
Big Daddy's
MINH
Mrs. Smith's
Edwards
Schwan's
Red Baron
Freschetta
Pagoda
Tony's
Larry's