Looking for Home Delivery?
Looking for a career in home delivery? Schwan's Home Service recently began its journey as an independent company, but you can visit www.schwans.com/jobs to learn more about what they have to offer.
Job Description
Facilities Engineer
Pasadena, Texas
Apply Now
Quick Apply
Description
(Overview)
At Schwan's Company, we are a fast-paced, innovative team, focused on bringing delicious foods to our customers. If you're passionate about food and creating a successful future, this is the place for you. Based in Minnesota, Schwan's is a national, multibillion-dollar company that manufactures and markets quality foods through home-delivery, retail-grocery and food-service channels. Its many popular brands includeRed Baron®, Tony's® and Freschetta® pizza, Mrs. Smith's® and Edwards® desserts, Pagoda® Asian-style snacks and Schwan's® home delivery. To learn more about Schwan's, visit www.SchwansCompany.com.
We are hiring a Facilities Engineer for our manufacturing facilities in the Houston, TX (Pasadena and Deer Park). In this role you will be responsible for overseeing day-to-day operations regarding preventative maintenance and facility project improvements.
Opportunities for career growth with a well-established food company.  

A culture focused on ensuring the health, safety and well-being of its employees

Support and mentorship from team members who are authentic, good-natured and highly skilled

Competitive wages, incentive pay and a comprehensive package of benefits
Responsibilities:
Performs ongoing preventive maintenance and repair work on facility mechanical electrical and other installed systems

Maintains and operates all HVAC systems and associated equipment; electrical equipment, plumbing systems, building management system, and building repairs.

Coordinates repair or replace decisions with local facility management  

Develops detailed action plan to ensure improvements occur within desired timelines. Responsible for complete facility project management to ensure project is completed according to scope, building codes, timelines, and budget

Performs facility inspections and reports on condition affecting operations

Provides leadership and direction to implement standardization across facilities (as applicable). Reviews and understands equipment and methods of operation, BMS system, fire/life safety, and other systems

Participates in the capital planning process. Identifies opportunities to improve and provides cost effective solutions related to facility operations. Works cross-functionally with functional leads to drive operational excellence

Identifies and manages outside vendors participating in plant and grounds maintenance activities. Holds 3rd party providers accountable for contractual obligations and service agreements. Monitors and supervises HVAC preventive Maintenance contracts. Maintains compliance to City County State ordinances and codes

Supports afterhours building needs and activities as required and responds to facility emergencies

Collaborates with production departments on resolution of issues concerning facilities

Ensures that plant facilities and equipment meet OSHA standards. Responsible to ensure that all work is performed in a safe manner and that all PPE (Personal Protective Equipment) is worn as necessary. Ensures employees receive the proper safety training in accordance with Company Local, State, and Federal Occupational Safety and Health Administration (OSHA) rules and regulations. Comply with all safety procedures and requirements.

Prepares and meets budgets for operating expenses and capital expenses. Responsible for providing period and YTD updates on performance metrics for
Years of Experience:

7-9 years of related experience Knowledge/Skills/Abilities:
Education: Bachelor degree or equivalent
Knowledge/Skills/Abilities:

Project Management experience. Experience in Food Processing and Packaging Systems General Construction and Material Handling Systems.

Working knowledge of USDA, FDA, OSHA, and EPA regulations. Computer experience including Microsoft Works, Excel, Projects, and AutoCAD.

Ability to communicate effectively both orally and written. Ability to manage assigned budget
The employing subsidiaries of Schwan's Company are Equal Employment Opportunity Employers. All qualified applicants will receive consideration for employment without regard to disability, age, race, color, religion, gender, vet status, national origin or other protected class.
null
Job Type: Exempt Business Unit: Req #: 21004194
Apply Now
Quick Apply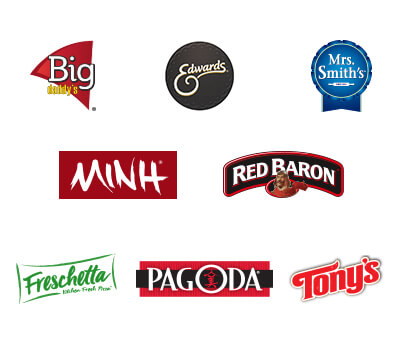 Big Daddy's
Edwards
Mrs. Smith's
MINH
Red Baron
Freschetta
Pagoda
Tony's