Looking for Home Delivery?
Looking for a career in home delivery? Schwan's Home Service recently began its journey as an independent company, but you can visit www.schwans.com/jobs to learn more about what they have to offer.
Job Description
Senior Manager, Operational Excellence
North East, Pennsylvania
Apply Now
Quick Apply
Description
(Overview)
At Schwan's Company, we are a fast-paced, innovative team, focused on bringing delicious foods to our customers. If you're passionate about food and creating a successful future, this is the place for you. Based in Minnesota, Schwan's is a national, multibillion-dollar company that manufactures and markets quality foods through home-delivery, retail-grocery and food-service channels. Its many popular brands include Red Baron®, Tony's® and Freschetta® pizza, Mrs. Smith's® and Edwards® desserts, Pagoda® Asian-style snacks and Schwan's® home delivery. To learn more about Schwan's, visit www.SchwansCompany.com.
As a Senior OPEX Manager you will be responsible for contributing to best performance within 3 plants, by working within the manufacturing facilities to optimize efficiency, safety, and quality for operation processes.  Our area Better Baked Foods plants are in Erie, North East and Westfield, NY. 
Key Responsibilities:
Identifies the top improvement opportunities, focusing on productivity projects to  reduce costs, waste, and labor.  Provides the appropriate data to ensure leadership consensus and buy-in.
Provides data analytic information and coaching to the teams and individuals who will drive the delivery of improvements.
Identifies and implements major improvement projects involving new processes, new technology, and/or new ingredients. Reduces material waste and labor increases cases per man hour and provides documented improvements.
Works with each business unit and R&D on product pictures to define target for each product and examples of defects.
Utilizes SAP data to disseminate what component scraps base quantities and labor should be reduced increased or remain the same providing information to the Engineering Change Coordinator so that production BOMs and routings can be updated.
Utilizes data to recommend and prioritize process improvements.
Evaluates SPC data for products and will tighten upper and lower control limits where possible. Uses X-bar and R-bar charts to prioritize process improvements for components not in control.
Mentor coach and train line employees on how to make actual lasting improvements using the data from SAP, SPC, and monitoring.
Empowers employees to propose and justify maintenance improvements R&D improvements etc. by determining financial saving and project prioritization based on time labor and financial investment.
Utilizes the SAP data captured to prioritize process improvements in efficiency. Provide dollar loss information to substantiate capital improvements. Analyze, identify, and remove the bottle necks for increase line speed.
Education: Bachelor Degree in Industrial Engineering or closely related field or equivalent combination of education and experience.
Years of Related Experience: 5- 10 years of related experience in a manufacturing environment
Knowledge/Skills/Abilities:
Knowledge of Lean Manufacturing/Six Sigma required.
Demonstrated process improvement and manufacturing project management skills.
Working knowledge of MS Office, MS Project, and AutoCAD.
Thorough knowledge of Statistical Process Control and Capability principles.
Able to generate process flow diagrams.
Understand mass and energy balances.
Understand general industrial process and control systems.
Leadership attributes, self motivated, ability to work independently with minimal supervision, and ability to make recommendations and influence targeted audience.
Ability to successfully leverage internal and external resources.
Ability to handle multiple projects and assignments: able to prioritize meet budgets and deadlines and achieve objectives.
Effective communication and problem solving skills.
Ability to maintain sensitive and confidential information.
The employing subsidiaries of Schwan's Company are Equal Employment Opportunity Employers. All qualified applicants will receive consideration for employment without regard to disability, age, race, color, religion, gender, vet status, national origin or other protected class.
Job Type: Exempt Business Unit: SFC Global Supply Chain, Inc. Req #: 19003239
Apply Now
Quick Apply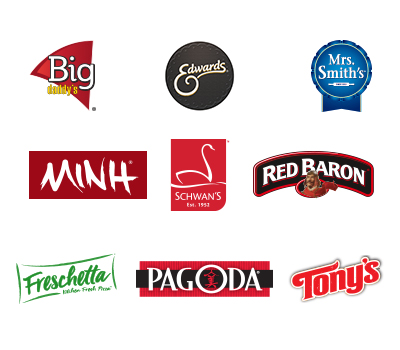 Holiday Foods
Big Daddy's
MINH
Mrs. Smith's
Edwards
Schwan's
Red Baron
Freschetta
Pagoda
Tony's
Larry's