Looking for Home Delivery?
Looking for a career in home delivery? Schwan's Home Service recently began its journey as an independent company, but you can visit www.schwans.com/jobs to learn more about what they have to offer.
Job Description
Sanitation Associate II- 3rd Shift
North East, Pennsylvania
Apply Now
Quick Apply
Description
(Overview)
This is a full-time position within our manufacturing facility with opportunities for advancement!
Who we are!
At Schwan's Company, we are driven to bring our customers delicious foods and reliable services. That's how we grew from a "one-man-and-a-truck" delivery business in rural Minnesota to a multibillion-dollar private company with thousands of team members nationwide. Our commitment to delicious foods shows in all we do, from careful ingredient selection and quality food making to delivering a great experience wherever you shop and eat. 
The foods we make reach customers in many ways. We deliver directly to our customer's homes through our popular food-delivery business, offer well-known retail brands such as Red Baron®, Freschetta®, and Tony's® pizzas, Pagoda® snacks and appetizers, and Mrs. Smith's® and Edwards® desserts, and bring innovative food solutions to our customers in the food-service industry. To learn more, visit us at http://www.schwanscompany.com.
What we are looking for
Here at Schwan's Company, we put a high priority on having safe, clean, and healthy workspaces. And we want individuals that take that seriously.
Are you a hard worker?
We need someone who can:
Understand facility cleaning and safety procedures.
Comply with all safety policies and procedures in accordance with Company, Local, State, and Federal OSHA rules and regulations.
Comply with Good Manufacturing Practices (GMPs) for a food plant and all applicable regulatory, customer and company requirements (policies, procedures, regulations).
Perform basic math.
Read and write well.
Communicate well with others verbally.
Use a computer for data input.
Operate steam and high pressure hoses.
Understand and carry out directions and procedures related to cleaning and sanitation.
Work in a TEAM environment.
Work in hot, cold, wet, dry, and noisy environments.
Take direction from others and lead lower level employees.
If you fit the description, we want you to apply!
So what's this job all about?
Operating CIP (Clean in Place) and COP (Clean Out of Place) systems, verifies execution and performs titrations to assure appropriate chemical concentration usage.
Safely cleaning and sanitizing equipment, tools, and facility to ensure all soil and contaminates are removed per procedures.
Disassembling and reassembling equipment as directed.
Performing environmental and pre-operational inspections through both visual inspection and indicator swabbing followed by documentation of findings per facility program and procedures.
Using and documenting chemical use to stated concentrations and for appropriate applications.
Verifying and documenting that correct chemicals and concentrations are used and that cleaning and sanitizing is complete to deliver equipment and infrastructure that is clean and passes all micro indicator tests.
Assisting with department functions including safety auditing, employee training and pest control functions.
Conducting yourself and ensuring your subordinates (if applicable) conduct themselves in a manner consistent with company mission, values, code of ethics, policies, and other standards of conduct.
What we want to do for you
Company Benefits:
We offer eligible employees a comprehensive benefits package designed to assist employees and their families with their financial security, health and well-being. In addition to a competitive base pay, we offer a variety of benefit programs.
Health, Life, Dental, Vision Plans
401(k) Program

Employee discounts on company products
Typical Hours:
Final Qualifications
1+ Years of related experience are necessary.
Candidates with a high school diploma or equivalent are preferred.
Candidates receiving offers of employment will be required to complete a post-offer, pre-placement background check and drug screen.
If you've made it this far through the description, we think you should just apply already…
The employing subsidiaries of Schwan's Company are Equal Employment Opportunity Employers. All qualified applicants will receive consideration for employment without regard to disability, age, race, color, religion, gender, vet status, national origin or other protected classes.
Job Type: Non-exempt Business Unit: SFC Global Supply Chain, Inc. Req #: 19008802
Apply Now
Quick Apply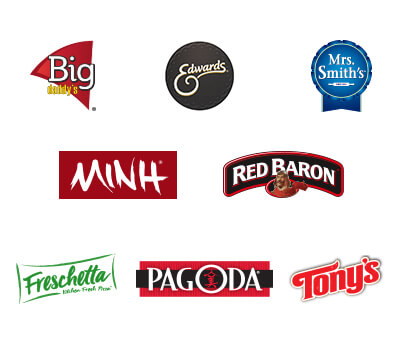 Big Daddy's
Edwards
Mrs. Smith's
MINH
Red Baron
Freschetta
Pagoda
Tony's