Looking for Home Delivery?
Looking for a career in home delivery? Schwan's Home Service recently began its journey as an independent company, but you can visit www.schwans.com/jobs to learn more about what they have to offer.
Job Description
Facilities Operations Manager
North East, Pennsylvania
Apply Now
Quick Apply
Description
(Overview)
Who we are!
Schwan's Company, a U.S. affiliate of the global lifestyle company CJ CheilJedang Corporation, is a leading U.S. manufacturer and marketer of quality foods offered through retail-grocery and food-service channels. Its many popular brands include Red Baron®, Tony's®, Big Daddy's®, Villa Prima™ and Freschetta® pizza; Mrs. Smith's® and Edwards® desserts; and Pagoda® Asian-style snacks. To learn more about Schwan's, visit www.schwanscompany.com.
What we are looking for:
We are hiring a Facilities Operations Manager for our manufacturing facilities in the  North East area. The Faculties Operations Manager is responsible for the overall day-to- day operations of the Schwan's Consumer Brands facilities (both 3rd party run, and company run) across a multi- state geographic area in support of both direct store delivery and warehouse distributed sales. In addition, this position is responsible for efficient and effective shuttle operations. Through building leading and developing a high performing team this position will drive best-in-class warehouse execution and operational processes to ensure service excellence that meets or exceeds our customers' expectations.  If you consider yourself someone who is: Responsible for planning and scheduling all modification to existing equipment and facilities and preventive maintenance in assigned areas.
What you will get from us:
Opportunity to work in a growing segment of a major food manufacturer and showcase your leadership and technical skills to make a big impact on the profitable growth of Schwan's Company.

Opportunities for career growth with a well-established food company.

A culture focused on ensuring the health, safety and well-being of its employees.

Support and mentorship from team members who are authentic, good-natured and highly skilled.

Competitive wages, incentive pay and a comprehensive package of benefits.
Responsibilities:
Designs develops and implements world class safe facility operations across a multi-state geographic area in working with the VP of Operations and Logistics.

Provides leadership and direction to implement standardization across facilities; ensuring consistent best practices are in place ultimately driving excellence in execution for customer service and costs.

Ensures the successful integration of the distribution functions of order entry order processing warehouse management inventory management customer service and shuttle transportation to assigned areas in a timely and cost-effective manner.

Works with Deployment and the Demand teams to ensure fill rate standards are met while meeting inventory level expectations.

Plans and directs the day to day relationship performance and operational execution of the facilities.

Makes periodic reviews and visits to discuss improvement opportunities. Develops detailed action plan to ensure improvements occur within desired timelines.

Manages the development of baselines and performance standards in support of logistics/supply chain and business units service to the customers refining and/or reengineering the processes as business conditions and environment changes.

Facilitates the development and implementation of loss and damage prevention initiatives partnering with relevant business partners.

Identifies best inventory practices and implements those practices to include issuing receiving and handling as well as storing product in the consumable products industry in a frozen environment.

Develops and maintains operational efficiencies for verification of incoming and outgoing shipments. Develops processes for regular cycle counts and ensures cycle counts are reconciled to account for any variances.

Holds 3rd party providers accountable for contractual obligations and service agreements including but not limited to space third party labor loading of trucks management of inventory as well as damaged product and other associated waste.

Develops and executes best practices for effective optimization and integration of facilities and shuttle locations.

Works cross-functionally with the division functional leads to drive best in class service and operational excellence through both their facilities' personnel and third-party labor. Has a specific focus and impact on people safety service quality cost and growth.

Prepares and meet budgets for operating expenses and capital expenses. Responsible for providing period and YTD updates performance metrics on each facility in the assigned area.

Ensure that all material handling and transportation equipment is properly maintained.

Responsible for building a diverse organization that reflects the marketplace and that lives to Schwan values and inspires team through effective leadership (HWW /HWL). Spend a minimum 2 - 4 days in each facility per quarter working directly with warehouse staff to ensure all employees are following processes correctly.

Complete quarterly reviews (annual & mid-year) with all direct reports to ensure career development / advancement.

Undertake other tasks and projects at the direction of management

Ensures compliance with all company safety and fleet policies and procedures

Responsible to conduct yourself and ensure your subordinates (if applicable) conduct themselves in a manner consistent with company mission values code of ethics policies and other standards of conduct.
What we need from you:
The desire to make a meaningful difference. Must be self-motivated with the ability to work independently. We need someone who competes to win!

Authentic leader: direct communicator, able to build strong relationships across the company, with all levels.

Must have great collaboration skills, with the ability to effectively work closely with cross-functional teams.
Education: Bachelor's degree or equivalent
Years of Related Experience: 8-10 years related experience
Knowledge/Skills/Abilities:
Comprehensive financial acumen and P&L management;

Strong time management and organizational skills to manage multi warehouse facilities

Strong communication (both written and verbal) analytical and problem-solving skills

Strong negotiation and influential skills; Intermediate skills in Microsoft Office Suite and Outlook

Proven ability to successfully work cross functionally and leverage organizational resources

Must be able to prioritize and meet deadlines

Proven ability to select hire and build highly diverse effective teams

Must be an effective coach and mentor

Valid Driver's License required; travel required.
The employing subsidiaries of Schwan's Company are Equal Employment Opportunity Employers. All qualified applicants will receive consideration for employment without regard to disability, age, race, color, religion, gender, vet status, national origin or other protected class.
Job Type: Exempt Business Unit: SFC Global Supply Chain, Inc. Req #: 21000475
Apply Now
Quick Apply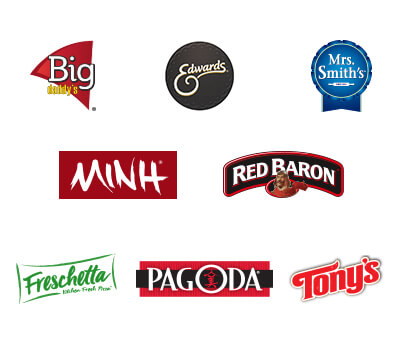 Big Daddy's
Edwards
Mrs. Smith's
MINH
Red Baron
Freschetta
Pagoda
Tony's