Job Description
Edwards Dessert Kitchen Dishwasher Steward
Minneapolis, Minnesota
Apply Now
Quick Apply
Description

(Overview)

At Schwan's Company, we are committed to innovation and are driven by our passion for food. We're entering into a new and exciting venture opening a restaurant in the historic North Loop neighborhood of Downtown Minneapolis. The location will offer a unique, dessert-forward dining experience paired with an inventive cocktail and coffee program. Under the guidance of Chef Christina Kaelberer, this team will launch a one-of-a-kind eating experience and be a part of influencing new innovation for the company. We believe when it comes to our desserts, it's never a question of should… but why not?"




T

his position will include the responsibilities of collecting used dishes, plates and utensils, loading washing machines and stacking washed items appropriately. This is a key role for back of house operations.

Collect used kitchenware from dining and kitchen areas

Load and unload dishwashing machine, wash specific items by hand. Store clean dishes, glasses and equipment appropriately

Ensure there are always enough clean dishes, glasses and utensils, especially during peak hours

Check washing machines' operation and promptly report any technical/performance issues

Remove garbage regularly

Sanitize the kitchen area, including the floor

Utilize clean work habits and maintain a safe, clean work area.

Consistently strive to improve kitchen operating procedures

Comply with and enforce restaurant and OSHA sanitation regulations and safety standards.

Be punctual and work quickly and effectively in high pressure situations or rush period.

Able to work early or late hours, holidays and weekends.

Perform any other reasonable duties as required from time to time

Will report to the Pastry Sous Chef in the absence of the Executive Pastry Chef.

Responsible to conduct yourself and ensure your subordinates (if applicable) conduct themselves in a manner consistent with company mission, values, code of ethics, policies, and other standards of conduct.

Education: High School or equivalent
Years of Related Experience: 1 year of experience
Knowledge/Skills/Abilities: Ability to stand for up to 12 hours, ability to lift up to 50 pounds, knowledge of food preparation, hygiene, and sanitation, knowledge of OSHA requirements within a kitchen, ability to add and subtract

Job Type: Exempt Business Unit: Schwan's CI, LLC Req #: 19006407
Apply Now
Quick Apply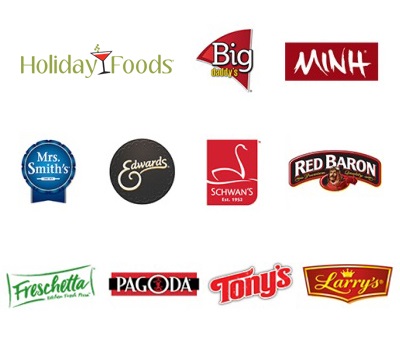 Holiday Foods
Big Daddy's
MINH
Mrs. Smith's
Edwards
Schwan's
Red Baron
Freschetta
Pagoda
Tony's
Larry's