Looking for Home Delivery?
Looking for a career in home delivery? Schwan's Home Service recently began its journey as an independent company, but you can visit www.schwans.com/jobs to learn more about what they have to offer.
Job Description
Sr Mgr Consumer Insights & Analytics
Minneapolis-St. Paul-Bloomington, Minnesota
Apply Now
Quick Apply
Description
(Overview)
At Schwan's Company, the opportunities are real, and the sky is the limit; this isn't just a job, it's a seat at the table.  Around here, every job matters, every voice counts, and every person contributes in a big way.  We look to you to execute business priorities, build relationships and take pride in your work because at Schwan's, you lead the way and we value what you bring. Our passion is our food. Our secret is our people.
Schwan's Company, a U.S. affiliate of the global lifestyle company CJ CheilJedang Corporation, is a leading U.S. manufacturer and marketer of quality foods offered through retail-grocery and food-service channels. Its many popular brands include Red Baron®, Tony's®, Big Daddy's®, Villa Prima™ and Freschetta® pizza; Mrs. Smith's® and Edwards® desserts; and Pagoda® Asian-style snacks. To learn more about Schwan's, visit www.schwanscompany.com.
In this role, you will play a critical part in driving future growth for Schwan's.  You will lead insights work in the following areas: Shopper insights, e-commerce, innovation and trends.  This role will work across both consumer brands and foodservice.
Shopper insights: Build an understanding of the ways consumers shop our categories in order to influence shelf sets, create selling stories, and share thought leadership with retailers.  This work will require interfacing with marketing, category management and sales personnel.  Presentations to retailers will be part of the job.  
E-commerce:  Illuminate the online shopper's mindset and path to purchase.  The goal is to ensure visibility and sales growth for Schwan's products and brands on various digital channels. This will require interfacing with our digital marketing teams to define business issues and questions, execute the research, then advocate for implementation of the appropriate actions.  
Innovation: Manage an annual innovation process for our consumer and foodservice brands.  This includes preparatory work with cross-functional partners, assembling grounding materials, facilitating the discussion (online or in person), summarizing results and pushing next steps forward. This process also involves fielding idea screens and concept tests.
Trends: Monitor consumer trends, keeping cross-functional teams informed of the latest developments.  Develop a point of view on how today's trends will evolve in the future, how they will impact our business, and the opportunities they unlock. This includes both at home and away-from-home eating, as well as the macro environment.   You will oversee contracts with syndicated research vendors whose tools and reports are used across the company (Hartman, Youthbeat, etc.) and manage an internal portal for sharing trends information.  You may also execute foundational research on topics that are applicable across business units.
You'll need an energetic and unconventional point of view, an eagerness to apply new research methods, and agile and flexible thinking.  You will partner with senior leaders in defining strategy and success criteria.
DUTIES AND RESPONSIBILITIES

[Research] 
Lead e-commerce, shopper insights and trends research for the company.
Lead and manage an annual innovation process across businesses.
Manage quantitative and qualitative research to implement consumer/shopper insights priorities that are consistent with the overall direction of the business unit and company.  
Manage the collection, analysis and communication of research results and ensure integrity and objectivity of all data, processes and designs. 
Manage external market research vendors.    
Maintain an internal portal for sharing trend reports across the organization.
[Collaboration]
Partner with cross-functional senior leadership to define project objectives, keep stakeholders updated on progress.
[Influence and Implementation]
Prepare and deliver consumer and shopper insights to business leaders, ensuring sound business recommendations and decision-making.
Partner with category management team to leverage insights with retailers.
[Team]
Partner with senior leadership to develop and manage a budget.
Manage, train and develop subordinates (if applicable).
Conduct yourself and ensure your subordinates (if applicable) conduct themselves in a manner consistent with company mission, values, code of ethics, policies, and other standards of conduct.
Other duties as assigned.
REQUIRED QUALIFICATIONS
Bachelor's Degree or equivalent
6-8 years in a Marketing, Consumer Insights, Shopper Insights or corporate strategy role
Strong knowledge of market research methodologies and processes, market research vendors and consumer insights
Solid understanding of roles of the Marketing, Category Management, Sales and Shopper/ Consumer Insights functions in a CPG company
Strong analytical, leadership and influence skills
Effective communication and presentation skills, both in-person and in a virtual environment
Strategic, flexible, agile, hypothesis-driven, creative thinking with demonstrated results
Strong computer skills with proficiency in Microsoft Office programs.
PREFERRED QUALIFICATIONS
Ability to communicate with all levels of management as well as work across the organization to establish and maximize cross-department synergies
Ability to synthesize disparate data sources to develop a cohesive picture of trends in the market
Experience in digital marketing, UX/UI research or related field
Experience in a CPG company or food company 
Experience working in an international organization
MBA
*
*
Job Type: Exempt Business Unit: Req #: 21003629
Apply Now
Quick Apply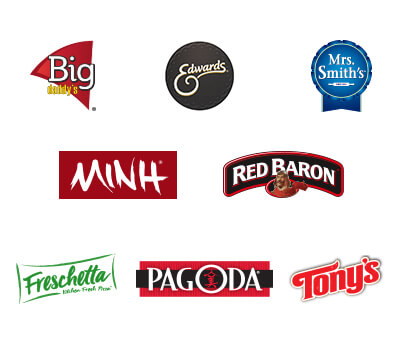 Big Daddy's
Edwards
Mrs. Smith's
MINH
Red Baron
Freschetta
Pagoda
Tony's