Looking for Home Delivery?
Looking for a career in home delivery? Schwan's Home Service recently began its journey as an independent company, but you can visit www.schwans.com/jobs to learn more about what they have to offer.
Job Description
Senior Demand Planner
Minneapolis-St. Paul-Bloomington, Minnesota
Apply Now
Quick Apply
Description
(Overview)
Who we are!

Schwan's Company, a U.S. affiliate of the global lifestyle company CJ CheilJedang Corporation, is a leading U.S. manufacturer and marketer of quality foods offered through retail-grocery and food-service channels. Its many popular brands include Red Baron®, Tony's®, Big Daddy's®, Villa Prima™ and Freschetta® pizza; Mrs. Smith's® and Edwards® desserts; and Pagoda® Asian-style snacks. To learn more about Schwan's, visit www.schwanscompany.com.

What we are looking for:

We are hiring a Senior Demand Planner to support our Shared Services Team in Bloomington, MN. In this role, you will be responsible for producing an operational forecast for the 0 – 12 week horizon. You will also work with the Global Supply Chain and Business Unit Sales teams to execute sales plans and assist in mitigating gaps within supply/demand in the short term.
What we need from you:
Supports the monthly consensus process for assigned business unit(s) for 4 -18-month outlook.
Prepares and presents various analyses of forecast performance of business unit to management upon request.
Creates, develops and produces demand forecasts. Reviews historical sales trends and marketing, sales and financial forecasts; prepare forecast data; and evaluate forecast results.
Categorizes internal demand stream information according to demand patterns.  On occasion input sales/marketing intelligence for each operating unit for use in forecast systems, working with sales organization(s), national sales accounts, marketing, and related forecasting and planning groups.
Interacts and communicates with sales, marketing, finance, purchasing, supply planning and other departments as appropriate to obtain current and accurate information.
Provides timely updates and analysis to Supply Chain partners to identify scenario planning opportunities.
Completes all required education and training and participates in implementation and development of new forecasting software.
Qualifications:
Education: Bachelor's Degree Required
Years of Related Experience: 5+ years related experience
Knowledge/Skills/Abilities: 
Must have an understanding of project management processes and supply chain principles.
Have Knowledge/skills in Windows, Excel and Word.
Basic understanding JDA/Blue Yonder, IRI/Nielsen, functionality, business, processes as well as related interfaces and data exchanges as they correlate to supply chain.
Must possess strong written and oral communication skills as well as strong presentation skills.
Must be analytical with problem-solving skills and demonstrate attention to detail.
Must have the ability to understand and create budgets, position requires intermediate financial analysis skills.
null
Job Type: Exempt Business Unit: Req #: 21006902
Apply Now
Quick Apply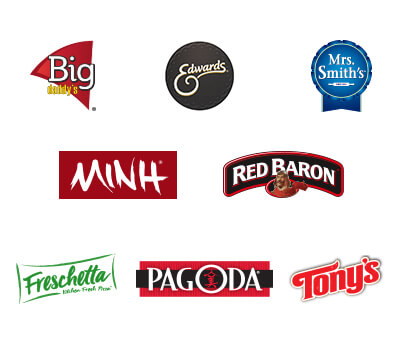 Big Daddy's
Edwards
Mrs. Smith's
MINH
Red Baron
Freschetta
Pagoda
Tony's