Looking for Home Delivery?
Looking for a career in home delivery? Schwan's Home Service recently began its journey as an independent company, but you can visit www.schwans.com/jobs to learn more about what they have to offer.
Job Description
Senior Consumer Insights Analyst, Food Service
Minneapolis-St. Paul-Bloomington, Minnesota
Apply Now
Quick Apply
Description
(Overview)
Do you have a passion for the foodservice industry?  Do you want to utilize your consumer insights knowledge to make an impact on a growing organization? Do you love pizza and Asian food? 
Welcome to the next step in your career.
Schwan's Company is one of America's leading manufacturers of frozen pizza and Asian products for commercial/non-commercial foodservice as well as for retailers nationwide. As an affiliate of CJ Cheiljedang, a global food company based in Korea, we aspire to transform existing categories and achieve sustainable growth in the US market.
We are hiring a Senior Consumer Insights Analyst to support our Food Service business unit in Bloomington, MN. As a part of our Corporate Marketing Team, this high-visibility role interfaces directly with Marketing and Sales leadership in our Foodservice business unit.  You will also be closely engaging with R&D and other cross-functional teams within the organization. You will represent the voice of the operator and consumer, leading all insights work for our foodservice business.   
Operator insights: You will conduct primary/secondary research to understand the operator's point of view - whether looking for ways to grow our market-leading products, uncovering the buying process for new market segments, or staying on top of industry trends.   You'll share your learnings with internal stakeholders to ensure that we always keep the operator front and center in our thinking.   
Consumer insights:  You'll build a deep understanding of the consumers in our key segments, from kids in elementary school to consumers in convenience stores.   
Innovation: You'll work closely with Marketing, R&D, and external innovation partners to develop new products.  This includes synthesis of existing learning, leading/participating in ideation workshops and pushing next steps forward. This process also involves fielding idea screens and concept tests.
Measurement: Market measurement is more important than ever.  You will work with external research companies to measure the size, growth and share of our product categories. 
You won't be sitting on the sidelines in this job – you will be an active contributor to the team.
You'll need a strong knowledge of quantitative and qualitative market research methodologies, an eagerness to learn, and the ability to work independently. 
This role is based in Minneapolis but can also be remote.  If you work remotely, you'll have to travel 4x per year to Minnesota for product training and in-person meetings.  Travel will be required for research projects as needed.
DUTIES AND RESPONSIBILITIES
[Research]
Balance cost, speed and rigor in defining research plans

Manage external research vendors to execute primary research

Synthesize primary research and culinary/menu trends to support innovation, marketing strategies and selling stories

Be a key part of the innovation process
[Collaboration]
Partner with Marketing and other cross-functional partners to define project objectives and keep stakeholders updated on progress
[Influence and Implementation]
Be the voice of the operator and consumer in strategy, innovation and business development discussions

Deliver operator and consumer learnings to business leaders, ensuring sound business recommendations and decision-making 

Share insights with external customers as needed

Be the go-to resource for past research and industry trends
[Team]
Manage a research budget

Conduct yourself in a manner consistent with company mission, values, code of ethics, policies, and other standards of conduct

Other duties as assigned
REQUIRED QUALIFICATIONS
Bachelor's Degree or equivalent

3+ years of experience in a Consumer Insights or Shopper Insights role

Strong knowledge of market research methodologies and processes, market research vendors and consumer insights

Flexibility

Bias for action

Ability to manage multiple insights projects simultaneously

Strong analytical, leadership and influence skills

Effective communication and presentation skills, both in-person and in a virtual environment

Strategic, flexible, creative thinking with demonstrated results

Strong computer skills with proficiency in Microsoft Office programs
PREFERRED QUALIFICATIONS
Relevant experience in the foodservice industry (such as with a manufacturer, distributor, operator, etc)

Understanding of the players in foodservice industry (roles of manufacturers, distributors, FSMs, GPOs, etc)

Knowledge of NPD SupplyTrack
null
Job Type: Exempt Business Unit: Req #: 22000187
Apply Now
Quick Apply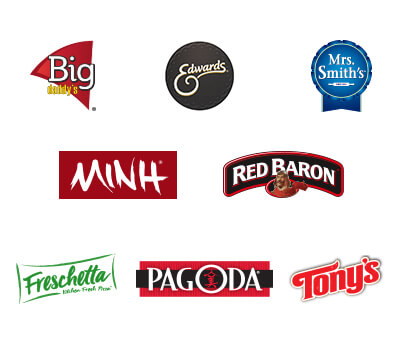 Big Daddy's
Edwards
Mrs. Smith's
MINH
Red Baron
Freschetta
Pagoda
Tony's