Looking for Home Delivery?
Looking for a career in home delivery? Schwan's Home Service recently began its journey as an independent company, but you can visit www.schwans.com/jobs to learn more about what they have to offer.
Job Description
Senior Compensation Analyst
Minneapolis-St. Paul-Bloomington, Minnesota
Apply Now
Quick Apply
Description
(Overview)
Schwan's Company, a U.S. affiliate of the global lifestyle company CJ CheilJedang Corporation, is a leading U.S. manufacturer and marketer of quality foods offered through retail-grocery and food-service channels. Its many popular brands include Red Baron®, Tony's®, Big Daddy's®, Villa Prima™ and Freschetta® pizza; Mrs. Smith's® and Edwards® desserts; and Pagoda® Asian-style snacks. To learn more about Schwan's, visit www.schwanscompany.com.
Position Mission
We are hiring a Senior Compensation Analyst for our Human Resources team in Bloomington, MN.  In this role, you will provide compensation consultation to business leaders and provide subject matter expertise in analyzing external market data to support Schwan's compensation strategy.
What you will get from us:
Opportunity to play a strategic role as we integrate into a global organization

An environment that is flexible, with reasonable hours and a high amount of autonomy

Diverse work supporting a company that has an employee base made of manufacturing, distribution, drivers and corporate team members

Opportunities for career growth with a well-established food company.

Competitive wages, incentive pay, "dress for your day" environment, and a comprehensive package of benefits
Key Responsibilities:
This position uses skills as a seasoned professional with a full understanding of industry practices, and company policies and procedures in order to provide compensation consultation to assigned business units to include administration of base pay, incentive performance management and other pay programs.

Advises HR business partners and customers in the administration of current compensation programs and resolves a wide range of issues.

Analyzes employee salary and job information, identifies potential salary issues and legal concerns, and communicates pay administration programs for respective groups.

Assists Compensation management team to develop, administer and implement new compensation programs for base pay incentive pay, sales compensation, executive compensation, and the performance management process.

Conducts research using appropriate surveys publications internet and other media and provides recommendations for appropriateness of possible organization allocations.

Provides recommendations to Compensation management team for new or revised policies, processes and procedures and ensures that implementation occurs timely, and policies and procedures are followed consistently.

Conducts internal job analysis and evaluation to ensure appropriate classification and grading of jobs and conducts external job analysis and evaluation by participating in and completing salary surveys to ensure market data is valid and useful.

Provides recommendations based on findings to Compensation management team and develops market pricing and job evaluation methodologies for team members to follow consistent processes and analysis.

Advises business units in job description design and provides development assistance as necessary. Reviews job descriptions to ensure completed descriptions meet legal and internal criteria.

Maintains and develops complex databases for compensation programs and evaluation results.
Qualifications:
Education: Bachelor's degree or equivalent
Years of Related Experience: 4 years of related Compensation experience
Knowledge/Skills/Abilities:
Demonstrated knowledge of job analysis and evaluation market pricing survey work and compensation pay practices necessary to develop and provide recommendations.

Advanced analytical skills necessary to work on problems of diverse scope where analysis of data requires evaluation of identifiable factors. Demonstrated advanced PC skills related to Microsoft Office programs to include Microsoft Word, Excel and Access necessary to select methods and techniques for obtaining solutions.

Demonstrated interpersonal verbal and written communication skills necessary to interact with senior internal and external management personnel.

Demonstrated presentation skills necessary to conduct training and informative classes for customers, management and team members.

Professional certification (CCP) preferred.

Sales Compensation experience strongly preferred.
Job Type: Exempt Business Unit: Req #: 22000207
Apply Now
Quick Apply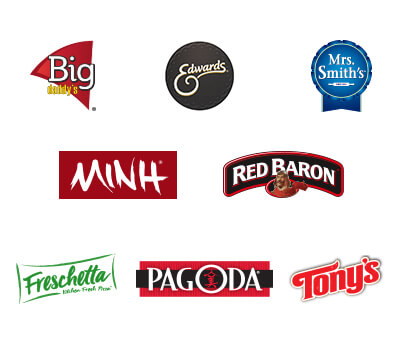 Big Daddy's
Edwards
Mrs. Smith's
MINH
Red Baron
Freschetta
Pagoda
Tony's