Looking for Home Delivery?
Looking for a career in home delivery? Schwan's Home Service recently began its journey as an independent company, but you can visit www.schwans.com/jobs to learn more about what they have to offer.
Job Description
Regional PSM Manager
Minneapolis-St. Paul-Bloomington, Minnesota
Apply Now
Quick Apply
Description
(Overview)
Schwan's Company, a U.S. affiliate of the global lifestyle company CJ CheilJedang Corporation, is a leading U.S. manufacturer and marketer of quality foods offered through retail-grocery and food-service channels. Its many popular brands include Red Baron®, Tony's®, Big Daddy's®, Villa Prima™ and Freschetta® pizza; Mrs. Smith's® and Edwards® desserts; and Pagoda® Asian-style snacks. To learn more about Schwan's, visit www.schwanscompany.com.
What we are looking for:
We are hiring a Regional PSM Manager, who can be based either in the Houston, TX area or at corporate offices in Bloomington, MN (with up to 50% travel).   This is a new position due to company growth, where you will oversee the PSM program for approximately six of our manufacturing facilities, including giving guidance to 6-7 PSM specialists.  
This position reports to the Corporate PSM Director and serves primarily to support and drive compliance and safety initiatives with respect to PSM, RMP and general system operation. You will be responsible for providing compliance and technical expertise in support of the Process Safety Management (PSM) program for ammonia refrigeration systems and compliance at Schwan's Company. This position is responsible for initiating, leading and successfully executing compliance activities and projects related to facility ammonia refrigeration systems, related utilities, operational training/expertise and overall system reliability. The person in this role will be required to successfully partner with corporate leadership, facility leadership, EHS/PSM staff and facility refrigeration teams, among others.
Responsibilities:
Supports compliance with OSHA's Process Safety Management Standard, EPA's Chemical Accident Prevention Provision Risk Management Plan (RMP) regulation and all applicable federal, state, and local regulations.

Dotted-line support may apply across multiple facilities and for multiple PSM staff members. Supports, coaches and develops talents and capabilities of junior PSM staff members.

Supports key compliance activities for the 14 Elements of PSM and RMP as needed. Such activities include but are not limited to Process Safety Information, Process Hazard Analysis, Operating Procedures, Operator Training, Mechanical Integrity, Management of Change, Incident Investigation, Compliance Audits and Risk Management Plans.

Responsible for conducting and/or coordinating internal Mechanical Integrity inspections for your assigned facilities. Will generate reports and work with facilities to understand findings, ensure the plan for remediation is timely, comprehensive and appropriate to maintain safe system operation.

Develops and manages inspection, testing, and preventive maintenance plans and equipment reliability programs for the covered process(es) and utilities where appropriate. Ensures facilities are in compliance with applicable codes, regulations, RAGAGEP, etc. This will include related systems such as utilities and safety systems as needed.

Manages company standards and/or facility programs for preventive maintenance, reliability and 'up-time' of refrigeration systems. Monitors, tracks and reports PM completion rates and acts to implement improvements where necessary or appropriate. Assists and may lead in the development of multi-year capital, reliability and asset management plans.

Supports and facilitates internal compliance assessments and external compliance audit activities for PSM and RMP compliance. Ensures report generation, works with facilities to understand findings, ensure the plan for remediation is timely, comprehensive, appropriate and complete to maintain safe and compliant system operation.

Facilitates, leads and reports out on internal facility compliance status as it relates to general compliance, refrigeration system operation, reliability, safety and up-time. Provides guidance and leadership for facility PSM and refrigeration staff to implement standardized management systems and tracking to ensure system performance and safety is transparent and communicated to leadership.

Leads and facilitates PSM/RMP incident investigations and root cause analyses. Updates reports and submittals as required by OSHA and EPA including RMP updates.

Supports design review of plans and technical documents for compliance in new construction and for modified facilities.

Supports on-demand and on-site as needed for facility refrigeration operability issues, center-lining, safety improvements, etc. Domestic travel required.

Maintain and update knowledge base on compliance and technical aspects of ammonia refrigeration systems.
Requirements:
Education: Bachelor's degree (or equivalent) in Safety/ Environmental /Safety Science / Engineering or related area
Years of Related Experience: 10+ years related experience
Knowledge/Skills/Abilities:
Expertise in State/Federal EPA and OSHA compliance requirements, and of regulatory requirements, procedures and legislative processes.

Expertise in Recognized and Generally Accepted Good Engineering Practices (RAGAGEP) for ammonia systems including but not limited to IIAR, NEC, ASME, B&PVC.

Experience in PSM, preferred with ammonia systems;

Experience in implementing safety programs in manufacturing environments;

Experience in hazard evaluation techniques such as Hazard Identification (HazID), What-If, Hazard and Operability (HazOp), Layer of Protection Analysis (LOPA) and others as needed; ability to use software and reporting to track key performance indicators;

Proficient in MS Office, email and Internet functions; Must include high proficiency in MS Word, Excel, PowerPoint and Adobe. AutoCAD, SAP, APSM PSM software packages a plus.

Experience with CMMS systems, report generation and synthesis of reports a plus.

Ability to facilitate, direct and motivate employees and organize and coordinate various safety training activities; Strong communication skills, both written and verbal.

Must be able to effectively and professionally communicate to all levels of the organization, from front-line operators to corporate executive team members.

Previous experience managing and motivating a team a plus

High-level project management, interpersonal communications and critical thinking ability required.

Ability to produce results in a matrix organization where teammates are not direct reports.

Domestic travel required, up to 50%.
The employing subsidiaries of Schwan's Company are Equal Employment Opportunity Employers. All qualified applicants will receive consideration for employment without regard to disability, age, race, color, religion, gender, vet status, national origin or other protected class.
null
Job Type: Exempt Business Unit: Req #: 21006013
Apply Now
Quick Apply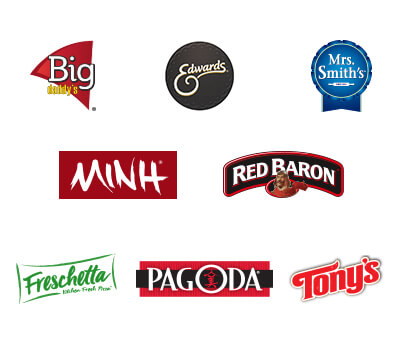 Big Daddy's
Edwards
Mrs. Smith's
MINH
Red Baron
Freschetta
Pagoda
Tony's