Looking for Home Delivery?
Looking for a career in home delivery? Schwan's Home Service recently began its journey as an independent company, but you can visit www.schwans.com/jobs to learn more about what they have to offer.
Job Description
National Accounts Manager (Remote)
Minneapolis-St. Paul-Bloomington, Minnesota
Apply Now
Quick Apply
Description
(Overview)
At Schwan's Company, the opportunities are real, and the sky is the limit; this isn't just a job, it's a seat at the table.  Around here, every job matters, every voice counts, and every person contributes in a big way.  As part of our direct sales team, we look to you to execute business, build relationships and take pride in your work because at Schwan's, you lead the way and we value what you bring. Our passion is our food. Our secret is our people.  
Schwan's Company, a U.S. affiliate of the global lifestyle company, CJ CheilJedang Corporation, is a leading U.S. manufacturer and marketer of quality foods offered through retail-grocery and food-service channels. Our many popular brands include Red Baron®, Tony's®, Big Daddy's®, Villa Prima™ and Freschetta® pizza; Mrs. Smith's® and Edwards® desserts; and Pagoda® Asian-style snacks. Schwan's is a place for people with an appetite for more.  To learn about joining a team where you can belong, contribute and thrive, visit www.schwanscompany.com
Position Mission
We are hiring a National Accounts Manager for our Food Service team to be homeoffice based in Central United States area. In this role you will be responsible for the sales/servicing of all assigned accounts in accordance with the marketing plan to attain maximum sales and customer profitability.
Responsibilities
Initiates direct sales calls on account headquarters and lines of business for assigned accounts.

Portfolio size ranges from $15m and $75m annually

Formulates and negotiates pricing and program contracts for assigned accounts.

Assures contract parity between customers.

Develops and maintains account plans outlining strategic and tactical developmental efforts within each account.

Makes frequent calls on customers to build relationships and/or to resolve problems.

Effectively communicates account initiatives and execution plans to the field sales teams and management. Supports field sales team with key local customer events and problem resolution when necessary.

May provide insight and/or lead the analytics, trade and reporting that support the strategic business needs.

Assists with the development and training of the field sales organization for contract management company business.

Assists in the planning, development, administration and monitoring the effectiveness of promotional programs.

Maintains current customer files and pertinent database information on all accounts.

Compiles all required reports on a timely basis including sales projections, products, sales results, expenses, trade shows, etc.

Assists management in the research and development of new products /processes suitable for accounts.

Supports the organization in areas of product knowledge, promotional knowledge, sales, performance reports, industry information, and marketing plan development and execution.

Manages, trains and develops subordinates, if applicable

Responsible to conduct yourself and ensure your subordinates (if applicable) conduct themselves in a manner consistent with company mission, values, code of ethics, policies, and other standards of conduct.
Qualifications
Education: Bachelor's degree required or equivalent work experience
Years of Related Experience: Minimum of 7 years Food Service Industry sales experience 
Knowledge/Skills/Abilities
Competent in evaluating and interpreting primary and secondary research results and financial information.

Competent in understanding food service industry market channels, manufacturing environments, and multiple sales and distribution systems.

Ability to read, analyze, and interpret general business periodicals, professional journals, technical procedures, and/or government regulations.

Ability to work with mathematical concepts such as probability and statistical inference.

Ability to apply concepts such as fractions, percentages, ratios, and proportions to practical situations.

Ability to develop and work within budgets.
null
Job Type: Exempt Business Unit: Req #: 21002677
Apply Now
Quick Apply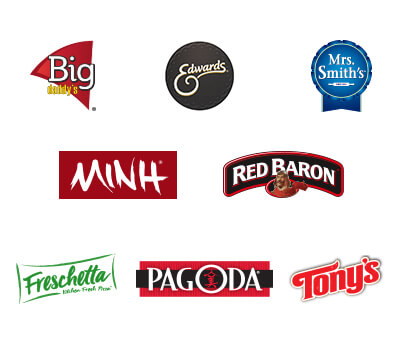 Big Daddy's
Edwards
Mrs. Smith's
MINH
Red Baron
Freschetta
Pagoda
Tony's