Looking for Home Delivery?
Looking for a career in home delivery? Schwan's Home Service recently began its journey as an independent company, but you can visit www.schwans.com/jobs to learn more about what they have to offer.
Job Description
Integrated Business Planning Execution Manager
Minneapolis-St. Paul-Bloomington, Minnesota
Apply Now
Quick Apply
Description
(Overview)
Who we are!

Schwan's Company, a U.S. affiliate of the global lifestyle company CJ CheilJedang Corporation, is a leading U.S. manufacturer and marketer of quality foods offered through retail-grocery and food-service channels. Its many popular brands include Red Baron®, Tony's®, Big Daddy's®, Villa Prima™ and Freschetta® pizza; Mrs. Smith's® and Edwards® desserts; and Pagoda® Asian-style snacks. To learn more about Schwan's, visit www.schwanscompany.com.

What we are looking for:

We are hiring an Integrated Business Planning Execution Manager to join our IBP function. This position will be in Bloomington, MN (corporate office).

This role is accountable for executing the Integrated Business Planning (IBP) process, which integrates the strategic and operational business plan across functions. The role serves as key point of contact to facilitate and deliver upon the established standards, tools and cadence.
What we need from you:
Manages the effectiveness of the IBP process for the Business Unit and supports activities with alignment to customer, channel, and category requirements, financial and budgeting requirements, and strategic requirements.

Leads organization and execution of the Business Unit IBP routines –Demand Review and Sales, Operations and Execution (S&OE).

Works in close collaboration with functional areas such as Marketing, Sales, Finance and Supply Chain to ensure deliverables and timelines are met.

Supports the IBP Lead with the Business Unit Monthly Business Review meeting, Supply Review and Product Management Review (PMR).

Lead discussions and influence business decisions thru translation of data and analytics, in cooperation with multiple cross functional areas.

Coordinates monthly Inventory at Risk reporting and action planning with the finance, sales and marketing teams.

Aids in delivering the Business Unit's near and long term strategic and tactical plans through facilitation of the IBP Cycle.

Acts as the owner of the risk & opportunities ledger, inclusive of supply/demand & financial gaps and resolutions.

Responsible to conduct yourself and ensure your subordinates (if applicable) conduct themselves in a manner consistent with company mission, values, code of ethics, policies, and other standards of conduct.
Qualifications:
Education: BA/BS in Supply Chain, Operations, Marketing, Supply Planning or similar areas. Experience in consumer packaged goods or foodservice preferred.

Years of Related Experience: Minimum 5+ years of related experience
Knowledge/Skills/Abilities: 
In-depth knowledge in one or more of the following areas; Supply Planning, Demand Planning, Procurement, Manufacturing and Supply Chain consulting.

Demonstrates significant business maturity, strong business acumen, executive-caliber communication, influencing skills, and ability to develop and deliver recommendations.

Proven experience in defining meaningful insights and solutions to action.

Advanced analytical skills. Independent worker and project manager with the ability to lead and resolve complex problems.

Ability to manage projects and continuous improvement initiatives with cross-functional teams.

Superior attention to detail and a high need for accuracy.

Highly proficient in Microsoft Excel and PowerPoint.
null
Job Type: Exempt Business Unit: Req #: 21006314
Apply Now
Quick Apply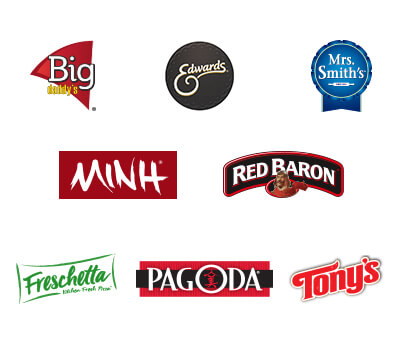 Big Daddy's
Edwards
Mrs. Smith's
MINH
Red Baron
Freschetta
Pagoda
Tony's