Looking for Home Delivery?
Looking for a career in home delivery? Schwan's Home Service recently began its journey as an independent company, but you can visit www.schwans.com/jobs to learn more about what they have to offer.
Job Description
Benefits Specialist
Minneapolis-St. Paul-Bloomington, Minnesota
Apply Now
Quick Apply
Description
(Overview)
At Schwan's Company, the opportunities are real, and the sky is the limit; this isn't just a job, it's a seat at the table.  Around here, every job matters, every voice counts, and every person contributes in a big way.  We look to you to execute business priorities, build relationships and take pride in your work because at Schwan's, you lead the way and we value what you bring. Our passion is our food. Our secret is our people. 
Schwan's Company, a U.S. affiliate of the global lifestyle company, CJ CheilJedang Corporation, is a leading U.S. manufacturer and marketer of quality foods offered through retail-grocery and food-service channels with brands including Red Baron, Freschetta, Pagoda Snacks and Edwards desserts. To learn about joining a team where you can belong, contribute and thrive, visit www.schwanscompany.com
We are hiring a Benefits Specialist for our Shared Services team in Bloomington, MN. In this role, you will be responsible for analyzing employee benefit data for accuracy and compliance, including collection of employee premiums.  In addition, this position will be responsible for supporting the on-going administration and compliance of the benefit plans and programs, including resolution of complex problems, and participating and leading cross-functional projects.       
Essential Duties and Responsibilities:
Works as a part of an integrated team administering various employee benefit programs, educating employees on available benefits, tracking and administering the employee/participants (including beneficiary and alternate payee) and dependents eligibility and enrollment in benefits from hire date to termination of employment/disbursement using SAP technology or 3rd party vendor. 
Responsible for utilizing available technology to run reports, files, & respond to ad hoc requests for information and to perform complex analysis of the data. Responsible for making recommendations for process changes or improvements, when appropriate, based on findings. 
Implement new benefit programs and work with cross-functional teams, as well as external vendors, to secure necessary resources for implementation as needed.
Resolve complex administrative problems with vendors and suggests process improvements as appropriate.
Create and/or verify the calculation of premiums/claim statements for all group insurance benefits.  Submit all vendor payments timely.  Maintain reports and/or statistical data relative to deductions, premiums, claims and costs.
Responsible for working with third party administrators to ensure COBRA coverage & premium remittance is accurate, auditing premium payments and oversight of national medical support notices.  Work directly with outside third parties/auditors/record keeper/trustee as appropriate.
Determine the appropriate employee deductions have been taken for each benefit or establish billings or additional payments for any missed deductions including communication to the employee.
Respond to government/legal requests and keep all relevant records.
Provides managers and employees with information on various benefits, programs or processes of a complex nature.  Research and resolve questions or concerns from benefit vendors, employees and/or management regarding specific benefit issues.
Interprets benefit contracts, government regulations, company policies, procedures, and guidelines regarding complex inquiries and issues. 
Qualifications
Education: Bachelor's degree or equivalent
Years of Related Experience: 1-3 years of related experience
Knowledge/Skills/Abilities:
Intermediate proficiency with the Microsoft Office Suite and Outlook

Solid understanding of & experience in financial analysis

Good communication (written & oral) and interpersonal skills

Demonstrated ability to effectively prioritize & manage multiple projects simultaneously in a deadline-driven environment

Strong organizational skills

Proven ability to coach and counsel external partners & internal colleagues on process

Ability to present to external business partners and senior management; experience in dealing with field sales personnel
null
Job Type: Exempt Business Unit: Req #: 21005165
Apply Now
Quick Apply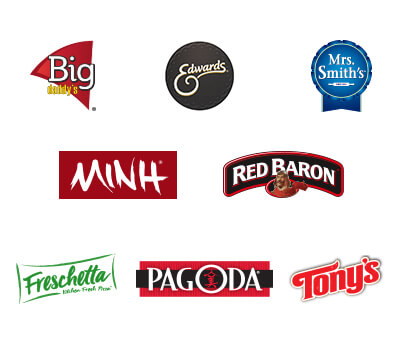 Big Daddy's
Edwards
Mrs. Smith's
MINH
Red Baron
Freschetta
Pagoda
Tony's