Job Description
Sr Director of Regional Plant Finance
Marshall, Minnesota
Apply Now
Quick Apply
Description
(Overview)
At Schwan's Company, we are a fast-paced, innovative team, focused on bringing delicious foods to our customers. If you're passionate about food and creating a successful future, this is the place for you. Based in Minnesota, Schwan's is an international, multibillion-dollar company that manufactures and markets quality foods through home-delivery, retail-grocery and food-service channels. Its many popular brands includeRed Baron®, Tony's® and Freschetta® pizza, Mrs. Smith's® and Edwards® desserts, Pagoda® Asian-style snacks and Schwan's® home delivery. To learn more about Schwan's, visit www.SchwansCompany.com.
We are hiring a Senior Director of Regional Finance to provide financial direction and leadership to the multiple facilities that support our frozen dessert platform. In this leadership role you will lead a team of Plant Controllers that are responsible for maintaining proper financial control/reporting systems to ensure that plant assets are utilized and managed in the most cost effective and profitable manner in order to maximize return on investment.
This position can be based at our corporate headquarters in Bloomington, MN or one of our major dessert production plant locations in Stilwell, OK or Marshall, MN.
What you will get from us:
Opportunity to work on exciting, strategic financial and capital projects in partnership with key leaders: showcase your technical skills to make a big impact on the profitable growth of Schwan's Company

A culture focused on ensuring the health, safety and well-being of its employees

Support and mentorship from team members who are authentic, good-natured and highly skilled

Competitive wages, incentive pay and a comprehensive package of benefits
Responsibilities:
Partners with the VP of Regional Manufacturing driving key analysis and insights to guide decision making as well as challenging the teams to improve financial performance.

Ensures all accounting/reporting is done in a timely and accurate manner and in accordance with US GAAP Accounting Standards and accounting policies/ procedures.

Provides leadership and direction to the plant accounting teams to ensure the financial accounting and reporting needs of the plants supported are met to enable the plant management teams to meet their budgeted financial goals and objectives.

Provides leadership and direction to other plant controllers to ensure alignment of processes and develop and coach employees.

Enhances current plant accounting and performance to identify variances to enable timely corrective action.

Uses value analysis techniques to identify and make recommendations to plant management to improve performance and lower unit costs. Instills strong cost control/ reporting and planning discipline to assist senior plant management in controlling manufacturing costs while achieving the required product quality standards.

Provides financial advice and assistance to the plant management team to ensure decision making is made on a sound financial and operational basis.

Works with VP Regional Manufacturing and other leaders to raise their financial awareness and acumen.

Assists VP Regional Manufacturing with short to long term capital planning including identifying and evaluating financial payback on all new capital expenditure proposals.

Conducts post implementation capital project reviews to ensure projects achieve financial objectives.

Works with the corporate finance/business unit integration personnel on a number of initiatives including; providing cost information for Stage Gate projects, cost reduction, business unit collaboration initiatives, identifying cost/performance improvement opportunities, and establishing and sharing plant accounting/controlling/reporting best practices opportunities. Facilitates annual business planning process.

Assists in the design and development of strong financial/business control processes to ensure accuracy and integrity of financial records minimization of business risk and proper stewardship of all plants assets covering but not limited to contracts, inventory, plant and equipment, and capital versus revenue expenditure.

Supervises trains and develops subordinates.
What we need from you:
Years of Experience: 10-12 years of related experience.
Education: Bachelor degree or equivalent.
The desire to make a meaningful difference. Must be self-motivated with the ability to work independently. We need someone who competes to win!
Authentic leader: direct communicator, able to build strong relationships across the company, with all levels.

Must have great collaboration skills, with the ability to effectively work closely with cross-functional teams.

Knowledge/Skills/Abilities:

Intermediate proficiency in the use of a personal computer including Windows and the Microsoft Office Suite, numeric analytic techniques, proficiency in the use of integrated MRP accounting and reporting systems, advanced analytical skills & tools (e.g. SAP BW).

Advance ability to detect trends.

Intermediate skills in the development of financial ratios and comparative analysis. A thorough understanding of general accounting principles and accepted standards.

The ability to meet project deadlines and prioritize tasks.

The ability to work on multiple projects simultaneously, effectively present financial data to a variety of audiences, and to work effectively and cooperatively within teams.

Leadership attributes: self-motivated, ability to work independently with minimal supervision, and ability to make recommendations and influence targeted audience.

Ability to successfully leverage internal and external resources.

Effective communication skills.

Ability to maintain sensitive and confidential information.

Knowledge of Lean Manufacturing/Six Sigma a plus. Preferred exposure to manufacturing accounting including standard costing and full variance analysis reporting. CPA CMA or CIA Preferred.
The employing subsidiaries of Schwan's Company are Equal Employment Opportunity Employers. All qualified applicants will receive consideration for employment without regard to disability, age, race, color, religion, gender, vet status, national origin or other protected class.
Job Type: Exempt Business Unit: SFC Global Supply Chain, Inc. Req #: 19012523
Apply Now
Quick Apply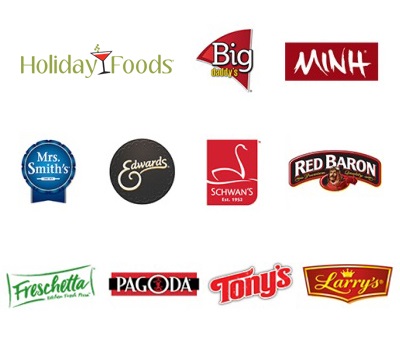 Holiday Foods
Big Daddy's
MINH
Mrs. Smith's
Edwards
Schwan's
Red Baron
Freschetta
Pagoda
Tony's
Larry's