Job Description
Senior Total Rewards Analyst
Marshall, Minnesota
Apply Now
Quick Apply
Description
(Overview)
Schwan's Cygnus Home Service is hiring for a Sr Total Rewards Analyst.  In this role you will work with the Total Rewards and HR Operations team on various projects to support implementation of new systems, process standardization, auditing, analysis and communications. It's an integral role where you will provide support to the HR business partners and managers. You will also be responsible for working with the Director Total Rewards and HR Operations on strategic planning, program design, administration and procedural developments for compensation.
DUTIES AND RESPONSIBILITIES
Complete salary, structure and benefits surveys which help the company stay competitive in all locations across the lower 48 states.
Responsible for market pricing positions within the company and ensuring we have good market sources in our industry.
Create job description templates, help write new job descriptions, create evaluation procedures and processes for keeping descriptions up to date
Conduct salary planning design, testing, auditing, forecasting, strategy, communications, approvals, FLSA reviews and training
Draft communications, training and education with team and manager input so that compensation programs are well-understood
Facilitate HR approvals of salary changes, job creation, budget involvement, and bonus programs
Participate in new HRIS system design and interface structure, including process documentation and roll-out
Continuously audit and report on compensation and benefits programs
Education: Bachelor's degree or equivalent
Years of Related Experience: 4 years of related Compensation experience required; benefits and/or payroll experience is a plus
Knowledge/Skills/Abilities:
Demonstrated knowledge of job analysis and evaluation, market pricing, survey work, and compensation pay practices necessary to develop and provide recommendations.
Advanced analytical skills necessary to work on problems of diverse scope where analysis of data requires evaluation of identifiable factors.
Demonstrated advanced PC skills related to Microsoft Office programs to include Microsoft Word, Excel, and Access necessary to select methods and techniques for obtaining solutions.
Demonstrated interpersonal, verbal, and written communication skills necessary to interact with senior internal and external management personnel.
Demonstrated presentation skills necessary to conduct training and informative classes for customers, management, and team members.
Professional certification (CCP) preferred.
Job Type: Exempt Business Unit: Schwan's Home Service, Inc. Req #: 19010667
Apply Now
Quick Apply
Our Brands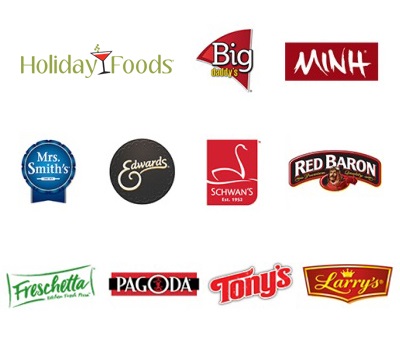 Holiday Foods
Big Daddy's
MINH
Mrs. Smith's
Edwards
Schwan's
Red Baron
Freschetta
Pagoda
Tony's
Larry's