Looking for Home Delivery?
Looking for a career in home delivery? Schwan's Home Service recently began its journey as an independent company, but you can visit www.schwans.com/jobs to learn more about what they have to offer.
Job Description
Seasonal Material Handler II - Palletizer / 1st Shift / $14.20+
Marshall, Minnesota
Apply Now
Quick Apply
Description
(Overview)
Flexibility to work 2-6 shifts per week.  
Shift: 1st Shift
Starting Wage: $14.20, plus extra $1.50 for hours worked between 6pm-6am
Hours: 3am/6:30am to 3:30pm, some Saturday
Primary Location: Ice Cream Plant

This is a seasonal position (4-6 months) within our manufacturing facility with opportunities for advancement!

Who we are!

Schwan's Company, a U.S. affiliate of the global lifestyle company CJ CheilJedang Corporation, is a leading U.S. manufacturer and marketer of quality foods offered through retail-grocery and food-service channels. Its many popular brands include Red Baron®, Tony's®, Big Daddy's®, Villa Prima™ and Freschetta® pizza; Mrs. Smith's® and Edwards® desserts; and Pagoda® Asian-style snacks. To learn more about Schwan's, visit www.schwanscompany.com.

What we are looking for:

Here at Schwan's Company, we put a high priority on having safe, clean, and healthy workspaces. And we want individuals that take that seriously.

This position under general supervision is responsible for successfully moving materials supplies and finished goods through the facility which includes unloading frozen food product from semis into warehouse freezers and loading frozen food from warehouse freezers into delivery trucks.

So what's this job all about?
Moves materials and supplies through the facility
May require the use of material handling equipment such as carts conveyer belts and pallet jacks
Stacks skids or pallets in designated areas
Cleans and disposes of scrap bracing cardboard and strapping
Places items in proper containers or designated areas
Uses tools such as hammers and crowbars to remove strapping open crates strap cars
Uses lists to determine and count quantities of product moving throughout the facility
Completes paperwork to properly document work performed
May require the use of a computer on occasion
Conducts intermediate material audits
Other duties as assigned (such as general maintenance work around the facility and processing of load sheets)
Responsible to conduct yourself in a manner consistent with company mission values code of ethics policies and other standards of conduct
Education: High School Diploma or equivalent

Years of Related Experience: 2+ years of related experience

Knowledge/Skills/Abilities:

Intermediate communication skills (both written and verbal)
Basic math and reading skills
Strong attention to detail
Must be able to work in freezers with subzero temperatures for 4-8 hours per day
Must be able to stand for up to 8 hours per day
In some geographies must be able to work in various outdoor conditions
The use of Personal Protective Equipment (PPE) is required, including but not limited to bump cap, safety glasses/goggles, face shield, face mask, ear plugs, hair and beard nets, gloves and safety shoes or rubber boots

If you've made it this far through the description, we think you should just apply already...

The employing subsidiaries of Schwan's Company are Equal Employment Opportunity Employers. All qualified applicants will receive consideration for employment without regard to disability, age, race, color, religion, gender, vet status, national origin or other protected classes.


Job Type: Non-exempt Business Unit: SFC Global Supply Chain, Inc. Req #: 20004884
Apply Now
Quick Apply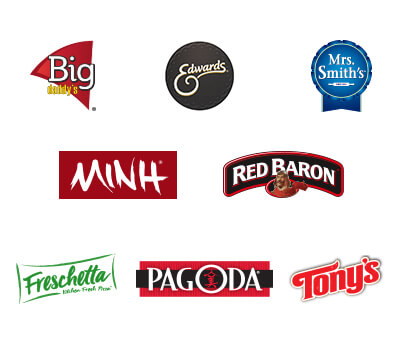 Big Daddy's
Edwards
Mrs. Smith's
MINH
Red Baron
Freschetta
Pagoda
Tony's