Looking for Home Delivery?
Looking for a career in home delivery? Schwan's Home Service recently began its journey as an independent company, but you can visit www.schwans.com/jobs to learn more about what they have to offer.
Job Description
Seasonal Janitor 2nd Shift (2-10pm) $13+/hr
Marshall, Minnesota
Apply Now
Quick Apply
Description
(Overview)
This is a seasonal position (3-6 months).
Primary Location: Ice Cream Plant
Shift: 2-10pm, some weekends
Pay: $13/hr, plus $1.50 shift pay for hours after 6pm. 
This position is responsible for performing a variety of duties using standard cleaning supplies for general upkeep of building and lines
Cleans floors fixtures and walls using standard cleaning supplies as needed to maintain neat appearance.
Removes trash from offices locker rooms outside break-room areas and washing areas and places in proper container for disposal.
Sanitizes line and equipment at each line break.
Performs duties required to maintain good condition and appearance of building.
Ensures that all towel and soap dispensers are full at all times.
Notifies lead when reordering of supplies is needed.
Maintains clean appearance in the offices.
Cleans windows.
Education: High School Diploma or equivalent.
Years of Related Experience: One year of related experience.
Knowledge/Skills/Abilities: Ability to read a limited number of two- and three-syllable words and to recognize similarities and differences between words and between series of numbers. Ability to print and speak simple sentences. Ability to add and subtract two digit numbers and to multiply and divide with 10's and 100's. Ability to perform these operations using units of American money and weight measurement volume and distance. Ability to apply commonsense understanding to carry out simple one- or two-step instructions. Ability to deal with standardized situations with only occasional or no variables.
The employing subsidiaries of The Schwan Food Company are Equal Employment Opportunity Employers. All qualified applicants will receive consideration for employment without regard to disability, age, race, color, religion, gender, vet status, national origin or other protected class.
#vfj-11-11#
Job Type: Non-exempt Business Unit: SFC Global Supply Chain, Inc. Req #: 20001917
Apply Now
Quick Apply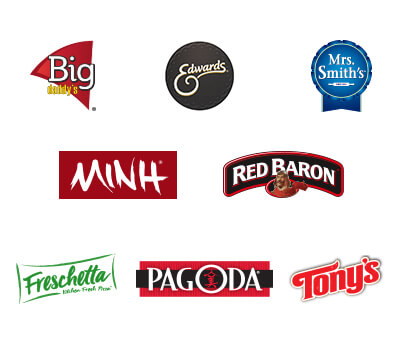 Big Daddy's
Edwards
Mrs. Smith's
MINH
Red Baron
Freschetta
Pagoda
Tony's