Looking for Home Delivery?
Looking for a career in home delivery? Schwan's Home Service recently began its journey as an independent company, but you can visit www.schwans.com/jobs to learn more about what they have to offer.
Job Description
Production Supervisor Intern
Marshall, Minnesota
Apply Now
Quick Apply
Description
(Overview)
At Schwan's Company, we are driven to bring our customers delicious foods and reliable services. That's how we grew from a "one-man-and-a-truck" delivery business in rural Minnesota to a multibillion-dollar private company with thousands of team members nationwide. Our commitment to delicious foods shows in all we do, from careful ingredient selection and quality food making to delivering a great experience wherever you shop and eat.
The foods we make reach customers in many ways. We deliver directly to our customer's homes through our popular food-delivery business, offer well-known retail brands such as
Red Baron®, Freschetta®,
and
Tony's®
pizzas,
Pagoda®
snacks and appetizers, and
Mrs. Smith's®
and
Edwards®
desserts, and bring innovative food solutions to our customers in the food-service industry. To learn more, visit us at
http://www.schwanscompany.com
The Technical Intern is a temporary position found in one of many technical areas or disciplines within the company to include (but not limited to): Information Technology, Research & Development, Engineering, etc. This position operates under direct supervision and will be exposed to a variety of projects and tasks related to the applicable functional area while potentially being exposed to multiple levels of personnel from within the company.
The intern will perform a variety of tasks and responsibilities that may include but are not limited to:
Assisting with various routine and special technical projects within area of responsibility.
Preparing reports compiles and analyzes technical data, etc to support business initiatives.
Maintaining various databases or automated systems to support technical department projects.
Provide external research and/or internal resources to assist management or other employees with completion of their job duties and responsibilities of a technical nature.
Responsible to conduct yourself in a manner consistent with company mission, values, code of ethics, policies, and other standards of conduct.
Education: Current enrollment in a college degree program - either Associate's or Bachelor's of Science in a related field of study.
Years of Related Experience: 0 -2 years related experience
Knowledge/Skills/Abilities: Basic PC, communication and interpersonal skills required; familiarity with Microsoft Office and email programs; basic understanding of applicable discipline (i.e. Information Technology, Research & Development, Engineering, etc.) with organizational and self-motivational skills required. Requires basic mathematical skills including algebra, percentage, fractions, and word problems. Ability to observe safety precautions and procedures is also required.
The employing subsidiaries of Schwan's Company are Equal Employment Opportunity Employers. All qualified applicants will receive consideration for employment without regard to disability, age, race, color, religion, gender, vet status, national origin or other protected class.
#vfj-11-11#
Job Type: Non-exempt Business Unit: SFC Global Supply Chain, Inc. Req #: 20000931
Apply Now
Quick Apply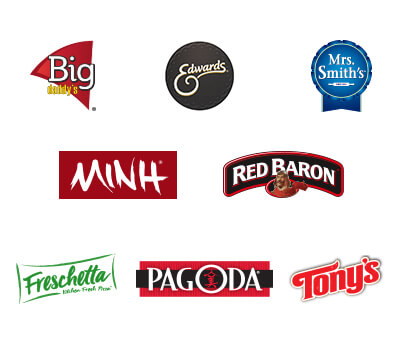 Big Daddy's
Edwards
Mrs. Smith's
MINH
Red Baron
Freschetta
Pagoda
Tony's