Looking for Home Delivery?
Looking for a career in home delivery? Schwan's Home Service recently began its journey as an independent company, but you can visit www.schwans.com/jobs to learn more about what they have to offer.
Job Description
Pricing and Bid Analyst
Marshall, Minnesota
Apply Now
Quick Apply
Description
(Overview)
At Schwan's Company, the opportunities are real, and the sky is the limit; this isn't just a job, it's a seat at the table.  Around here, every job matters, every voice counts, and every person contributes in a big way.  As part of our team, we look to you to take pride in your work because at Schwan's, you lead the way and we value what you bring. Our passion is our food. Our secret is our people.  
Schwan's Company, a U.S. affiliate of the global lifestyle company, CJ CheilJedang Corporation, is a leading U.S. manufacturer and marketer of quality foods offered through retail-grocery and food-service channels. Our many popular brands include Red Baron®, Tony's®, Big Daddy's®, Villa Prima™ and Freschetta® pizza; Mrs. Smith's® and Edwards® desserts; and Kahiki®, Bibigo® and Pagoda® Asian-style snacks Schwan's is a place for people with an appetite for more.  Our employees receive competitive total compensation and benefit plans, including Flexible Time Off (FTO,) wellness and retirement savings plans. To learn about joining a team where you can belong, contribute and thrive, visit www.schwanscompany.com or apply directly at www.schwansjobs.com
This position is responsible for analyzing pricing and profitability of assigned business segment; including conducting financial analysis; generate revenue through price management while collaboratively maintaining and growing business through bid wins to meet business objectives.
Conducts competitive pricing analysis reviews and analyzes product pricing compared to competitors in the marketplace. Implements and maintains pricing infrastructures while ensuring pricing complies with guidelines and meets financial targets evaluates effectiveness of pricing strategies and modified pricing structures as needed provides reporting and documentation of pricing structures and serves as the point of contact for pricing inquiries from internal sales department brokers distributors internal operations and customers maintains an expert knowledge of pricing and a general knowledge of technical matters related to pricing.
Analyzes evaluates recommends and approves pricing in alignment with division price strategy to include profit/loss analysis cost analysis competitive analysis market niche reporting regional assessment of pricing and any other analysis of interest to senior management. Directly impacts sales cases and dollars with bid wins/losses.
Manages pricing strategy for a specified region of the country or business segment including researching and analyzing competitors & competitor's strategy in relation to Schwan's pricing and examining customer needs.
Effectively maximize profitability while increasing unit sales by challenging pricing assumptions developing price recommendations conducting research analyzing data and understanding pricing impact and the need for consistency between particular accounts markets or regions.
Project management of direct bids including analyze and interpret contract terms and conditions and establish actions steps and timelines. Project management also includes completing the detailed contract and pricing paperwork. Determines requirements and requests information from outside resources such as Legal R&D Risk Management & Marketing. Manages resources to ensure data is received in a timely manner accurately explains contract terms and conditions to upper management. Follows up to ensure contract arrives on time.
Maintains and utilizes database and spreadsheets provides innovative advice on how to best utilize computer data for various sales and marketing department analysis needs enters data in computer in a timely and accurate manner and advises sales management of significant changes or trends prepares monthly analysis and additional reports as required develops and maintains computerized price structures to reflect current manual pricing sources periodically audits computer outputs to ensure data accuracy.
Reviews web data and reports from field sales personnel on competitive pricing. Negotiates and communicates pricing information to the sales team on special quotes. Recommends changes where warranted for pricing of renewal business and long term contracts with major customers.
Assess training needs provide coaching & training to Regional Sales Managers/Brokers on pricing system and process provides technical guidance to broker and sales-team.
Continuously reviews and pro-actively identifies areas of opportunity for profit and/or margin enhancement.
Manages and reviews deal accruals (committed vs. actual performance) and works with the sales and accounting teams to identify and determine if adjustments are necessary.
Responsible to conduct yourself and ensure your subordinates (if applicable) conduct themselves in a manner consistent with company mission values code of ethics policies and other standards of conduct.
Education: Bachelors degree or equivalent
Years of Related Experience: A minimum 3 years of related experience
Knowledge/Skills/Abilities: Intermediate proficiency with the Microsoft Office Suite and Outlook
Solid understanding of & experience in financial analysis
Good communication (written & oral) and interpersonal skills
Proficient use of reporting & system tools (SAP Bex Cognos)
Demonstrated ability to effectively prioritize & manage multiple projects simultaneously in a deadline-driven environment
Strong organizational skills
Proven ability to coach and counsel external partners & internal colleagues on process
Ability to present to external business partners and senior management; experience in dealing with field sales personnel
Excellent time management skills; analytical skills to conduct basic research data analysis and prepare recommendations
Demonstrates logical analysis and problem solving skills
Thorough knowledge of business practice and procedures in order to perform non-repetitive analytical work
The employing subsidiaries of Schwan's Company are Equal Employment Opportunity Employers. All qualified applicants will receive consideration for employment without regard to disability, age, race, color, religion, gender, vet status, national origin or other protected class.
Job Type: Exempt Business Unit: Schwan's Food Service, Inc. Req #: 20004027
Apply Now
Quick Apply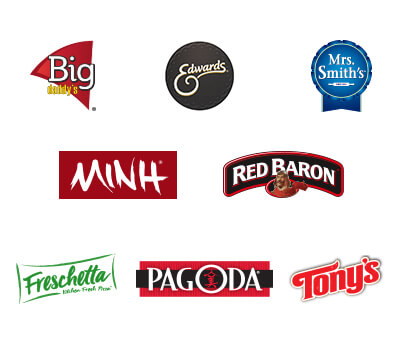 Big Daddy's
Edwards
Mrs. Smith's
MINH
Red Baron
Freschetta
Pagoda
Tony's