Looking for Home Delivery?
Looking for a career in home delivery? Schwan's Home Service recently began its journey as an independent company, but you can visit www.schwans.com/jobs to learn more about what they have to offer.
Job Description
Part-time Seasonal Sanitation Associate /5pm-9pm / $15.50
Marshall, Minnesota
Apply Now
Quick Apply
Description
(Overview)
Shift: 3rd
Starting Wage: $14/hour, plus additional $1.50 per hour for hours worked between 6pm and 6am
Hours: 5pm - 9pm
Work different ranges of hours including weekend shifts (The hours for this position range anywhere from 0 to 30 hours per week)
Must be at least 18 years old

This is a part-time seasonal position within our manufacturing facility with opportunities for advancement!

Who we are!

Schwan's Company, a U.S. affiliate of the global lifestyle company CJ CheilJedang Corporation, is a leading U.S. manufacturer and marketer of quality foods offered through retail-grocery and food-service channels. Its many popular brands include Red Baron®, Tony's®, Big Daddy's®, Villa Prima™ and Freschetta® pizza; Mrs. Smith's® and Edwards® desserts; and Pagoda® Asian-style snacks. To learn more about Schwan's, visit www.schwanscompany.com.

What we are looking for:

Here at Schwan's Company, we put a high priority on having safe, clean, and healthy workspaces. And we want individuals that take that seriously.

Are you a hard worker?

This job is in a fast-paced environment and will require you to be physically active! If you are able to do these active tasks, we want YOU to apply!

Responsibilities:
Understand facility cleaning and safety procedures

Comply with all safety policies and procedures in accordance with Company, Local, State, and Federal OSHA rules and regulations

Comply with Good Manufacturing Practices (GMPs) for a food plant and all applicable regulatory, customer and company requirements (policies, procedures, regulations)

Perform basic math

Read and write well

Communicate well with others verbally

Operate steam and high-pressure hoses

Understand and carry out directions and procedures related to cleaning and sanitation

Work in a TEAM environment

Work in hot, cold, wet, dry, and noisy environments

Take direction from others

Must be able to read, speak and comprehend basic English for safety and quality purposes
We need someone who can:
Understand simple instructions, training materials, and product labeling 

Perform basic math

Be a team player and interact professionally with co-workers
So what's this job all about?
Safely cleaning and sanitizing equipment, tools, and facility to ensure all soil and contaminates are removed per procedures

Operating COP tank cleaning equipment to clean disassembled equipment

Disassembling and reassembling equipment as directed

Following sanitation schedules to conduct and document routine cleaning of the facility and production line

Using and documenting chemical use to stated concentrations and for appropriate applications

Verifying and documenting that correct chemicals and concentrations are used and that cleaning and sanitizing is complete to deliver equipment and infrastructure that is clean and passes all micro indicator test

The use of Personal Protective Equipment (PPE) is required, including but not limited to bump cap, safety glasses/goggles, face shield, face mask, ear plugs, hair and beard nets, gloves and safety shoes or rubber boots 

Conducting yourself in a manner consistent with company mission, values, code of ethics, policies, and other standards of conduct
What we want to do for you!
Company Benefits:
Employee discounts on company products
Education: Candidates with a high school diploma or equivalent are preferred

Years of Related Experience: 0-1 year of related experience

Knowledge/Skills/Abilities:
Candidates receiving offers of employment will be required to complete a post-offer, pre-placement background check and drug screen

If you've made it this far through the description, we think you should just apply already…

The employing subsidiaries of Schwan's Company are Equal Employment Opportunity Employers. All qualified applicants will receive consideration for employment without regard to disability, age, race, color, religion, gender, vet status, national origin or other protected classes.

Job Type: Non-exempt Business Unit: SFC Global Supply Chain, Inc. Req #: 20003975
Apply Now
Quick Apply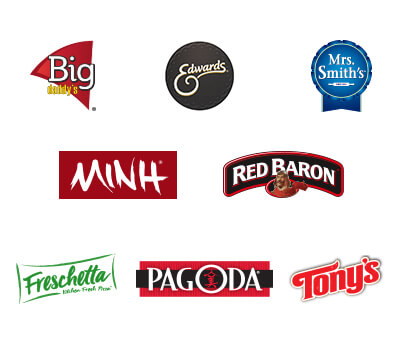 Big Daddy's
Edwards
Mrs. Smith's
MINH
Red Baron
Freschetta
Pagoda
Tony's