Looking for Home Delivery?
Looking for a career in home delivery? Schwan's Home Service recently began its journey as an independent company, but you can visit www.schwans.com/jobs to learn more about what they have to offer.
Job Description
Line Attendant|New Starting Rate $15|2nd Shift
Marshall, Minnesota
Apply Now
Quick Apply
Description
(Overview)
New Starting Rate $15+/hr +$1.50 shift pay between 6pm-6am
New Transportation Pay for those that commute 25 miles or more to Marshall! Additional Pay of approximately $50 per month, based on hours worked
Training Provided. Must be at least 16 years or older

Primary Location: Ice Cream Plant
Shift: 2nd
Hours: approx 3pm - midnight, some Saturdays possible

This is a full-time position within our manufacturing facility with opportunities for advancement!
Who we are!

Schwan's Company, a U.S. affiliate of the global lifestyle company CJ CheilJedang Corporation, is a leading U.S. manufacturer and marketer of quality foods offered through retail-grocery and food-service channels. Its many popular brands include Red Baron®, Tony's®, Big Daddy's®, Villa Prima™ and Freschetta® pizza; Mrs. Smith's® and Edwards® desserts; and Pagoda® Asian-style snacks. To learn more about Schwan's, visit www.schwanscompany.com.

What we are looking for:

Here at Schwan's Company, we put a high priority on having safe, clean, and healthy workspaces. And we want individuals that take that seriously.

Are you a hard worker?

This job is in a fast-paced environment and will require you to be physically active! If you are able to do these active tasks, we want YOU to apply!
Responsibilities:
Lift up to 50 lbs - bending carrying pushing pulling and other activities as needed
Stand and walk on concrete for long periods of time
Work in cold and/or hot temperatures throughout the day
Work quickly and efficiently with hands continuously (reaching and performing repetitive hand wrist and arm motions)
We need someone who can:
Understand simple instructions, training materials, and product labeling 
Perform basic math
Work different ranges of hours such as full-time, overtime, or weekend shifts (The hours for this position range anywhere from 0 to 60 hours per week)
Be a team player and interact professionally with co-workers
So what's this job all about?
This position is responsible for performing different assembly and packaging jobs in the processing of foods
Making quality products under sanitary conditions in the most efficient manner and on a timely basis
Unpacking raw materials; mixing ingredients; assembling product and packing finished goods
Ensuring that all products (from raw materials to finished product) meet company and government quality standards
Inspecting products; throwing out or fixes products as necessary; writing down amount of waste as directed
Notifying supervisor of quality issues, ingredient/material problems and/or equipment breakdowns
All work is done on a rotation; will rotate to other product lines in all facilities as needed
Keeping a straight product flow along conveyors 
Assisting with training of new line attendants
Counting, packing and inspecting finished product for correct label, cleanliness, and quality
Working in a wide range of temperatures and conditions and being exposed to moving mechanical parts
The use of Personal Protective Equipment (PPE) is required, including but not limited to bump cap, safety glasses/goggles, face shield, face mask, ear plugs, hair and beard nets, gloves and safety shoes or rubber boots 
Performing all duties in compliance with existing USDA, OSHA, State, Federal, and company regulations, policies and procedures (including Good Manufacturing Practices (GMP's) and safety regulations)
Conducting yourself in a manner consistent with company mission, values, code of ethics, policies and other standards of conduct

What we want to do for you?


Company Benefits:


We offer eligible employees a comprehensive benefits package designed to assist employees and their families with their financial security, health and well-being. In addition to a competitive base pay, we offer a variety of benefit programs.

Health, Life, Dental, and Vision Plans 
Two weeks paid vacation + holidays for new hires
Employee discounts on company products
Education: High School Diploma or equivalent preferred Years of Related Experience: 0 - 1 year of related experience Knowledge/Skills/Abilities: Must be able to work in a fast paced environment and perform physical activities including lifting (up to 50 lbs) bending carrying pushing pulling and other activities as needed. Ability to stand and walk on concrete for long periods of time; Ability to work in cold and/or hot temperatures for long periods of time.Ability to understand simple instructions training materials and product labeling. Ability to perform basic math functions. Able to work quickly and efficiently with hands continuously reaching and performing repetitive hand wrist and arm motions. Ability to work as a team and interact professionally with co-workers
Education: High School Diploma or equivalent preferred Years of Related Experience: 0 - 1 year of related experience Knowledge/Skills/Abilities: Must be able to work in a fast paced environment and perform physical activities including lifting (up to 50 lbs) bending carrying pushing pulling and other activities as needed. Ability to stand and walk on concrete for long periods of time; Ability to work in cold and/or hot temperatures for long periods of time.Ability to understand simple instructions training materials and product labeling. Ability to perform basic math functions. Able to work quickly and efficiently with hands continuously reaching and performing repetitive hand wrist and arm motions. Ability to work as a team and interact professionally with co-workers
Job Type: Non-exempt Business Unit: Req #: 21003213
Apply Now
Quick Apply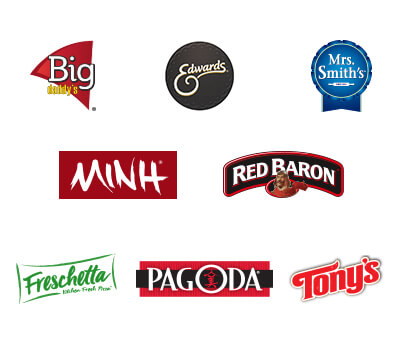 Big Daddy's
Edwards
Mrs. Smith's
MINH
Red Baron
Freschetta
Pagoda
Tony's