Looking for Home Delivery?
Looking for a career in home delivery? Schwan's Home Service recently began its journey as an independent company, but you can visit www.schwans.com/jobs to learn more about what they have to offer.
Job Description
Intern Human Resources Generalist
Marshall, Minnesota
Apply Now
Quick Apply
Description
(Overview)
At Schwan's Company, we are a fast-paced, innovative team, focused on bringing delicious foods to our customers. If you're passionate about food and creating a successful future, this is the place for you. Based in Minnesota, Schwan's is a national, multibillion-dollar company that manufactures and markets quality foods through home-delivery, retail-grocery and food-service channels. Its many popular brands includeRed Baron®, Tony's® and Freschetta® pizza, Mrs. Smith's® and Edwards® desserts, Pagoda® Asian-style snacks and Schwan's® home delivery. To learn more about Schwan's, visit www.SchwansCompany.com.
We are hiring a Human Resources Generalist Intern for our Global Supply Chain team in Bloomington, MN. As an Intern, you will collaborate with HR team members to deliver project results and carry out day to day activities in several areas of HR: Talent Management, Recruitment, Total Rewards (Compensation, Benefits, Wellness & Retirement), employee relations, policies, learning and development, ect.
About the Program:
12-week long internship program (Typically May-August)
Exposure to upper level management, executives and the CEO
Opportunity to work on and take responsibility for exciting, strategic projects that are relevant to your coursework with real-world applications
Opportunities for career growth with a well-established food company.
A culture focused on ensuring the health, safety and well-being of its employees
Support and mentorship from team members who are authentic, good-natured and highly skilled
Competitive wages, incentive pay and a comprehensive package of benefits (if hired on full-time
What you will be doing:
CompletevariousHRspecialprojectswithinor across businessunits
Gain exposure to and resolve routine employee problems or issues related to traditional employee relationsmatters
InterpretvariousHRplans,programs,policies and procedures for employees and provides advice and recommendations to business unit managementontypicalor non-criticalitems
Recruit,screen,andinterviewinternalor externalcandidatesforvacantpositions
Coordinate learning anddevelopment opportunities
Maintain confidential employee data
Education: Currently enrolled in an undergraduate degree program in Human Resources, Business, Communications, Psychology, Organization Development, Management or related program with an anticipated graduation date of December 2020 or May 2021
Knowledge/Skills/Abilities:
Demonstrated analytical and

problem

solving

skills
Ability to work in teams and collaborate effectively

with

people

in

different

functions/ locations
Proven leadership, communication, organizational,

and

interpersonal

skills.

Ability

to

relate

to

all

levels

of

management
Strong

verbal

and

written

communication

skills
Ability

to

take

initiative

and

drive

for

results
Strong

time

management

skills

that

enable

on-time

project

delivery

in

a

fast-paced

and rapidly changing

environment
Must be a confident self-starter who is comfortable

driving

decisions

from

areas

of

ambiguity
The employing subsidiaries of Schwan's Company are Equal Employment Opportunity Employers. All qualified applicants will receive consideration for employment without regard to disability, age, race, color, religion, gender, vet status, national origin or other protected class,
Job Type: Non-exempt Business Unit: SFC Global Supply Chain, Inc. Req #: 20001028
Apply Now
Quick Apply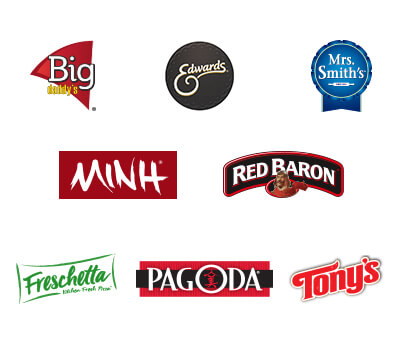 Big Daddy's
Edwards
Mrs. Smith's
MINH
Red Baron
Freschetta
Pagoda
Tony's