Looking for Home Delivery?
Looking for a career in home delivery? Schwan's Home Service recently began its journey as an independent company, but you can visit www.schwans.com/jobs to learn more about what they have to offer.
Job Description
Sr Human Resources Generalist - Bilingual in Vietnamese and/or Spanish
Houston, Texas
Apply Now
Quick Apply
Description
(Overview)
Schwan's Company, a U.S. affiliate of the global lifestyle company CJ CheilJedang Corporation, is a leading U.S. manufacturer and marketer of quality foods offered through retail-grocery and food-service channels. Its many popular brands include Red Baron®, Tony's®, Big Daddy's®, Villa Prima™ and Freschetta® pizza; Mrs. Smith's® and Edwards® desserts; and Pagoda® Asian-style snacks. To learn more about Schwan's, visit www.schwanscompany.com.

We are hiring a Senior Human Resources Generalist for our manufacturing facilities in the Houston, TX area. Looking for a candidate who is bilingual in Vietnamese and/or Spanish. 
You will be responsible for the daily administration of one or more of the following HR disciplines: staffing, workforce relations, compensation, benefits and training, etc. This is a senior level professional position requiring previous 
High Volume Recruiting Experience and working under limited supervision on complex issues, plans, and programs. You will have appreciable latitude for unreviewed action or decisions and may interpret and apply organization policy.   

What you will get from us:
 Opportunities for career growth with a well-established food company. For the right candidate, the Senior Human Resources Generalist role is a starting point on the path to a Human Resources Manager position
A culture focused on ensuring the health, safety and well-being of its employees
Support and mentorship from team members who are authentic, good-natured and highly skilled
Competitive wages, incentive pay and a comprehensive package of benefits

Responsibilities:
Resolves complex and broad employee relations problems or issues related to traditional employee relations matters with a focus on the employee experience and a positive business outcome; collaborates with Legal and business unit leadership as necessary. 
Provides input on new and revised policies interprets various HR plans programs policies and procedures for employees and provides advice and recommendations to business unit management. 
Provides independent leadership to the business unit by designing and implementing human capital solutions to business challenges and analyzes the impact on financial performance.
Collaborates with HR and business unit leadership to develop and implement tactical and strategic plans to support business objectives. 
Partners with business leaders on the development and implementation of initiatives that create an engaged work force. 
Partners with HR Management to assist in the performance management salary planning and talent management processes by creating and analyzing reports for HR leadership assisting in training and other duties. 
Identifies the need for and facilitates learning and development opportunities. 
Recruits screens and interviews internal or external candidates for vacant positions and conducts new employee orientation. 
Collaborates across business units or with corporate HR on complex HR special projects and may serve as a mentor and evaluator of lower level staff. 
Maintains confidential employee data or files and prepares and/or analyzes complex reports related to workforce planning.

What we need from you:
Years of Experience: Typically, has a minimum 4 years related experience
Education: Bachelor's degree or equivalent
The desire to make a meaningful difference. Must be self-motivated with the ability to work independently. We need someone who competes to win!
Authentic leader: direct communicator, able to build strong relationships across the company, with all levels.
Must have great collaboration skills, with the ability to effectively work closely with cross-functional teams.

Knowledge/Skills/Abilities:
Advanced knowledge of HR plans, programs and procedures related to compensation, benefits, staffing, workforce relations and training, etc. that enables interpretation and application of organization policies.
Advanced PC skills including word excel etc
Excellent interpersonal and communication skills
Advanced knowledge of federal state and other regulatory standards related to various HR disciplines.
Demonstrated ability to provide assistance with mentoring and/or evaluation of lower level staff.
Must be bilingual in Vietnamese and/or Spanish

The employing subsidiaries of Schwan's Company are Equal Employment Opportunity Employers. All qualified applicants will receive consideration for employment without regard to disability, age, race, color, religion, gender, vet status, national origin or other protected class.


Job Type: Exempt Business Unit: SFC Global Supply Chain, Inc. Req #: 19013643
Apply Now
Quick Apply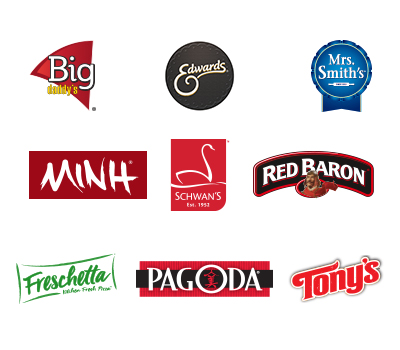 Holiday Foods
Big Daddy's
MINH
Mrs. Smith's
Edwards
Schwan's
Red Baron
Freschetta
Pagoda
Tony's
Larry's