Job Description
Warehouse Supervisor - 3rd Shift
Florence, Kentucky
Apply Now
Quick Apply
Description
(Overview)
At Schwan's Company, we are driven to bring our customers delicious foods and reliable services. That's how we grew from a "one-man-and-a-truck" delivery business in rural Minnesota to a multibillion-dollar private company with thousands of team members nationwide. Our commitment to delicious foods shows in all we do, from careful ingredient selection and quality food making to delivering a great experience wherever you shop and eat.
The foods we make reach customers in many ways. We deliver directly to our customer's homes through our popular food-delivery business, offer well-known retail brands such as
Red Baron®, Freschetta®,
and
Tony's®
pizzas,
Pagoda®
snacks and appetizers, and
Mrs. Smith's®
and
Edwards®
desserts, and bring innovative food solutions to our customers in the food-service industry. To learn more, visit us at
http://www.schwanscompany.com
.
This position is responsible for finished, tagged and raw material product storage, handling and inventories on assigned shift.
Supervises employees for finished, raw material and product storage, handling, and inventory operations on shift.
Observes lead performance and trains lead in proper procedures, standards, handling of employees and equipment.
Observes employee performance and follows up with lead to correct problems.
Attends meetings and keeps self and crew informed of changes in policy, procedure goals and problems.
Enforces safety guidelines and rules, GMPS, HACCP checks, food safety requirements and all company policies within his/her area.
Monitors maintenance of shipping /receiving docks.
Responsible receipts and measurement of bulk flours (Silo 1-5) during shifts to coordinate flow to maximize FIFO, and collaborate with Inventory Control
Supervisor, purchasing and supplier on any necessary changes relative to these responsibilities.
Responsible for transportation arrangement for tomato pastes between cold storage facility and unloading dock. Inventory in transit, cold storage, and in house. Any related activities as needed in the absence of Inventory Control Supervisor.
Responsible for inventory control of raw materials and packaging materials. Accurate cycle counting records and 98.5% attainment. Any related functions to Assist Production, Purchasing, or Scheduling.
Responsible for distribution of raw materials between sister facilities and various vendors.
Responsible for coordinating incoming raw materials from point of arrival until consumed in production. Ensure that all loads of raw materials are stored in accordance with all temperature requirements and unloaded in a timely fashion. Commensurate with production and carriers.
Be cognizant of bill of materials and coordinate any necessary adjustments as it relates to inventory or usages. Responsible for management of all incoming Hold and Test loads (raw materials). Notification of appropriate parties, accountable for all records mandated by HACCP and any additional activity pertinent to the regulation thereof.
Responsible for production control and maintenance of proper inventory levels to afford production continuity.
Coordinates with Shipping, Production, Bakery and Packaging supervision to guarantee an efficient flow of materials to and from there respective areas.
Responsible for order picking and truck loading/unloading, ensuring trucks are properly loaded/unloaded and all cases of product are accounted for.
Collaborate with Shipping on storage of frozen raw materials and all other related functions.
Coordinates truck loading/unloading.
Maintains accurate stock rotation, first in, first out.
Reviews inventory. Insures that product is in storage.
Alerts appropriate personnel of shortages in inventory.
Reports monthly, quarterly and annual inventories, including accountability for it.
Responsible for house keeping of the shipping/receiving docks, receiving offices, coolers, warehouses and main freezer.
Supervises, trains and develops subordinates, if applicable
Responsible to conduct yourself and ensure your subordinates (if applicable) conduct themselves in a manner consistent with company mission, values, code of ethics, policies, and other standards of conduct.
Education: Associate degree or equivalent
Years of Related Experience: Typically 3-5 years of experience.
Knowledge/Skills/Abilities: General knowledge of Purchasing, Quality Assurance, Manufacturing, Inventory Record Accuracy, Cycle Counting Procedures, Inventory Control Procedures, Food Safety Requirements, Warehousing and distribution. Knowledgeable of Bills of material and Auditing Control Functions. Good math and communication skills. Good working maintenance knowledge of forklifts, pallet jacks, and other equipment in order to detect maintenance problems. Good working knowledge of truck loading operation, yard operations, and reefer unit type trailers. Able to operate yard tractor while pulling empty and loaded trailers. Computer literate, able to learn distribution/transportation software systems, have in-depth knowledge of Systems Applications Products (SAP) and have a working knowledge of word processing. Able and willing to travel. Assist IS with report changes, SAP authorizations and system outages. Assist production in clearing Storage locations. Resolve inventory discrepancies. Assist accounting/purchasing with invoice/ Bill of Lading discrepancies. Lead or Supervisor experience. Warehouse experience. Willing to obtain forklift license within the probationary period. Good work record.
The employing subsidiaries of Schwan's Company are Equal Employment Opportunity Employers. All qualified applicants will receive consideration for employment without regard to disability, age, race, color, religion, gender, vet status, national origin or other protected class.
#vfj-11-11#
Job Type: Exempt Business Unit: SFC Global Supply Chain, Inc. Req #: 19010234
Apply Now
Quick Apply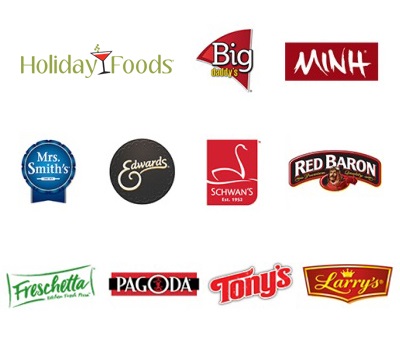 Holiday Foods
Big Daddy's
MINH
Mrs. Smith's
Edwards
Schwan's
Red Baron
Freschetta
Pagoda
Tony's
Larry's