Job Description
Sr Reliability Engineer
Florence, Kentucky
Apply Now
Quick Apply
Description
(Overview)
At Schwan's Company, we are a fast-paced, innovative team, focused on bringing delicious foods to our customers. If you're passionate about food and creating a successful future, this is the place for you. Based in Minnesota, Schwan's is a national, multibillion-dollar company that manufactures and markets quality foods through home-delivery, retail-grocery and food-service channels. Its many popular brands includeRed Baron®, Tony's® and Freschetta® pizza, Mrs. Smith's® and Edwards® desserts, Pagoda® Asian-style snacks and Schwan's® home delivery. To learn more about Schwan's, visit www.SchwansCompany.com.
We are hiring a Sr Reliability Engineer at our Frechetta frozen pizza plant, located in Florence, KY. If you consider yourself someone who is experienced in examining and monitoring production equipment, in a highly automated and large manufacturing facility, to ensure lines operate most efficiently; this may be your next career.
What you will get from us:
Opportunity to work on exciting, strategic projects in partnership with key leaders: showcase your technical skills to make a big impact on the profitable growth of Schwan's Company

Opportunities for career growth with a well-established food company. For the right candidate, the Senior Reliability Engineer is a starting point on the path to a variety of technical leadership roles within our plants located across the United States.

A culture focused on ensuring the health, safety and well-being of its employees

Support and mentorship from team members who are authentic, good-natured and highly skilled

Competitive wages, incentive pay and a comprehensive package of benefits
Responsibilities:
The incumbent will perform various analyses to determine areas in need of improvement and develop reliability and maintainability solutions to overcome any production challenges.

Measures and analyzes the reliability of the design materials processes cost and final products of production equipment.

Develops engineering solutions to repetitive failures and all other problems that adversely affect plant operations including: capacity, quality, cost, or regulatory compliance issues.

Data analysis techniques may include: statistical process control, reliability modeling and prediction fault tree analysis, Weibull tree analysis, and six sigma methodology.

Professionally and systematically defines, designs, develops, monitors, and refines an asset maintenance plan that includes value-added preventive maintenance tasks and effective utilization of predictive and other non-destructive testing methodologies designed to identify and isolate inherent reliability problems.

Participates in the development of criteria for and evaluation of equipment and technical suppliers and technical maintenance service providers. Develops acceptance tests and inspection criteria. Advises design engineering team on selection of materials. May also recommend changes to the selection and application of production equipment.

Performs breakdown analysis and root cause analysis thoroughly and presents findings to senior leadership. Provides expertise in maintenance plan, design, troubleshooting, work management procedures, and PM optimization. May also provide technical support to maintenance and technical personnel.

Perform FMEA for new equipment and work with Maintenance Planners to ensure adequate PM Plan is in place. Drive PdM/CBM program.

Select use of proper technology for all areas of plant. Thermography, Vibration Analysis, Ultrasound, and NDT testing of ammonia system (piping and vessel inspection) to comply with PSM regulations. Provides input to senior management that will anticipate reliability- related risks that could adversely impact plant operation.

Write detail PM tasks and follow up with mechanics on findings. Audit current PM task list and modify to improve PM effectiveness.

Execute improvement projects and assist project engineer/manager by providing technical expertise. Become SME in driving reduction in downtime and waste by working closely with CI Team, Calculate B/C ratio, and ROI for capital project. Write project justification and work with Project Engineer to drive improvement projects to reduce waste, increase efficiency/OEE, and throughput.

Provide weekly report on cost savings and downtime reduction by improving equipment reliability.

Perform skill assessment of hourly employees and put together training program to enhance skill level of hourly employees.

Perform LCC (Life Cycle Cost) analysis and Risk Assessment of plant existing equipment including utility assets. Extract data from SAP/CMMS system and provide plan to address high cost equipment and parts due to obsolete assets.
Years of Experience: : 7+ years related experience in maintenance and reliability production management engineering or operations (previous food industry experience preferred)
Education: Bachelor's degree (or equivalent) in Mechanical Engineering or a related field. Must obtain RE certification by SMRP standard or equivalent within 2 years in this role
The desire to make a meaningful difference. Must be self-motivated with the ability to work independently. We need someone who competes to win!
Authentic leader: direct communicator, able to build strong relationships across the company, with all levels.

Must have great collaboration skills, with the ability to effectively work closely with cross-functional teams.

Knowledge/Skills/Abilities:

Knowledgeable in reliability testing methods including: FMEA/ FMECA, reliability prediction, fault tree analysis, parts stress analysis, and worst case analysis

Demonstrated knowledge of multiple video formats

Working knowledge in statistical methods

Strong technical problem-solving skills and proven project management experience with coordination of multiple projects simultaneously

Strong analytical leadership and communication (both written and verbal) skills

Excellent PC skills including Microsoft Office, Word, Excel, and Outlook

Willing and able to travel up to 10-20% of the time to other Schwan's facilities
The employing subsidiaries of Schwan's Company are Equal Employment Opportunity Employers. All qualified applicants will receive consideration for employment without regard to disability, age, race, color, religion, gender, vet status, national origin or other protected class.
Job Type: Exempt Business Unit: SFC Global Supply Chain, Inc. Req #: 19010684
Apply Now
Quick Apply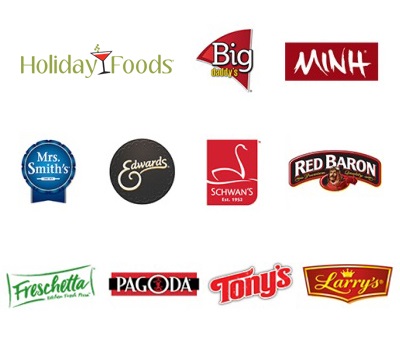 Holiday Foods
Big Daddy's
MINH
Mrs. Smith's
Edwards
Schwan's
Red Baron
Freschetta
Pagoda
Tony's
Larry's