Looking for Home Delivery?
Looking for a career in home delivery? Schwan's Home Service recently began its journey as an independent company, but you can visit www.schwans.com/jobs to learn more about what they have to offer.
Job Description
Sr Food Safety & Quality Manager
Florence, Kentucky
Apply Now
Quick Apply
Description
(Overview)
Schwan's Company, a U.S. affiliate of the global lifestyle company CJ CheilJedang Corporation, is a leading U.S. manufacturer and marketer of quality foods offered through retail-grocery and food-service channels. Its many popular brands include Red Baron®, Tony's®, Big Daddy's®, Villa Prima™ and Freschetta® pizza; Mrs. Smith's® and Edwards® desserts; and Pagoda® Asian-style snacks. To learn more about Schwan's, visit www.schwanscompany.com.
We are hiring a Senior Manager Food Safety & Quality for our frozen pizza manufacturing facility in Florence, KY. This position is responsible for managing the Food Safety and Quality (FSQ) and Sanitation or co-pack functions for a large manufacturing facility ensuring compliance to the Company's food safety and quality objectives.
What you will get from us:
Opportunities for career growth with a well-established food company. For the right candidate, Sr. Manager Food Safety & Quality

role is a starting point on the path to multiple opportunities within our organization

A culture focused on ensuring the health, safety and well-being of its employees

Support and mentorship from team members who are authentic, good-natured and highly skilled

Competitive wages, incentive pay and a comprehensive package of benefits



Responsibilities:
Directs activities in a Schwan's manufacturing facility or with suppliers and co-packers to ensure compliance in accordance with USDA (US Dept of Ag) SSOP (Standard Sanitation Operating Procedures) HACCP (Hazardous Analysis Critical Control Points)

Preventive Controls (FSMA compliance) FDA (Food & Drug Administration) and overall good manufacturing practices

Serves as Hazard Analysis Critical Control Point (HACCP) coordinator and Preventive Controls Qualified Individual (PCQI) for the facility. Also serves at the on-site recall coordinator

Assures execution of daily product cuttings specification approval and SPC program execution

Serves as key contact with regulatory agency personnel (FSIS FDA Military State). Leads resolution and remediation utilizing plant and Corporate resources of regulatory issues and requests

Leads resolution and remediation utilizing plant and Corporate resources of customer food safety and product quality issues and requests

Maintains strong working relationship with appropriate personnel in each Schwan Business Unit and provides support and maintains involvement with follow-up regarding quality and/or food safety issues noted by customers

Responsible for the Food Safety of all products and processes (i.e. Hold management program Corrective Action program facility audits)

Maintains identity preserved products
Responsible for specification compliance on ingredients packaging and finished goods Responsible for maintenance of FSQ Documentation SharePoint site for facility

Coordinates annual employee training programs for Good Manufacturing Practices (GMP's) HACCP and other food safety/quality issues as necessary

Coordinates preparation for and corrective follow-up actions for third party facility/program inspections.

Directs trains and develops subordinates

Responsible to conduct yourself and ensure your subordinates (if applicable) conduct themselves in a manner consistent with company mission values code of ethics policies and other standards of conduct

Continuous Improvement Project Work Develops and implements food safety regulatory and quality strategic plan for site in concert with corporate strategic plan. Identify areas of need to drive greatest improvement in food safety quality and product consistency for the facility providing positive impact to plant driven metrics

Able to utilize and critically evaluate data from a variety of sources to identify root cause and lead teams towards resolution

Partner with FSQ Manager and key stakeholders to maintain active work on prioritized list of projects focused on improving product quality consistency food safety & regulatory compliance with regular updates on progress

Effectively leads projects to completion in timely manner with demonstrated results. Understand internal and external food safety & quality processes and report to facility leadership on quality issues trends and opportunities with the purpose of driving continuous improvement

Apply continuous improvement tools (SPC Lean Six Sigma etc.) in problem solving data analysis and implementation of process improvements to drive product consistency and reduce product defects (consumer complaints foreign material amount of held product etc.)

Design and implement methods for process control process improvement testing and inspection

Plan and conduct the analysis inspection design test and/or integration of processes to assure the quality of ingredients packaging work in progress (WIP) or finished product

Actively lead and support continuous improvement activities and projects deliver improved product consistency and increase efficiency to impact the broader company and the FSQ team
What we need from you:
Years of Experience: 5 + years related experience. Quality Engineering with Six Sigma Green Belt experience preferred
Education: Bachelor's degree in Microbiology, Chemistry Food Science, or equivalent. Master's degree preferred
CURIOSITY (Enthusiasm, etc.)! The intrinsic drive to always be asking questions on how to make the business better

The desire to make a meaningful difference. Must be self-motivated with the ability to work independently. There will be times when you are less busy. We need someone who competes to win and will capitalizes on that down time!

Authentic leader: direct communicator, able to build strong relationships across the division, with all levels.

Must have great collaboration skills, with the ability to effectively lead cross-functional teams.

Excellent business acumen and a passion to innovate
Knowledge/Skills/Abilities:
HACCP/Preventive Controls Certification

Strong technical skills in area of focus (microbiology and/or chemistry) with ability to interpret general technical and scientific results and perform analytical tests

Sound mathematical and basic food science understanding

Strong understanding of food safety HACCP and basic food regulatory requirements

Working knowledge of basic quality control and quality assurance programs and concepts

Good knowledge of statistics and interpretation of experimental data

Basic understanding of the manufacturing environment and production operation

Basic knowledge of Statistical Process Control (SPC) applications

Strong analytic and project management skills

Strong computer skills and ability to learn technical software

Proficient in Microsoft Office suite of programs with strong Excel skills

Proven people management and delegation skills

Ability to effectively communicate both verbally and in writing with demonstrated influence management skills

Strong technical and business writing skills

Strong presentation and leadership skills

Strong technical and business writing skills

Comfortable in small group and large group settings

Detail- oriented take initiative and ability to work with a sense of urgency in a fast-paced environment

Ability to develop positive relationships and work cross functionally
EOE
The employing subsidiaries of Schwan's Company are Equal Employment Opportunity Employers. All qualified applicants will receive consideration for employment without regard to disability, age, race, color, religion, gender, vet status, national origin or other protected class.
Job Type: Exempt Business Unit: SFC Global Supply Chain, Inc. Req #: 20002809
Apply Now
Quick Apply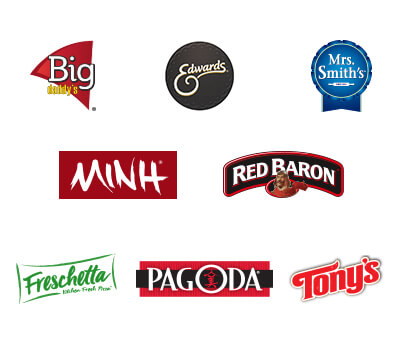 Big Daddy's
Edwards
Mrs. Smith's
MINH
Red Baron
Freschetta
Pagoda
Tony's