Looking for Home Delivery?
Looking for a career in home delivery? Schwan's Home Service recently began its journey as an independent company, but you can visit www.schwans.com/jobs to learn more about what they have to offer.
Job Description
Sr Automation and Operational Technology Engineer - Florence, KY
Florence, Kentucky
Apply Now
Quick Apply
Description
(Overview)
Schwan's Company, a U.S. affiliate of the global lifestyle company CJ CheilJedang Corporation, is a leading U.S. manufacturer and marketer of quality foods offered through retail-grocery and food-service channels. Its many popular brands include Red Baron®, Tony's®, Big Daddy's®, Villa Prima™ and Freschetta® pizza; Mrs. Smith's® and Edwards® desserts; and Pagoda® Asian-style snacks. To learn more about Schwan's, visit www.schwanscompany.com.
We are hiring a Sr Automation and Operational Technology Engineer for our SFC Global Supply Chain corporate engineering team in Florence, KY.  In this role you will be counted on as a trusted advisor that will provide technical and project management leadership for electrical automation and controls systems across the entire Schwan's North American manufacturing network.
The Sr Automation and Operational Technology Engineer will lead the electrical power and controls systems strategic direction and provide technical solutions to support platform project management directors and manufacturing site engineering. Furthermore, this role ensures that the engineering team efficiently delivers quality electrical and Operational Technology support throughout the capital project processes to enable overall business goals.
What you will get from us:
Opportunity to lead and collaborate on exciting, strategic projects in partnership with key leaders and showcase your technical expertise to make a big impact on the profitable growth of our manufacturing facilities and Schwan's as a whole.

Direct line of communication to the VP of Engineering and other leadership team members

Opportunities for career growth, development and advancement with a well-established food company

A culture focused on ensuring the health, safety and well-being of its employees

Support and mentorship from team members who are authentic, good-natured and highly skilled

Competitive wages, incentive pay and a comprehensive package of benefits

Responsibilities: 
Provides electrical controls engineering leadership and support for the successful development and execution of corporate & plant led capital projects
Develops and implements medium to long-term controls network architecture and plant floor strategies to drive efficiency plant floor productivity and innovation
Provides leadership to plant project engineers helping specify design and deliver capital electrical controls solutions in support of project needs and requirements
Develops and executes project scope costs and schedule (from concept through vertical start-up) with capital expenditure of $250K to $5MM
Leads process to review improvements to the manufacturing processes systems and facilities across the businesses ensuring their feasibility and championing the best projects through execution
Stays current with industry technologies and processes to provide best available technology solutions. Drives technical solutions by evaluating and recommending new technologies as well as reduce/eliminate issues associated with equipment performance quality and safety
Develops shared access strategies, change management, and the engineering teams continuous skills development for controls specifications
Leads the development of the long-range capital plan and manage obsolescence in each area of the plant. Ensures that capital plans for each business meet operating expectations and are completed within capital investment targets and cash flow schedules.
Collaborate with project teams and internal/external technical resources to identify opportunities for application of innovative designs, performance improvements, and technical advantages to drive business advantages
Partners with key stakeholders and provides technical leadership direction and subject matter expertise to Information Technology (IT), Environmental Health and Safety (EHS), Supply Chain Quality, Marketing, and other key leadership teams
Coaches and mentors Automation engineers to build technical capability and leadership behaviors consistent with Schwan's stated goal
What we need from you:
Years of Experience: 7+ years' experience in Manufacturing, 5+ years of engineering experience with a focus on electrical and control systems. Previous experience with manufacturing food and beverage or consumer packaged goods companies is required. Previous experience in plant operations and industrial environments is required. Previous experiences with budgeting in a multi-site manufacturing capacity.
Education: Bachelor of Science or Master of Science degree in Engineering or Engineering Technology required (Electrical preferred Chemical Mechanical). ABET accredited program is strong preference.
Curiosity, enthusiasm, and the willingness to compliment a strong and adaptive culture to make the business better
The desire to make a meaningful difference. Must be self-motivated with the ability to work independently. There will be times when you are less busy. We need someone who competes to win and will capitalizes on that down time!
Authentic leader that can build strong relationships across the division, with all levels

Must have great collaboration skills, with the ability to effectively lead cross-functional teams.

Excellent technical business acumen, communication, and a passion to innovate
Knowledge/Skills/Abilities:
Experience in project engineering including scope definition cost estimation and tracking.
Demonstrates project management leadership, problem-solving, decision making, troubleshooting, communications, and interpersonal skills
Ability to work with a team and influence diverse groups at various levels and across functions
Strong understanding of the fundamentals of electrical automation and control systems and strong knowledge and understanding of the primary codes and safety requirements applicable to controls safety systems, robotics, and power distribution equipment and systems
Knowledge of Lean Six-Sigma concepts and ability to use a CAD System is preferred
Strong ability to utilize application programming and integration experience through a variety of hardware/software platforms
Ability to troubleshoot PLC's at the code level and troubleshoot equipment and wiring
Understanding of low and medium voltage power distribution and associated equipment is preferred
Must have strong knowledge of processing packaging & facility systems along with thorough understanding of food manufacturing, engineering, quality, sanitary design, and research functions
Demonstrates compliance with USDA, FDA, OSHA, EPA, City and/or State agencies, etc, for both manufacturing processes and building requirements
Ability to travel up to 50% as required
The employing subsidiaries of Schwan's Company are Equal Employment Opportunity Employers. All qualified applicants will receive consideration for employment without regard to disability, age, race, color, religion, gender, vet status, national origin or other protected class.
Job Type: Exempt Business Unit: SFC Global Supply Chain, Inc. Req #: 20000045
Apply Now
Quick Apply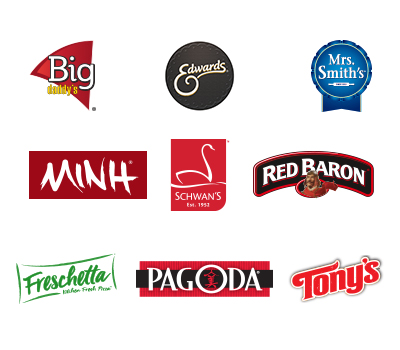 Holiday Foods
Big Daddy's
MINH
Mrs. Smith's
Edwards
Schwan's
Red Baron
Freschetta
Pagoda
Tony's
Larry's