Looking for Home Delivery?
Looking for a career in home delivery? Schwan's Home Service recently began its journey as an independent company, but you can visit www.schwans.com/jobs to learn more about what they have to offer.
Job Description
Mgr Sanitation Process
Florence, Kentucky
Apply Now
Quick Apply
Description
(Overview)
Schwan's Company, a U.S. affiliate of the global lifestyle company CJ CheilJedang Corporation, is a leading U.S. manufacturer and marketer of quality foods offered through retail-grocery and food-service channels. Its many popular brands include Red Baron®, Tony's®, Big Daddy's®, Villa Prima™ and Freschetta® pizza; Mrs. Smith's® and Edwards® desserts; and Pagoda® Asian-style snacks. To learn more about Schwan's, visit www.schwanscompany.com.
We are hiring a
Manager of Sanitation Process
at our
Florence, KY
location. This position is responsible for providing technical applied sanitation expertise and leadership across assigned platform facilities including problem solving standardization safety and continuous improvement projects to meet company established KPIs and regulatory expectations. The incumbent will serve as a technical expert and drive platform wide project across multiple facilities. Provide project management and organizational sanitation leadership for moderate to complex special projects both across multiple platform-based facilities.
What you will get from us:
• Opportunities for career growth with a well-established food company.
• A culture focused on ensuring the health, safety and well-being of its employees
• Support and mentorship from team members who are authentic, good-natured and highly skilled
• Competitive wages, incentive pay and a comprehensive package of benefits


Responsibilities:
• Identify opportunities for improvement to drive greatest improvement across sanitation programs for the company to achieve established business results
• Act as technical sanitation process expert and key resource for implementing best practices and technologies while understanding how they impact and/or integrate with other relevant portions of the manufacturing operation
• Serve as liaison to applicable 3rd party sanitation providers at a leadership level
• Establish a sanitation culture of the sanitation process being the first step to every successful production cycle
• Partner with key manufacturing facility stakeholder to maintain active work on prioritized list of projects with regular updates
• Provide training to site sanitation leaders to assure appropriate skills are developed to consistently drive industry best practices
• Assure site alignment of sanitation best practices and food safety best practices while driving safety efficiency and cost containment
• Evaluate deficiencies and challenges to implement resolutions to assure food safety product quality and operational efficiency
• Provide regular updates to company leadership regarding projects issue resolution and site performance
• Coordinate and facilitate training for sanitation teams in areas such as sanitation best practices proper cleaning techniques task documentation and complex root cause analysis with corrective action
• Conducting yourself and ensuring your subordinates (if applicable) conduct themselves in a manner consistent with company mission values code of ethics policies and other standards of conduct
Education:
Bachelor's degree in Chemistry, Biology, or Food Quality/Safety
Years of Related Experience:
5-7 years
Knowledge/Skills/Abilities:
• Ability to read and interpret documents such as safety rules operating and maintenance instructions government regulations and procedure manuals Ability to write routine reports and correspondence
• Ability to speak effectively before groups of employees of organization
• Ability to effectively supervise employees
• Ability to calculate figures and amounts such as discounts interest commissions proportions percentages area volume
• Ability to apply concepts of basic algebra and geometry
• Ability to apply commonsense understanding to carry out instructions furnished in written oral or diagram form
• Ability to deal with problems involving several concrete variables in standardized situations.
• Willing and able to be trained in SAP and other systems and software in order to perform job effectively
The employing subsidiaries of Schwan's Company are Equal Employment Opportunity Employers. All qualified applicants will receive consideration for employment without regard to disability, age, race, color, religion, gender, vet status, national origin or other protected class.
Job Type: Exempt Business Unit: SFC Global Supply Chain, Inc. Req #: 20000649
Apply Now
Quick Apply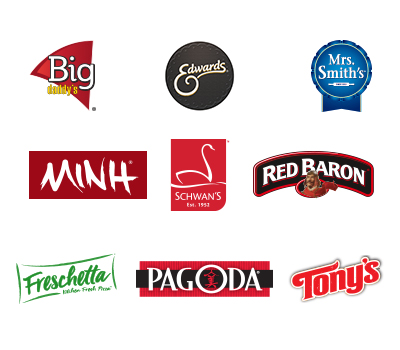 Holiday Foods
Big Daddy's
MINH
Mrs. Smith's
Edwards
Schwan's
Red Baron
Freschetta
Pagoda
Tony's
Larry's