Looking for Home Delivery?
Looking for a career in home delivery? Schwan's Home Service recently began its journey as an independent company, but you can visit www.schwans.com/jobs to learn more about what they have to offer.
Job Description
Sanitation Supervisor
Fargo, North Dakota
Apply Now
Quick Apply
Description
(Overview)
Who we are!
Schwan's Company, a U.S. affiliate of the global lifestyle company CJ CheilJedang Corporation, is a leading U.S. manufacturer and marketer of quality foods offered through retail-grocery and food-service channels. Its many popular brands include Red Baron®, Tony's®, Big Daddy's®, Villa Prima™ and Freschetta® pizza; Mrs. Smith's® and Edwards® desserts; and Pagoda® Asian-style snacks. To learn more about Schwan's, visit www.schwanscompany.com.
What we are looking for:
Here at Schwan's Company, we put a high priority on having safe, clean, and healthy workspaces. And we want individuals that take that seriously.
We are hiring a Sanitation Supervisor for our Fargo, ND manufacturing facility.   If you consider yourself a strong leader looking to grow within your career, this is a great opportunity for you.  This position is responsible for supervising the cleaning and sanitizing of the manufacturing facilities and equipment in a timely manner and in accordance with all Company State and Federal regulations. The ideal candidate will be someone who has supervisory experience, sanitation experience (bakery preferred), CIP cleaning system experience, and project management.
Responsibilities:
Supervises all activities necessary for the cleaning and sanitizing of production packaging storage areas and production equipment on a daily basis in manufacturing facilities while ensuring that all duties are performed in accordance with USDA (U.S. Department of Ag) SSOP (Standard Sanitation Operating Procedures) HACCP (Hazardous Analysis Critical Control Points) FDA (Food & Drug Administration) GMP (Good Manufacturing Practices) all safety policies and procedures and any other established policies and requirements necessary.
Confers with multiple production departments to schedule sanitizing and cleaning assignments responding to reports of sanitation problems and USDA and FDA issues.

Monitors sanitation performance as needed to verify guidelines and procedures costing specifications and system data.

Prepares and compiles mandatory company and government reports within required deadlines and retains for production and food safety audits required in food manufacturing.

Investigates ways to reduce waste increase efficiency and improve equipment in q continuous effort to improve processes utilized.

Presents proposals to Manager for review and approval.

Manages and leads sanitation employees. Interviews employees while following EEO and Affirmative Action guidelines.

Ensures employees receive proper training in sanitation.

Conducts performance appraisals and administers disciplinary and termination action when necessary.

Responsible for the effective utilization of employee's skills development housekeeping safety utilization of required PPE (Personal Protective Equipment) policy administration employee relations scheduling cost control and coordination of all sanitation activities with crew in facilities.

Adjust daily work schedule as needed to meet sanitation requirements. Works closely with USDA representative on site to ensure all company state and federal requirements are met.

Reviews and signs off on all HACCP documentation.

Responsible to conduct yourself and ensure your subordinates conduct themselves in a manner consistent with company mission values code of ethics policies and other standards of conduct.
What we need from you: 
The desire to make a meaningful difference.  Must be self-motivated with the ability to work independently.  We need someone who competes to win!

Authentic leader: direct communicator, able to build strong relationships across the company, with all levels.

Must have great collaboration skills, with the ability to effectively work closely with cross-functional teams.
Education: High School Diploma or equivalent.
Years of Related Experience: Typically has three years related experience.
Knowledge/Skills/Abilities:
Knowledge of various chemicals used in the sanitation process.

Ability to read and interpret documents such as safety rules operating and maintenance instructions government regulations and procedure manuals.

Ability to write routine reports and correspondence.

Ability to speak effectively before groups of employees of organization.

Ability to effectively supervise employees.

Ability to calculate figures and amounts such as discounts interest commissions proportions percentages area volume.

Ability to apply concepts of basic algebra and geometry.

Ability to apply commonsense understanding to carry out instructions furnished in written oral or diagram form.

Ability to deal with problems involving several concrete variables in standardized situations.

Willing and able to be trained in SAP and other systems and software in order to perform job effectively. 
The employing subsidiaries of Schwan's Company are Equal Employment Opportunity Employers. All qualified applicants will receive consideration for employment without
null
Job Type: Exempt Business Unit: Req #: 21004216
Apply Now
Quick Apply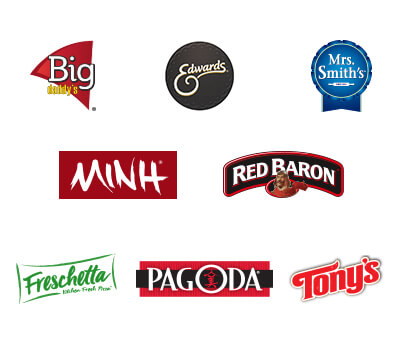 Big Daddy's
Edwards
Mrs. Smith's
MINH
Red Baron
Freschetta
Pagoda
Tony's