Looking for Home Delivery?
Looking for a career in home delivery? Schwan's Home Service recently began its journey as an independent company, but you can visit www.schwans.com/jobs to learn more about what they have to offer.
Job Description
Maintenance Manager
Fargo, North Dakota
Apply Now
Quick Apply
Description
(Overview)
Who we are!

Schwan's Company, a U.S. affiliate of the global lifestyle company CJ CheilJedang Corporation, is a leading U.S. manufacturer and marketer of quality foods offered through retail-grocery and food-service channels. Its many popular brands include Red Baron®, Tony's®, Big Daddy's®, Villa Prima™ and Freschetta® pizza; Mrs. Smith's® and Edwards® desserts; and Pagoda® Asian-style snacks. To learn more about Schwan's, visit www.schwanscompany.com.

What we are looking for:

Here at Schwan's Company, we put a high priority on having safe, clean, and healthy workspaces. And we want individuals that take that seriously.

As a Maintenance Manager in Fargo ND you will be responsible for directing plant maintenance activities for all shifts within their assigned area including: preventative maintenance, floor maintenance, diagnosis and repair, emergency maintenance, refrigeration, equipment, noise, control, electrical, purchasing, and standards, compliance and safety procedures.

What you will get from us: 
Opportunity to work on exciting, strategic projects in partnership with key leaders: showcase your technical skills to make a big impact on the profitable growth of Schwan's Company.
Opportunities for career growth with a well-established food company. For the right candidate, the Maintenance Manager role is a starting point on the path to a Technical Manager or Sr. Technical Manager position.
A culture focused on ensuring the health, safety and well-being of its employees.
Support and mentorship from team members who are authentic, good-natured and highly skilled.
Competitive wages, incentive pay and a comprehensive package of benefits.
Responsibilities: 
Studies, prioritizes, and schedules maintenance work for each shift ensuring equipment and facility is properly maintained and functioning as needed for business requirements.
Directs and is involved in the diagnoses of electrical, mechanical, programmable controller computers, plumbing, and similar operational problems including major repairs and directing corrective action as necessary while minimizing effects on production requirements. 
Reads and interprets schematic drawings and diagrams required to perform maintenance on or install plant equipment and retains files of drawings diagrams parts list and manuals. 
Determines equipment capabilities and requirements by conducting tests under operational conditions and proposes improvements. Investigates ways to reduce downtime and improve equipment and employee utilization and presents proposals to Manager for review and approval. 
Involved in the capital project development management and review and implementation as necessary. 
Responsible for the effective utilization of employee's skills development, mechanical downtime, equipment effectiveness, housekeeping, safety policy administration, discipline, employee relations, cost control, and problem solving while ensuring budgeted performance is monitored and compliant. 
Ensures that plant facilities and equipment meet OSHA standards. Responsible to ensure that all work is performed in a safe manner and that all PPE (Personal Protective Equipment) is worn as necessary. Ensures employees receive the proper safety training in accordance with Company, Local, State, and Federal Occupational Safety and Health Administration (OSHA) rules and regulations. 
Manages trains and develops subordinates. 
Years of Experience: 5-9 years related experience

Education: Bachelor's Degree or equivalent

Knowledge/Skills/Abilities: 
Authentic leader: direct communicator, able to build strong relationships across the company, with all levels. 
Must have great collaboration skills, with the ability to effectively work closely with cross-functional teams. 
Related course work in electrical, mechanical, or programmable logic controls.
Managerial experience. 
Ability to read, analyze, and interpret general business periodicals, professional journals, technical procedures, or governmental regulations. 
Ability to write reports, business correspondence, and procedure manuals.
Ability to effectively present information and respond to questions from groups of managers, clients, customers, and the general public. 
Ability to work with mathematical concepts such as probability and statistical inference and fundamentals of plane and solid geometry and trigonometry. Ability to apply concepts such as fractions, percentages, ratios, and proportions to practical situations.
Good computer skills utilizing SAP, Outlook, Excel, and Word. 
Ability to interpret a variety of technical instructions in mathematical or diagram form.
Ability to train all levels of maintenance positions. 
Ability to solve practical problems and deal with a variety of concrete variables in situations where only limited standardization exists. 
Ability to interpret a variety of instructions furnished in written oral diagram or schedule form. 
Good mechanical, people, math, communication, and problem solving skills. 
Ability to work with people under stress. Demonstrated organizational ability to handle project management multiple tasks prioritizing is necessary and meeting required deadlines. 
Good communication and effective positive interpersonal skills with an ability to work effectively in a diverse work group. 
Previous Supervisory experience in a manufacturing environment required, preferably in the food industry. 
Ability to maintain sensitive and confidential information. 
Proactive in seeking solutions and continuous improvement opportunities. 
Willing to be involved as necessary with all shifts. 
The employing subsidiaries of Schwan's Company are Equal Employment Opportunity Employers. All qualified applicants will receive consideration for employment without regard to disability, age, race, color, religion, gender, vet status, national origin or other protected class.
Job Type: Exempt Business Unit: Req #: 22000248
Apply Now
Quick Apply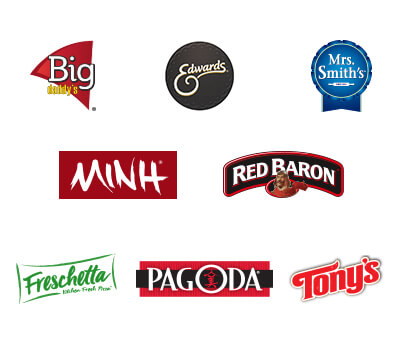 Big Daddy's
Edwards
Mrs. Smith's
MINH
Red Baron
Freschetta
Pagoda
Tony's