Looking for Home Delivery?
Looking for a career in home delivery? Schwan's Home Service recently began its journey as an independent company, but you can visit www.schwans.com/jobs to learn more about what they have to offer.
Job Description
Human Resources Manager - Manufacturing
Erie, Pennsylvania
Apply Now
Quick Apply
Description
(Overview)
At Schwan's Company, we are a fast-paced, innovative team, focused on bringing delicious foods to our customers. If you're passionate about food and creating a successful future, this is the place for you. Based in Minnesota, Schwan's is a national, multibillion-dollar company that manufactures and markets quality foods through home-delivery, retail-grocery and food-service channels. Its many popular brands include Red Baron®, Tony's® and Freschetta® pizza, Mrs. Smith's® and Edwards® desserts, Pagoda® Asian-style snacks and Schwan's® home delivery. To learn more about Schwan's, visit www.SchwansCompany.com.
We are hiring a Human Resources Manager for our
Better Bake
manufacturing facility in
Erie, PA
. If you consider yourself someone who is passionate about people and driving and engaging culture, this may be your next career! In this role you will be responsible for executing and supporting Human Resource policies, procedures, and practices relating to human resources activity to ensure equitable and uniform application with applicable laws and regulations.
What you will get from us:
Opportunity to work on exciting, strategic projects in partnership with key leaders: showcase your employee engagement talents to impact a company focused on a strong and positive employee culture.
Opportunities for career growth with a well-established food company. For the right candidate, the HR Manager role is a starting point on the path to a Sr. HR Manager and potential Director of HR.
A culture focused on ensuring the health, safety and well-being of its employees
Support and mentorship from team members who are authentic, good-natured and highly skilled
Competitive wages, incentive pay and a comprehensive package of benefits

Responsibilities: 
Managing the human resources function to include: staffing/employment, compensation and benefits, workforce relations, organization design and development, payroll, and human resources management systems support. 
Typically oversees professional and/or supervisory employees while leading initiatives to achieve scorecard results. 
Manages the effective implementation and communication of compliance to all HR policies, procedures, and processes. 
Partners with business leaders on the development and implementation of initiatives that create an engaged workforce. 
Drive talent decisions for key leadership roles through partnerships with internal recruiters and leaders on staffing and/or oversee the assessment and selection process. Leads the talent management initiative by coaching/mentoring leaders to identify and retain talent critical to the growth and success of the organization. 
Provides employment support to maintain a competent workforce that satisfies the personnel needs of the organization.
Manages the employee/workforce relations functions; identifies and analyzes problems and takes corrective action to correct any issues.
Coordinates total rewards plans and programs including benefits communication, performance, wage, and salary planning, incentives administration, etc. 
Provides for the timely and accurate processing of employee data including: on/off payroll, organization changes, employee files and records, etc.
Partners effectively with various corporate and business unit headquarters departments such as safety, law, and HR to assure compliance will all applicable legal and regulatory guidelines (i.e. AA, EEO, FLSA, FMLA, ADA, OSHA, etc).
Provides appropriate communication and training within the organization and promotes employee and management understanding of HR plans and programs. 
Contributes to development of an operating plan and budget while maintaining responsibility for adherence to budget.
Manages trains and develops subordinates. 
Years of Experience: : Typically has a minimum 6 years related experience
Education: Bachelor's degree or equivalent preferred
What we need from you!
•The desire to make a meaningful difference. Must be self-motivated with the ability to work independently. We need someone who competes to win!
•Authentic leader: direct communicator, able to build strong relationships across the company, with all levels.
•Must have great collaboration skills, with the ability to effectively work closely with cross-functional teams.
Knowledge/Skills/Abilities:
•Generalist experience including solid knowledge of all human resources disciplines and related policies and procedures (staffing/employment/relocation employee/labor relations total rewards training etc.)
•Solid interpersonal communication and negotiation skills.
•Solid PC skills to include Microsoft Outlook excel word etc.
•Basic understanding of business unit products, markets, policies and processes.
The employing subsidiaries of Schwan's Company are Equal Employment Opportunity Employers. All qualified applicants will receive consideration for employment without regard to disability, age, race, color, religion, gender, vet status, national origin or other protected class.
Job Type: Exempt Business Unit: SFC Global Supply Chain, Inc. Req #: 20000087
Apply Now
Quick Apply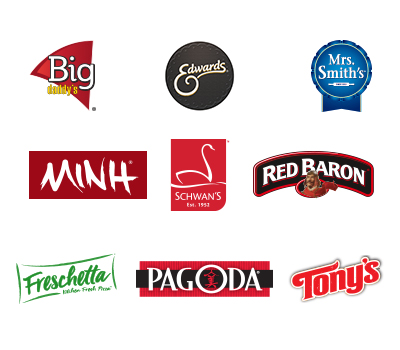 Holiday Foods
Big Daddy's
MINH
Mrs. Smith's
Edwards
Schwan's
Red Baron
Freschetta
Pagoda
Tony's
Larry's