Job Description
SR Warehouse Associate (Full Time Must have Warehouse Experience) – Alva/Enid, OK
Enid, Oklahoma
Apply Now
Quick Apply
Description
(Overview)
At Schwan's Company, we are driven to bring our customers delicious foods and reliable services. That's how we grew from a "one-man-and-a-truck" delivery business in rural Minnesota to a multibillion-dollar private company with thousands of team members nationwide. Our commitment to delicious foods shows in all we do, from careful ingredient selection and quality food making to delivering a great experience wherever you shop and eat.
The foods we make reach customers in many ways. We deliver directly to our customer's homes through our popular food-delivery business, offer well-known retail brands such as
Red Baron®, Freschetta®,
and
Tony's®
pizzas,
Pagoda®
snacks and appetizers, and
Mrs. Smith's®
and
Edwards®
desserts, and bring innovative food solutions to our customers in the food-service industry. To learn more, visit us at 
http://www.schwanscompany.com
.
This position under limited supervision is responsible for successfully moving materials supplies and finished goods through the facility which includes unloading frozen food product from semis into warehouse freezers and loading frozen food from warehouse freezers into delivery trucks.
Moves materials and supplies through the facility. May require the use of material handling equipment such as carts conveyer belts fork lifts and pallet jacks.
Stacks skids or pallets in designated areas. Cleans and disposes of scrap bracing cardboard and strappping. Places items in proper containers or designated areas.
Uses tools such as hammers or crowbars to remove strapping open crates and strap cars.
Uses computer to retrieve product codes part numbers product quantities location information etc.
In absence of supervisor or lead performs supervisory duties such as overseeing work of lower level employees reconciling inventory and/or route sequencing.
Moves route trucks into place for loading/unloading.
Processes load sheets in SAP. Verifies that drivers have proper paperwork and ensures that trucks are properly maintained.
Properly documents all shipments and work performed.
Conduct intermediate material audits.
May schedule defrosting and maintenance of trucks as needed.
Other duties as assigned which may include general maintenance work around the facility.
Responsible to conduct yourself and ensure your subordinates (if applicable) conduct themselves in a manner consistent with company mission values code of ethics policies and other standards of conduct.
Education: High School Diploma or equivalent
Years of Related Experience: 2+ years of related experience
Knowledge/Skills/Abilities: Intermediate communication skills (both written and verbal); Intermediate computer PC skills; Basic math and reading skills; Strong attention to detail; Must be able to work in freezers with subzero temperatures for 4-8 hours per day; Must be able to stand for up to 8 hours per day; In some geographies must be able to work in various outdoor conditions.
The incumbent must meet the Federal Department of Transportation eligibility requirements including appropriate driver's license and corresponding medical certification as a condition of employment for this position. May be required to possess and retain a valid Commercial Driver License (CDL) depending on location. May require airbrake endorsement.
The employing subsidiaries of Schwan's Company are Equal Employment Opportunity Employers. All qualified applicants will receive consideration for employment without regard to disability, age, race, color, religion, gender, vet status, national origin or other protected class.
#vfj-11-11#
Job Type: Non-exempt Business Unit: Schwan's Home Service, Inc. Req #: 19012114
Apply Now
Quick Apply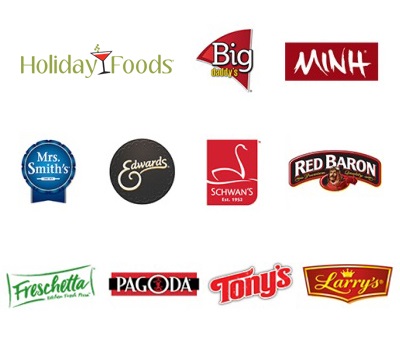 Holiday Foods
Big Daddy's
MINH
Mrs. Smith's
Edwards
Schwan's
Red Baron
Freschetta
Pagoda
Tony's
Larry's