Job Description
Vice President, Marketing
Bloomington, Minnesota
Apply Now
Quick Apply
Description
(Overview)
Schwan's Company, a U.S. affiliate of the global lifestyle company CJ CheilJedang Corporation, is a leading U.S. manufacturer and marketer of quality foods offered through retail-grocery and food-service channels. Its many popular brands include Red Baron®, Tony's®, Big Daddy's®, Villa Prima™ and Freschetta® pizza; Mrs. Smith's® and Edwards® desserts; and Pagoda® Asian-style snacks. To learn more about Schwan's, visit www.schwanscompany.com.
Position Mission
We are hiring a Vice President of Marketing for the Consumer Brands division in Bloomington, MN.   In this critical role you will serve in three overall leadership capacities: (1) marketing leadership for Consumer Brands; (2) Consumer Brands Senior Leadership Team member; and (3) enterprise-wide leader working across business units, functions, and company-wide initiatives. If you are at your best in times of transformation and are a nimble and hands on leader, this could be for you!   You will have to be successful in both leading a marketing team and bringing a strategic perspective to building the business. Consumer Brands has a growth focus and is seeking leaders who have a demonstrated success achieving sales and profit goals while building branded platforms with sustaining growth.  In this role you will report to the President of Schwan's Consumer Brands and lead a diverse team of marketing professionals included branded and integrated marketers.
What you will get from us:
Opportunity to be a key company leader with direct impact to the company's strategy in marketing, sales, innovation, M&A, acquisition integration and talent development.  
Opportunity to be help drive business transformation as we integrate with our parent company, a global food leader   
Opportunities for career growth that include building international capabilities
Competitive compensation including a flexible time off program and a "dress for your day" office environment. 
Responsibilities
Overall marketing leadership for the Consumer Brands Business Unit:
Establishing overall marketing strategy, brand and portfolio strategy, B2C marketing initiatives, product renovation and innovation, and brand positioning strategy.
Developing the long-term portfolio vision; lead the long-term strategic growth planning process (SGP), partnering with cross-functional leaders and business partners to bring the SGP to life across all brands and channels.
Recruiting and developing the marketing team including introducing new capabilities and approaches. Provide active coaching, developing, and mentoring of junior marketing talent. 
Serve as a member of the Consumer Brands Senior Leadership Team:
As a member of this cross-functional team, working with your peers in the development of the Consumer Brands Strategic Growth Plan, annual and long-term objective and goal setting, building overall Business Unit culture, and partnering on cross-Business Unit long-term initiatives.
Key driver for the growth of the company's retail brand portfolio:
Developing differentiated, sustainable points-of-difference for each of the division's brands in Pizza, Asian Snacks and Desserts.
Developing a clear portfolio strategy and defining the role of each brand within the overall strategy.
Development and ongoing management of the portfolio Advertising and Promotion (A&P) budget. Work closely with internal and external partners, including agencies, to plan, develop and execute communications strategies across all touchpoints.
Maintains responsibility for Integrated Marketing. Partnering closely with Sales teams and agency partners to plan, develop and execute shopper marketing initiatives across all sales channels. Includes digital, e-commerce and in-store platforms.
Developing and executing brand and new product innovation strategies. This includes business/opportunity analysis, concept development, product development, commercialization and launch of new product pipeline.
General management responsibility for the brand portfolio. Ability to identify, develop and implement projects that ensure profitable brand growth.
This position will require participation in cross-company business initiatives and leadership building, such as corporate sales and operations planning, capacity planning and participation in critical capital expenditure initiatives. 
Years of Experience: Minimum of 15 years of related experience inclusive of overall marketing leadership
Education: Bachelor's degree or equivalent; MBA or advanced degree desired but not required
Knowledge/skills/abilities
Outstanding change agility, a high sense of collaboration, and strong ability to deliver results in ambiguity.
Demonstrated experience leading marketing teams to achieve superior financial and brand building results. Exceptional overall leadership skills in leading marketing teams, working successfully with cross-functional teams in a matrix environment, and collaborating across an organization.
Team building and organization development experience with a focus on building teams to achieve sustaining results and overall talent development.
Deep knowledge of the food & beverage industry and current trends and practices required.
Proven understanding of modern brand-building to include digital/omnichannel and employing non-traditional tactics to achieve growth.
Experience in CPG industry with deep familiarity of marketing competencies inclusive of B2C marketing.
Significant experience in agency management with demonstrated ability to deliver exceptional campaign results in both Digital and Traditional marketing channels.
Proven in-market success leading new product launches in consumer goods is highly desired.
Experience with challenger brands and emerging categories is a plus.
Experience with corporate development, mergers and acquisitions, and integration highly desired.
Experience leading businesses with solid financial acumen (P&L, budgets, pricing, COGs) to support decision making
The employing subsidiaries of Schwan's Company are Equal Employment Opportunity Employers. All qualified applicants will receive consideration for employment without regard to disability, age, race, color, religion, gender, vet status, national origin or other protected class.
Job Type: Exempt Business Unit: Schwan's Consumer Brands, Inc. Req #: 19013641
Apply Now
Quick Apply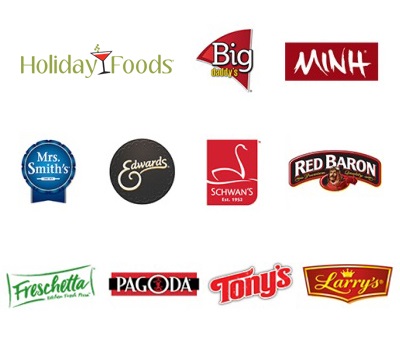 Holiday Foods
Big Daddy's
MINH
Mrs. Smith's
Edwards
Schwan's
Red Baron
Freschetta
Pagoda
Tony's
Larry's