Job Description
Sr Sales Operations Analyst
Bloomington, Minnesota
Apply Now
Quick Apply
Description
(Overview)
At Schwan's Company, we are a fast-paced, innovative team, focused on bringing delicious foods to our customers. If you're passionate about food and creating a successful future, this is the place for you. Based in Minnesota, Schwan's is a national, multibillion-dollar company that manufactures and markets quality foods through retail-grocery and food-service channels. Its many popular brands includeRed Baron®, Tony's® and Freschetta® pizza, Mrs. Smith's® and Edwards® desserts, Pagoda® Asian-style snacks. To learn more about Schwan's, visit www.SchwansCompany.com.
Position Mission
We are hiring a SeniorSales Operations Analyst for our Consumer Brands team in Bloomington, MN.  In this role, you will be part of the Sales Operations team working with the field, you will be responsible for providing technical support, business analysis and project management to ensure the company's long term strategic objectives are met.  This role will perform standard analyses of business goals, business systems, and business objectives and needs to executive the long term strategy. Plan and design business processes and tools to make recommendations for improved sales execution. In this role, you will utilize systems and data to resolve business issues in the most effective and productive manner, and participate in ongoing technology planning and acceptance testing of systems
What you get from us?
Great mentors who will train you on the systems and processes within Sales Operations Analysis Team
Foundation knowledge that will allow you to advance into a multitude of roles (Account Management, Sales, Category Analyst/Manager)
Supportive and flexible environment.
Responsibilities of the role may include:
Partner with business leaders to complete business performance analysis and recommend solutions to support sales execution.
Lead the development, implementation, oversight, and measurement of sales execution tools to support team members ranging from frontline field team members to senior leaders.
Provide advanced software support for frontline and cross-functional team members including troubleshooting, process management, and issue resolution.
Partner with software vendor(s) and IT/IS to develop solutions to deliver on business needs, resolve issues, and implement process improvements to deliver on business objectives and daily execution.
Facilitate and participate in user acceptance testing. Maintain quality of assigned systems, reporting, programs, and provide support as needed.
Develop project plans, identify issues, and communicate status of assigned projects, and ensures that the systems and processes meet the stated objectives. Participate in and help lead change management activities.
Lead or participate in business process improvement initiatives, leveraging system and business knowledge along with continuous improvement.
Participate in development of sales execution initiatives including sales metrics, forecasts, and reporting on sales execution activities at team and individual levels.  Regularly provide reporting to senior management.
Collaborate with cross-functional business partners (IT, finance, customer sales, human resources, operations, retail sales, etc) to implement and improve processes, provide information or support, and support organizational changes.
Lead projects for company's Field Sales Strategy team.
Ad hoc special projects, reporting, and analysis for sales directors and senior management.
Responsible to conduct yourself and ensure your subordinates (if applicable) conduct themselves in a manner consistent with company mission, values, code of ethics, policies, and other standards of conduct.
QUALIFICATIONS
Education: Bachelor's degree (or equivalent) in related field or equivalent combination of education and/or experience
Years of Related Experience: 5-7 years related experience; experience in consumer products and/or retail industries preferred. Prior experience navigating and providing technical support on software programs preferred.
Knowledge/Skills/Abilities:
Intermediate understanding of assigned business unit's industry (i.e. consumer packaged goods, retail, manufacturing, logistics or finance)
Knowledge of business and strategic planning process and principles
Intermediate change management, interpersonal, and communication skills
Positive attitude
Proficient in a Windows environment to include the Microsoft Office Suite and able to learn and understand software platforms
Intermediate data analysis skills and project management skills
Strong customer service skills; teamwork focus; strong organizational skills
Strong attention to detail
Must be able to work under minimal supervision.
Other Requirements: Some travel may be required.
The employing subsidiaries of Schwan's Company are Equal Employment Opportunity Employers. All qualified applicants will receive consideration for employment without regard to disability, age, race, color, religion, gender, vet status, national origin or other protected class.
Job Type: Exempt Business Unit: Schwan's Consumer Brands, Inc. Req #: 19009732
Apply Now
Quick Apply
Our Brands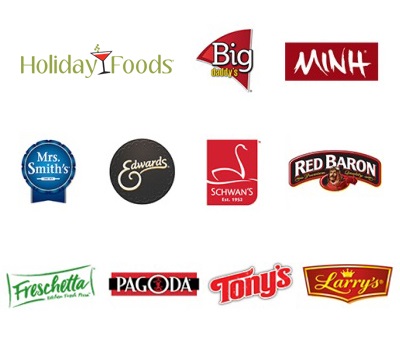 Holiday Foods
Big Daddy's
MINH
Mrs. Smith's
Edwards
Schwan's
Red Baron
Freschetta
Pagoda
Tony's
Larry's