Looking for Home Delivery?
Looking for a career in home delivery? Schwan's Home Service recently began its journey as an independent company, but you can visit www.schwans.com/jobs to learn more about what they have to offer.
Job Description
Sr Business Systems Analyst
Bloomington, Minnesota
Apply Now
Quick Apply
Description
(Overview)
Schwan's Company, a U.S. affiliate of the global lifestyle company CJ CheilJedang Corporation, is a leading U.S. manufacturer and marketer of quality foods offered through retail-grocery and food-service channels. Its many popular brands include Red Baron®, Tony's®, Big Daddy's®, Villa Prima™ and Freschetta® pizza; Mrs. Smith's® and Edwards® desserts; and Pagoda® Asian-style snacks. To learn more about Schwan's, visit www.schwanscompany.com.
We are seeking to fill a Sr Business Systems Analyst in our Information Services group. The primary purpose of this role is to work with functional leaders in PI&D, Business Services and Finance to prioritize, plan and execute systems projects. The Sr. BSA works with leaders to develop business cases and prepare proposals for new capabilities or major investments in existing capabilities, as well as to identify process improvement opportunities in the form of small projects and change orders. The BSA plays a critical role in understanding the business areas they support and serving as a primary liaison between IS and those functions. The BSA has a significant duty to guide the execution of projects and advise on business issues and opportunities.
Responsibilities include:
Serves as a liaison between the business unit and IT in support of the relationship management function. Identifies opportunities for process improvements and performs in a consultative role. Supports the innovation process and the introduction of new solutions through researching competitors vendors industry solutions, emerging technologies and managing RFI/RFP processes. Participates in escalation situations for projects and support issues.
Collaborates with leaders to understand strategy and define solution requirements in terms of business capabilities and broad outcomes. Creates business process models of current and proposed systems. Defines requirements and creates logical models. Smoothly and efficiently transitions high-level requirements and capabilities to other areas of IT for development and implementation. Leads and facilitates envisioning and JAD sessions.
In partnership with business leaders and other areas of IT identifies and recommends innovative solutions to enable the business strategy. Is a key participant in the business IT innovation agenda.
Works closely with enterprise architecture to develop roadmaps designed to introduce needed capabilities and resolve issues.
Ensures solutions meet the stated objectives through facilitation of user acceptance testing. Maintains quality of assigned systems and programs and provides support as needed.
Provides estimates to develop project plans; monitors and directs project plans when assigned; identifies and resolves issues; and communicates status of assigned projects. Participates in change management activities.
Leads or facilitates process improvement initiatives leveraging advanced knowledge in Lean principles and continuous improvement.
Maintains a complete understanding of and adheres to the IS Systems Development Life Cycle (SDLC) and standards and systems planning process. Assists with changes to standards.
Mentors less experienced business systems analysts.
Education: Bachelor's degree (or equivalent) in related field or equivalent combination of education and/or experience
Years of Related Experience: 5-7 years related experience; Experience in consumer products and/or retail industries preferred. Applicable industry or internal certifications are preferred (e.g. APICS Lean / continuous improvement).
Knowledge/Skills/Abilities:
CURIOSITY! The intrinsic drive to always be asking questions on how to make the business better
High attention to detail and accuracy
Proactive mindset. Must be self-motivated with the ability to work independently.
Great relationship builder. Build strong relationships across the company, with all levels.
Strong collaboration skills, with the ability to effectively lead cross-functional teams.
Ability to work with math concepts such as probability and statistical inference;
Must be proficient in enterprise planning software and Microsoft Office, SAP is a plus
Solid problem solving and analytical skills.
The ability to effectively communicate information to a wide variety of audiences
Strong organizational and time management skills
The employing subsidiaries of Schwan's Company are Equal Employment Opportunity Employers. All qualified applicants will receive consideration for employment without regard to disability, age, race, color, religion, gender, vet status, national origin or other protected class.
Job Type: Exempt Business Unit: Schwan's Shared Services, LLC Req #: 20000029
Apply Now
Quick Apply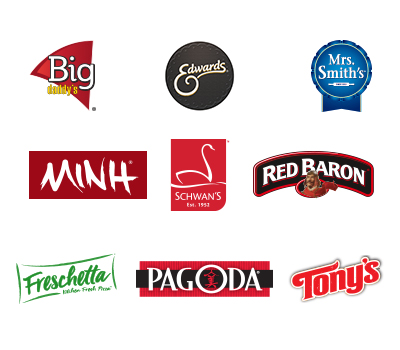 Holiday Foods
Big Daddy's
MINH
Mrs. Smith's
Edwards
Schwan's
Red Baron
Freschetta
Pagoda
Tony's
Larry's