Job Description
Senior Translator Interpreter (Korean/English)
Bloomington, Minnesota
Apply Now
Quick Apply
Description
(Overview)
This position, under minimum supervision, is responsible for the translating of materials from one language to another language (Korean/English), provide oral and written translation and interpretation of correspondence, forms, articles, technical manuals and other instructional and educational materials from English to Korean; serve as an interpreter for a variety of meetings, workshops, conferences and special events; perform related clerical duties.  This position will also work with cross-functional team.
-Provide consecutive and simultaneous interpretation support for video conferences,    
internal meetings, meetings with government
-Translate content as assigned, topics include but are not limited to: marketing/PR, guidelines, educational material, product features; officials, partners, and live stream/offline events;
-Verbal translation with high accuracy, adhering to the style and intent of the speaker
-Speak clearly in both languages using proper pronunciation, enunciation, and polite   
 expressions (Korean & English)
-Screen communication received via mail, telephone, and electronic mail. Proactively   
responds to inquiries and requests for information
-Translate a research reports & materials (HQ's report, Benchmark analysis, Competitor  
analysis/surveillance etc)
-Assist with Post Merger Integration Communications
-Supporting a strategic intelligence research
-Organizes and maintains projects and presentations for the CEO, President, and senior
 management.
-Build partnerships with key internal and external stakeholders
-Demonstrate commitment to cultural sensitivity and working in a diverse environment
-May need to work outside of normal business hours in order to meet deadlines and
project/presentation distribution
-Ad-hoc projects as assigned.
Responsible to conduct yourself and ensure your subordinates (if applicable) conduct themselves in a manner consistent with company mission, values, code of ethics, policies, and other standards of conduct.
Education:
-Bachelor's degree or equivalent or 4 + years equivalent practical experience
-Master's Degree preferred Years of Related Experience: 5 or more years of writing and/or research responsibilities and 3 or more years' experience in corporate communications or communications strategy
Knowledge/Skills/Abilities:
- Demonstrated ability to work calmly and maintain good judgment in fast-paced high stress environments
-Competency in Excel Word Windows PowerPoint and Outlook
-Must be detail-oriented and have strong organizational skills
-Must have excellent communication (verbal and written) analytical and research skills
-Strong work ethic with ability to coordinate assigned tasks with other staff members
-Native level proficiency in both English and Korean
-Fast learner and adaptive with a can-do attitude
-Advanced business acumen and analytical thinking
-Ability to travel 20- 30% of the time
-Ability to translate multiple documents in a timely manner
Job Type: Exempt Business Unit: Schwan's Shared Services, LLC Req #: 19005551
Apply Now
Quick Apply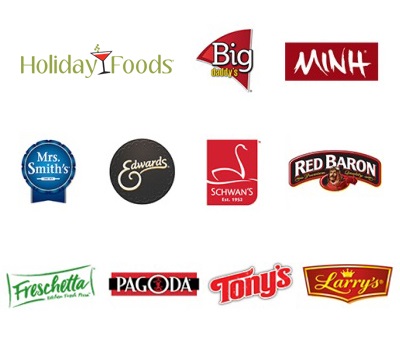 Holiday Foods
Big Daddy's
MINH
Mrs. Smith's
Edwards
Schwan's
Red Baron
Freschetta
Pagoda
Tony's
Larry's