Looking for Home Delivery?
Looking for a career in home delivery? Schwan's Home Service recently began its journey as an independent company, but you can visit www.schwans.com/jobs to learn more about what they have to offer.
Job Description
Senior IT Manager - Solution Delivery
Bloomington, Minnesota
Apply Now
Quick Apply
Description
(Overview)
At Schwan's Company, the opportunities are real, and the sky is the limit; this isn't just a job, it's a seat at the table. Around here, every job matters, every voice counts, and every person contributes in a big way. As part of our front lines, we look to you to execute business, build relationships and take pride in your work because at Schwan's, you lead the way and we value what you bring. Our passion is our food. Our secret is our people.

Schwan's Company, a U.S. affiliate of the global lifestyle company, CJ CheilJedang Corporation, is a leading U.S. manufacturer and marketer of quality foods offered through retail-grocery and food-service channels. Our many popular brands include Red Baron®, Tony's®, Big Daddy's®, Villa Prima™ and Freschetta® pizzas; Edwards® desserts; and Pagoda® Asian-style snacks. To learn about joining a team where you can belong, contribute and thrive, visit www.schwanscompany.com


The Senior manager of Solution Delivery oversees the implementation of IT solutions in the Procure to Pay and Order to Cash application and process areas of the IT project portfolio. The incumbent is further responsible for driving the strategic direction for applications and solutions in assigned business areas, implementing new processes and methodologies based on industry best practice and effectively staffing for project needs. As a primary focus, you will be leading a team of 10 SAP functional analysts. The first mission critical project for you and your team will be an SAP update to SAP S/4Hana. SAP foundation knowledge is strongly preferred for success in this role!
Job Responsibilities
Identifies new ways to think about business problems and influences business leaders to follow a long-term strategic approach to provide needed capabilities.

Serves as a resource to pilot new ideas and concepts, offers business transformation solutions based on needs and industry trends and teaches and mentors business leaders on tools and techniques available to turn information into actionable business insights

Manages and guides the development of solutions with a focus on value quality budget and schedule as well as application performance and long-term maintainability

Collaborates with enterprise architecture and other IT leaders to establish long-term plans and road maps for assigned systems

Partners with the Program Management Office to obtain people resources for projects including the procurement of contract resources as appropriate

Leads continuous improvement efforts across application areas

Proposes and oversees run projects to improve and maintain system capabilities and provides re-engineering options

Evaluates and recommends solutions for complex business and system opportunities that span multiple areas

Leads the selection and implementation of tools techniques and best- practice adoption for areas of responsibility to drive continuous improvements in quality and efficiency

Coordinates across multiple areas of IT to leverage best practices

Maintains membership in and presents at relevant industry groups conferences.

Stays abreast of industry solutions technology options and best practices evaluates for relevance within Schwan and recommends appropriate changes in support of the business and IT strategy.

Responsible for the skills and knowledge of the technical staff in the assigned areas. 

Mentors coaches and trains staff.

Lead/facilitate continuous improvement sessions to accomplish process improvements within IS or with our business partners
Education: Bachelor's degree or equivalent. Advanced degree preferred

Years of Related Experience: 10+ years of related experience
Knowledge/Skills/Abilities:
Proven ability to work in a complex matrixed environment.
Strong experience with ERP systems and transformations
Demonstrated experience with team or process transformation.
Proven ability to strategically manage vendor partners.
Relationship focused! Ability to develop & motivate teams and leverage people's strengths for success
Demonstrated knowledge and support of (with adherence to) industry best practices methodology and deliverables
Demonstrated understanding of Lean principles to enable continuous improvement and re-engineering options.
Project management skills preferred. Intermediate knowledge of Lean principles.
The subsidiaries of The Schwan Food Company are Equal Opportunity Employers. All qualified applicants will receive consideration for employment without regard to disability, race, color, religion, gender, vet status, national origin or other protected status.

#vfj-11-11#
Job Type: Exempt Business Unit: Schwan's Shared Services, LLC Req #: 21000258
Apply Now
Quick Apply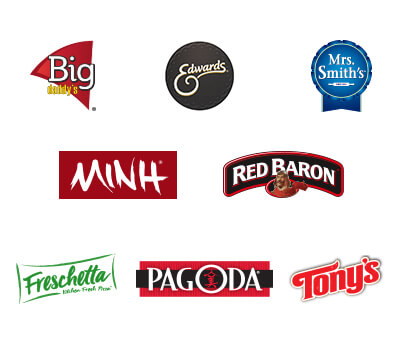 Big Daddy's
Edwards
Mrs. Smith's
MINH
Red Baron
Freschetta
Pagoda
Tony's