Looking for Home Delivery?
Looking for a career in home delivery? Schwan's Home Service recently began its journey as an independent company, but you can visit www.schwans.com/jobs to learn more about what they have to offer.
Job Description
Principal Engineer Automation & Controls
Bloomington, Minnesota
Apply Now
Quick Apply
Description
(Overview)
Who we are!

Schwan's Company, a U.S. affiliate of the global lifestyle company CJ CheilJedang Corporation, is a leading U.S. manufacturer and marketer of quality foods offered through retail-grocery and food-service channels. Its many popular brands include Red Baron®, Tony's®, Big Daddy's®, Villa Prima™ and Freschetta® pizza; Mrs. Smith's® and Edwards® desserts; and Pagoda® Asian-style snacks. To learn more about Schwan's, visit www.schwanscompany.com.

What we are looking for:

We are hiring a Principal Automation & Controls Engineer. The ideal candidate would be in Bloomington, MN (corporate office).
We are looking for the individuals with the Passion to imagine the future, and the Experience to make those dreams reality.  Schwan's Company is looking for engineers with expert knowledge of Automation and Operational Technology, who are ready to take the next career step, shaping the future of one of the fastest growing Food & Bev companies in America.
This position will be our company expert, responsible for technical and functional leadership of electrical, automation and controls systems supporting a business platform.  With limited direction, this person will execute and support major automation and controls projects across the platform consistent with the strategic direction. This role is a key subject matter expert and resource for manufacturing.  Furthermore, this role ensures that the engineering team, in partnership with IT, efficiently delivers quality electrical and Operational Technology support throughout the lifecycle of the systems to enable strategic business goals.
Working with the best technology available, you will set the strategy as we construct the next generation of state-of-the-art food manufacturing. 
What we need from you:
Lead implementation of major corporate automation and control projects.

Develop and implement a project plan and schedule for automation projects or as a project team member supporting automation aspects of project execution.

Supports the team with development and execution of project scope, costs, and schedule (from concept through vertical start-up). 

Ensures that projects meet operating expectations and are completed within authorized budgets and schedule constraints.

Drives technical solutions by evaluating and recommending new technologies as well as reduce/eliminate issues associated with equipment, performance, quality and safety.

Supports the development of the long-range capital plan and manage obsolescence the business unit and GSC.

Collaborate with project teams, and internal/external technical resources to assess opportunities for application of innovative designs, performance improvements, technical advantages, speed to market and capital efficiencies ensuring optimum business value is achieved during capital project activity.

Partners with key stakeholders and provides technical leadership, direction, and subject matter expertise to Information Technology (IT), Environmental Health and Safety (EHS), Supply Chain Quality, Marketing, and other key leadership teams. 

Responsible for the industry competitive analysis which guides the development of electrical and controls technology strategies that deliver enhanced supply chain capabilities.

Coaches and mentors engineers, and other members of the technical community in Schwan's to build technical capability and leadership behaviors consistent with our stated goal. 

Responsible to conduct yourself in a manner consistent with company mission, values, code of ethics, policies, and other standards of conduct.
Education: Bachelor of Science or Master's degree in Engineering required (Electrical preferred, Mechanical, Chemical). ABET accredited program is a strong preference.

Years of Related Experience: 10+ years' experience in Manufacturing and Packaging Technologies. 8+ years of engineering experience with a focus on electrical and control systems is required. Experience with manufacturing food and beverage or consumer packaged goods companies is preferred. Experience in plant operations and industrial environments. Project engineering including scope definition, cost estimation and tracking.


Knowledge/Skills/Abilities:
Demonstrates project management leadership, problem-solving, decision making, troubleshooting, communications, and interpersonal skills.
Ability to work with a team and influence diverse groups at various levels and across functions.
Ability to teach the fundamentals of electrical automation and control systems.
Strong knowledge and understanding of the primary codes and safety requirements applicable to controls safety systems, robotics, and power distribution equipment and systems.
Knowledge of Lean Six-Sigma concepts and ability to use a CAD System is preferred.
Strong ability to utilize application, programming, and integration experience through a variety of hardware/software.
Ability to troubleshoot PLC's at the code level and troubleshoot equipment and wiring.
Strong understanding of low and medium voltage power distribution and associated equipment is preferred.
Must have advanced knowledge of processing, packaging & facility systems along with thorough understanding of food manufacturing, engineering, quality, sanitary design and research functions.
Demonstrates compliance with USDA, FDA, OSHA, EPA, City and/or State agencies, etc. for both manufacturing processes and building requirements.

Travel: Ability to travel up to 50% as required (dependent on location).

The employing subsidiaries of The Schwan Food Company are Equal Employment Opportunity Employers. All qualified applicants will receive consideration for employment without regard to disability, age, race, color, religion, gender, vet status, national origin or other protected class.
Job Type: Exempt Business Unit: SFC Global Supply Chain, Inc. Req #: 20003406
Apply Now
Quick Apply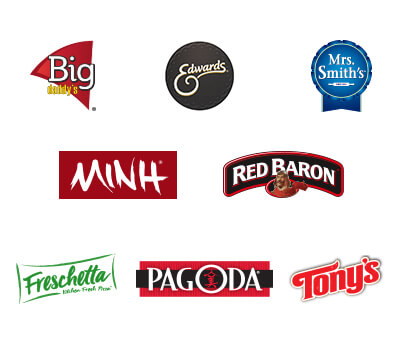 Big Daddy's
Edwards
Mrs. Smith's
MINH
Red Baron
Freschetta
Pagoda
Tony's