Looking for Home Delivery?
Looking for a career in home delivery? Schwan's Home Service recently began its journey as an independent company, but you can visit www.schwans.com/jobs to learn more about what they have to offer.
Job Description
Manager, Data Science & Business Intelligence
Bloomington, Minnesota
Apply Now
Quick Apply
Description
(Overview)
The Manager of Data Science and BI is responsible for the design and implementation of data warehousing, reporting, and analytics solutions as specified in the IT project portfolio. This is a great opportunity to help Schwan's change its enterprise technology footprint.   Be the driving force behind modernizing our BI capabilities (reporting, cloud and data science).  Lead strategic projects such as growingour Data Science capabilities and building cloud solutions. This role is also responsible for managing the strategic direction of existing applications and solutions in this space.   If you really enjoy leading and developing a team, but still love to stay close to the technology and solutions, this may be a good fit for you!  
Responsibilities:
Collaborates with the enterprise architecture and other IT leaders to establish long-term plans and road maps for the data warehousing capability.
Works with other company leaders to build data science capabilities, including the implementation of data and analytics technology and processes, as well as the establishment of analytics functions throughout the company
Guides the development of solutions with a focus on quality, budget and schedule, as well as application performance and long-term maintainability.
In coordination with the Program Management Office, supplies personnel to staff projects, including the procurement of contract resources as appropriate.
Leads the continuous improvement effort within the assigned application areas. Oversees run projects to improve and maintain systems.
Evaluates and recommends solutions for complex business and system opportunities. Understands business processes and objectives to facilitate re-engineering options.
Leads the selection and implementation of tools, techniques and best- practice adoption for data, reporting, and analytics to drive continuous improvements in quality and efficiency.
Stays abreast of industry solutions, technology options and best practices, evaluates for relevance within Schwan and recommends appropriate changes in support of the business and IT strategy.
Mentors, coaches and trains staff. Responsible for the skills and knowledge of the technical staff in assigned areas.
Responsible to conduct yourself and ensure your subordinates (if applicable) conduct themselves in a manner consistent with company mission, values, code of ethics, policies, and other standards of conduct.
Education: Bachelor of Business or Bachelor of Science in Data Science, Computer Science, Math, Statistics, or Engineering
Years of Related Experience: 7 - 10
Knowledge/Skills/Abilities:
Demonstrated ability to lead IT teams
Data warehousing, reporting, and advanced analytics experience
Knowledge of on-premises and cloud data warehousing solutions
Data extraction and processing skills
Proficiency in Python, R, Scala or other open-source data analysis languages
Understanding of applied machine learning and deep learning concepts
Working knowledge of natural language processing
Experience facilitating deployment of advanced analytics solutions via containers, notebooks and DevOps
Strong communication skills, especially the ability to build persuasive presentations based on data
Experience with project estimation and budgeting
The employing subsidiaries of Schwan's Company are Equal Employment Opportunity Employers. All qualified applicants will receive consideration for employment without regard to disability, age, race, color, religion, gender, vet status, national origin or other protected class.
Job Type: Exempt Business Unit: Schwan's Shared Services, LLC Req #: 20000009
Apply Now
Quick Apply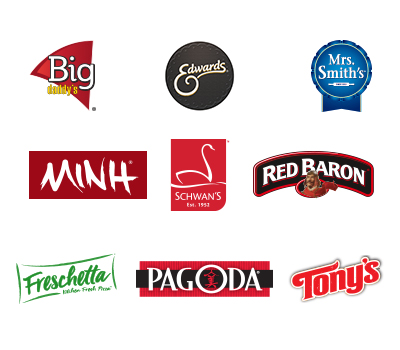 Holiday Foods
Big Daddy's
MINH
Mrs. Smith's
Edwards
Schwan's
Red Baron
Freschetta
Pagoda
Tony's
Larry's